STRAWBS, 1969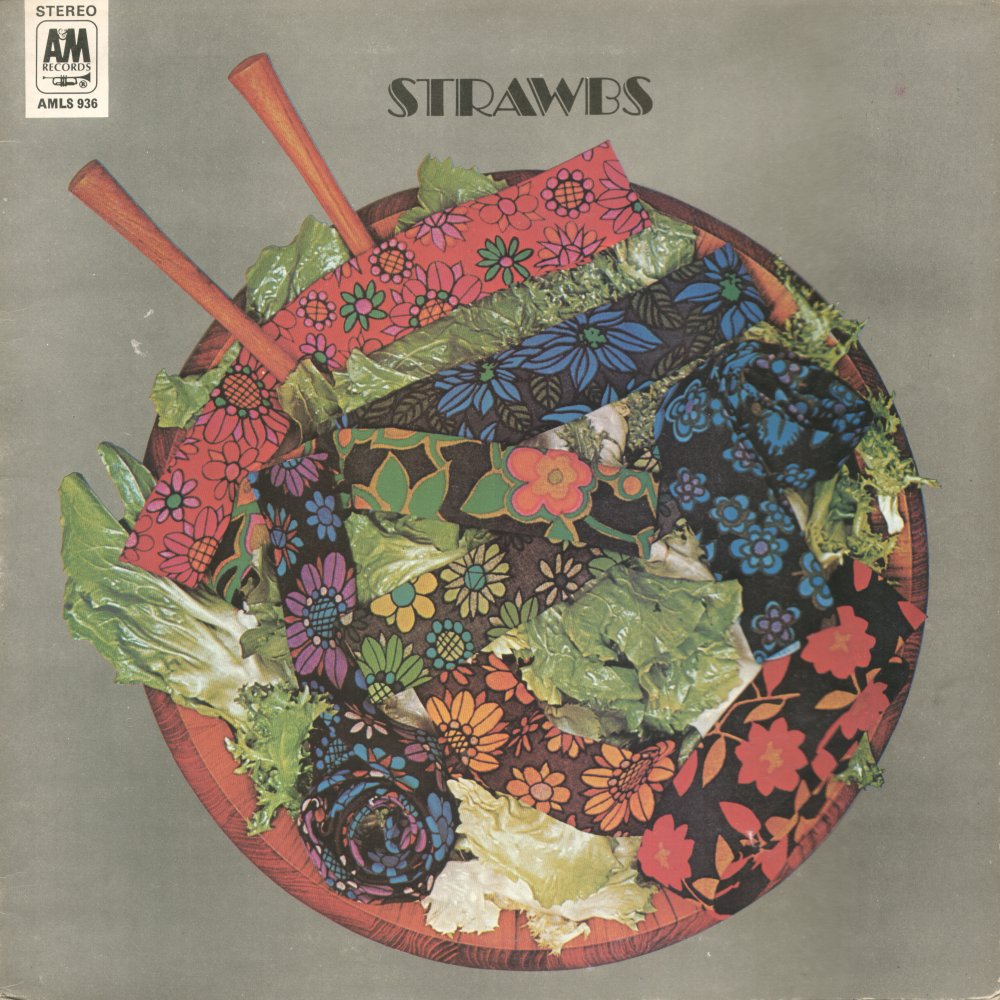 Release date: 23 May 1969. Universal finally brought the album out on CD (release date 5 Aug 2008), with some BBC session bonus tracks, reissued in 2018 by Universal Japan. In 2014, Tapestry brought out a high quality vinyl reissue.
After the recording of the tapes which would eventually be released as All Our Own Work (and later Sandy And The Strawbs), Dave Cousins set out to find a UK record label (they were signed to Danish Sonet Records). However, Sandy Denny then decided to join Fairport Convention. US label A&M were just starting up a London office, and Sonet's head, Karl Knudsen, played a copy of the Sandy tapes to a A&M's Dave Hubert, who in turn sent it over to Herb Alpert and Jerry Moss. As a result the Strawbs became the first UK band signed to the label. They quickly recorded a single "Oh How She Changed"/"Or Am I Dreaming", which was produced by Gus Dudgeon (who lived upstairs from Tony in his Haverstock Hill flat - the subject of the song "Pieces Of 97 And 15") and arranged by Tony Visconti, not long arrived from the US. It proved quite popular, they appeared on Tony Blackburn's TV show and then settled down to make an album, with the same team.
The album they initially put together was a pop masterpiece. Gus Dudgeon had booked countless session musicians including John Paul Jones on bass and Nicky Hopkins on piano, as well as a 32 piece orchestra for some of the big ballad numbers that Sandy originally sang. Cousins retaliated by getting an Arab band ("Nosrati and his Arab Friends") from a restaurant to come in and play on "Tell Me What You See In Me".
However, when played to Hubert and A&M's SVP Gil Friesen, the reaction was bluntly negative - thought they'd signed progressive folkies rather than pop hopefuls, and, despite having spent large wedges of cash (an advance of £30,000 in all, the most expensive album since Sergeant Pepper) already, the Strawbs went back to the studio to record some more tracks. The album as released received critical acclaim, and didn't do badly on a commercial basis, 25,000 copies in the UK. The single from the album "The Man Who Called Himself Jesus" was, predictably, banned by the BBC.
Outtakes from the intial sessions appeared on the limited pressing Strawberry Sampler No. 1 along with some other demos and rarities.
Musicians
Dave Cousins (vcls, gtrs)
Tony Hooper (vcls, gtrs)
Ron Chesterman (dbl bs)
Track listing
The Man Who Called Himself Jesus (Cousins)

That Which Once Was Mine (Cousins)

All The Little Ladies (Cousins/Hooper)

Pieces Of 79 And 15 (Cousins/Hooper)

Tell Me What You See In Me (Cousins)

Oh How She Changed (Cousins/Hooper)


Or Am I Dreaming (Cousins)

Where Is This Dream Of Your Youth (Cousins)

Poor Jimmy Wilson (Cousins)

Where Am I/I'll Show You Where To Sleep (Cousins)

The Battle (Cousins)

BONUS TRACKS - UNIVERSAL REISSUES 2008

Interview/That Which Once Was Mine(Cousins)

Poor Jimmy Wilson(Cousins)

The Battle(Cousins)
Bonus tracks originally recorded for John Peel's 'Top Gear'
BBC Radio One Show, 12th January 1969
Sleeve Notes
Production Gus Dudgeon
Musical vibrations Toni Visconti

Sleeve design
Art Director Tom Wilkes
Printed by MacNeill Press Ltd
Photography Barry Feinstein
Inside Liner photography Ray Stevenson

Other information
The Strawbs would like to thank Gus and Tony and all their friends who helped so much, including Ronnie Verral, Nicky Hopkins, John Mackswith, John Paul Jones, Richard Wilson, Lionel Ross, Tom Browne, Alan Hawkshaw, Terry Brown, and Nosrati and his Arab friends.

A & M Records address is listed on this sleeve as 12 Neasden Lane , London, NW 1.0
Distributed by Pye Records (Sales) Ltd.
Charts
UK Chart: not placed
US Chart: not released
---