STRAWBERRY SAMPLER NUMBER 1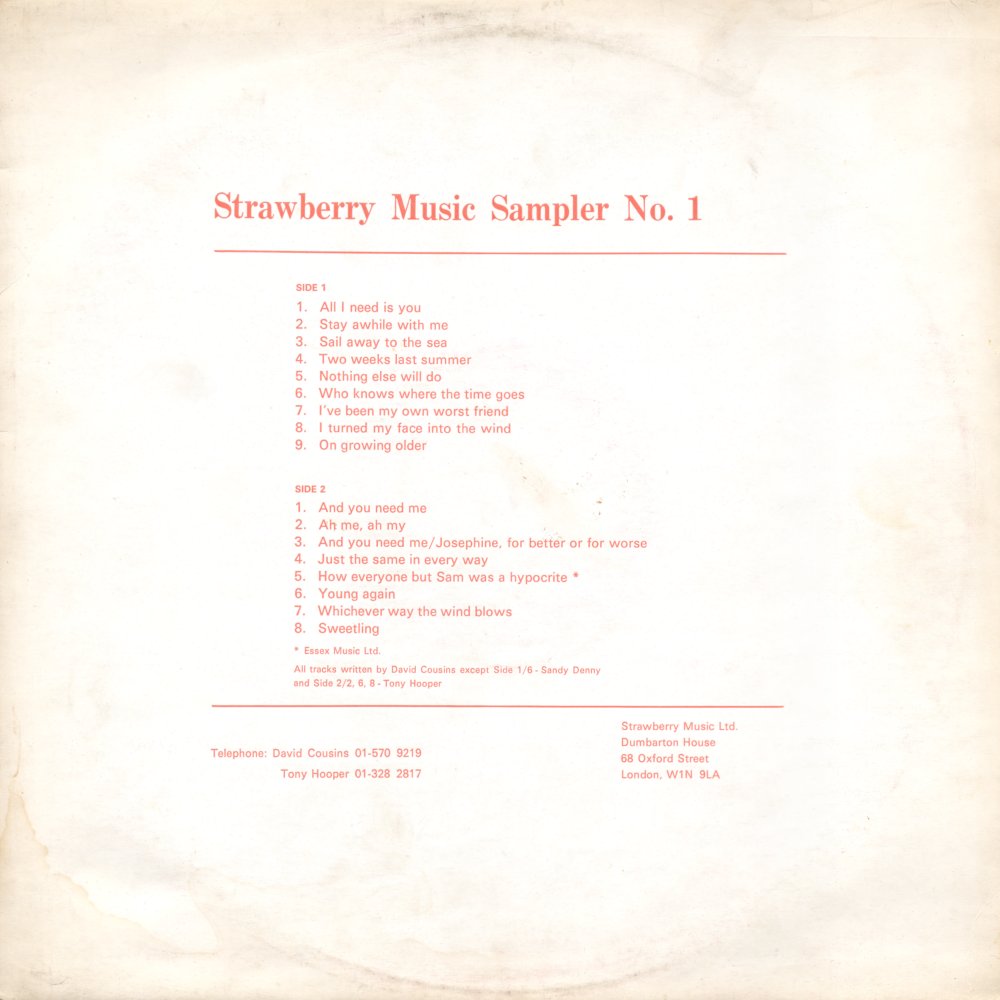 Release date: late 1969
The Sampler was released as a publishers' demo record - a run of less than 100 copies - designed to get other artists to cover Cousins' and Hooper's songs. Its importance for Strawbs fans is that it includes all the tracks culled from the first version of the group's first album, as well as a few other demos and early versions. It was produced between the first Strawbs album and Dragonfly.
Why fewer than 100? Apparently back in thelate 60s there was some sort of tax break was only available when fewer than 100 copies were manufactured.
How I got my copy of the Sampler
I've been asked this many times. The Strawberry Sampler No 1 came as news to me back in 1992. I knew there were some outtakes from Strawbs which were not used - that much was set out in Jerry Gilbert's article on Strawbs in ZigZag 52 and 53.
There was a small ad in Record Collector for something called "Strawberry Sampler No 1" which mentioned Sandy Denny. I contacted the guy who was selling it (by post - that's how we did this sort of thing pre-internet!), asking for more detail and an idea of how much he wanted for it. He gave me a call and explained what was on it, from which I deduced that it was the missing tracks for Strawbs). But it was too expensive so I said I couldn't afford it - was there any chance of a listening copy? He obligingly sent a C90 tape - ah nostalgia! (It had the equally difficult to find Heartbreak Hill) on the back.) I sent him a long letter with my thoughts - with hindsight not entirely correct, but not a bad stab at it.
Spool forward a few years - I was at an academic conference when I got a message that someone from Record Collector was trying to contact me. I called them back and was asked if I wanted to edit the Strawbs article that they had on the go. (Do bears defecate in the foliage ? Of course I did!)
It turned out that that copy of the Sampler had been bought by a trader in the South West with a close relationship with RC, who used to send album sleeves up for them to photograph. That's what had happened here, with my letter still inside the sleeve.
As well as editing the article, I pointed out to RC that this was a "great lost album" - one of those things which they loved to write about - and I ended up co-writing a 2-pager with RC staffer Andy Davis all about the Sampler, which came out in the same issue as the Strawbs article, Issue 177 in 1994. For both see Memorabilia section
.
After all that I got in touch with the trader and proposed a swap: I had a rare vinyl album by Spriguns of Tolgus ("Jack With A Feather", their incredibly rare 1974 private pressing), which I'd picked up for £2 GBP on a Cambridge market stall (Andy's Records if anyone recalls). By then it was valued at considerably more than the Sampler, but had just come out on CD anyway and the Sampler was worth far more to me .....
So I guess my first copy of the Sampler cost me two quid. The second copy cost me considerably more ;-)
Other Sampler owners
Contrary to the sleeve notes in the CD release, as far as I know, the following people own an original vinyl copy of the Sampler:

Me (2 copies)
Dave Cousins - who bought one as his own had disappeared
Dave Lambert - probably handed over by DC one night at the White Bear
Tony Hooper
Alison Brown
Tom Fowler - who bought one in 2014 and had it autographed by DC
Anyone else?
People who must have had it (but may not now) include:

Jack Jones - who covered "Josephine"after he heard it on a TV show and the Strawbs got a copy round the next day
Foggy (Danny Clarke (these days known as Granville Clarke and a successful watercolour artist) and Lenny Wesley) - they covered four songs off it on their "Born To Take The Highway"album so they must have had it! ("Till The Sun Shines Through"[aka "Till The Sun Comes Shining Through"], "Josephine For Better Or For Worse", "Sail Away"[aka "Sail Away to the Sea"], "Who Knows Where The Time Goes".
Track listing
All I Need Is You (Cousins)

Stay Awhile With Me (Cousins)

Sail Away To The Sea (Cousins)

Two Weeks Last Summer (Cousins)

Nothing Else Will Do (Cousins)

Who Knows Where The Time Goes (Denny)

I've Been My Own Worst Friend (Cousins)

I Turned My Face Into The Wind (Cousins)

On Growing Older (Cousins)


And You Need Me (Cousins)

Ah Me, Ah My (Hooper)

And You Need Me/Josephine, For Better Or For Worse (Cousins)

Just The Same In Every Way (Cousins)

How Everyone But Sam Was A Hypocrite (Cousins)

Young Again (Hooper)

Whichever Way The Wind Blows (Cousins)

Sweetling (Hooper)

Sleeve Notes
CD release
All songs : Cousins – Old School Songs/SGO except
Track 6 Denny - Fairwood
Tracks 11/15/17 - Hooper - Old School Songs/SGO
Track 14 – Cousins – Onward Music

Note from WML CD release: "In 1969 just 99 copies of this record were pressed on 12 inch vinyl as a publishing demo. There are just two known vinyl copies in existence. The record includes previously un-released out takes from the abandoned first album Strawbs
."
Inner sleeve note says
Strawberry Music Sampler No.1
has become one of the UK's most collectable vinyl records. In Record Collector: Rare Record Price Guide 2002 the record is valued at £500.
---