DEADLINES WITCHWOOD MEDIA EDITION - REVIEWS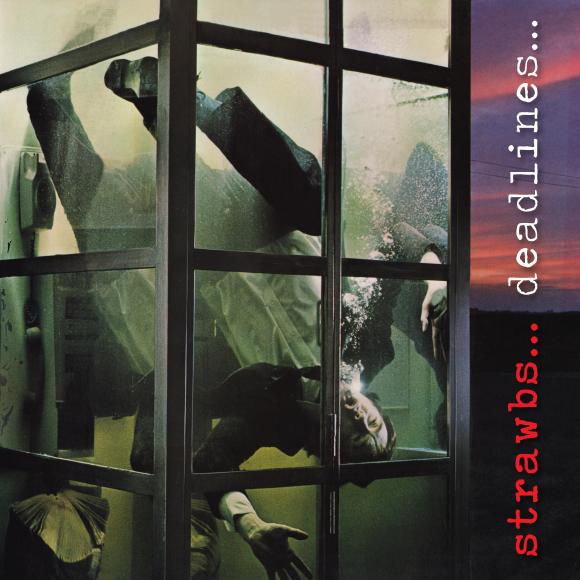 Contents
Back to main Deadlines CD page

DAVE COUSINS WRITES ABOUT DEADLINES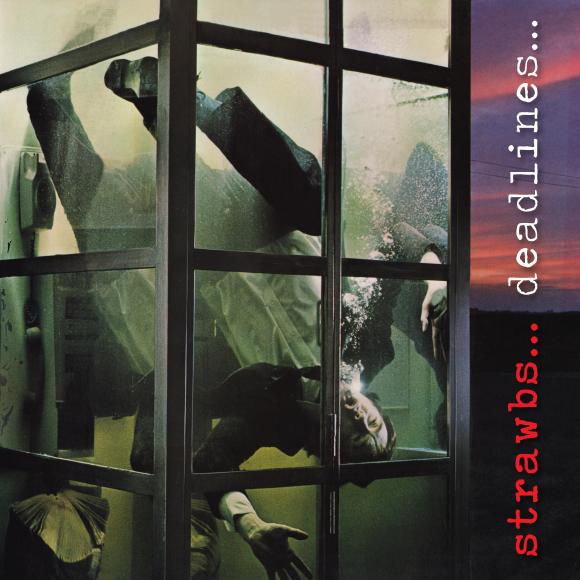 Deadlines was the last album released in the 1970s by the Strawbs. To say that it was a difficult album to make is a serious understatement!
The previous album 'Burning For You' had finished with my song "Goodbye (Is Not An Easy Word To Say)", which I had written as my farewell to the band. The album was produced by Jeffrey Lesser who was a great engineer but did not understand the dynamics of the band as far as I was concerned.
Somehow I was persuaded by our management that I should carry on and they went ahead and signed us to Arista. I flew to New York to meet Clive Davis, who I got on well with when we went out on the town together, but I still had reservations. The main problem was that our management insisted that we use Jeffrey Lesser again as producer. Jeffrey had decided that Dave Lambert should become the lead singer of the band and I have to say that his singing on Deadlines was his best ever. However, the fact that Dave sang the opening track left fans and DJs somewhat puzzled.
The next problem was that we had little material other than a few of my home demos. Our 1978 UK tour ended in Liverpool and the morning after Dave Lambert, Chas Cronk, and I caught a train to Grange Over Sands on the Cumbrian coast to stay in a hotel and try to write some new songs. When we arrived the Grange Hotel it was slightly faded, but in its Victorian heyday it had been an elegant Italianate residence. We did write "The Last Resort" and "No return" but the dark lyrics reflect not only our surroundings, but also my state of mind – "Will you miss me? I doubt it…".
We started recording the album in Dublin, in a studio owned by Philip Green, a film composer best known for his theme to the Ealing comedy 'The March Hare', or "Diddly eye di di" as we called it. He was a great character but his studio wasn't really up to scratch. One day the 24-track tape machine started to run slow and the service engineer was called in. I asked him if he was kept busy in Dublin, to which he replied, "No, I normally service washing machines". Enough said!
We took the tapes back to London to work on them at Air Studios overlooking Oxford Circus. After the first day of overdubbing we left the 24-track tapes in the studio and went home. When we started the next day we discovered to our dismay that the tape operator had left a BBC 4038 microphone, with magnetic shielding, on top of the tape boxes. A strip across all tracks on the boxes had been erased, most importantly the drum tracks. We had to start from scratch and rerecord the songs. It was dispiriting and heart-breaking to say the least.
The mixing was done at Utopia Studios. While we were there The Clash were recording "Give 'Em Enough Rope" in the next door studio. I got on really well with them, especially drummer Nick Headon who rode into the studio on his motorbike. It turned out that Joe Strummer was having much the same problem with their producer Sandy Pearlman as I was with Jeffrey Lesser.
On reflection Deadlines sounds fantastic, although the songs collectively are unlike any other Strawbs album; in production we sacrificed our rootsy element in favour of pop balladry. Anyway, the bonus tracks give a truer flavour of what we started out with. I really love "Joey And Me" and I was very pleased to uncover the Dublin version with its Rickenbacker electric banjo solo. I wish I still had that banjo!

DEADLINES: ALL REISSUES SHOULD LOOK LIKE THIS - Preview by Dick Greener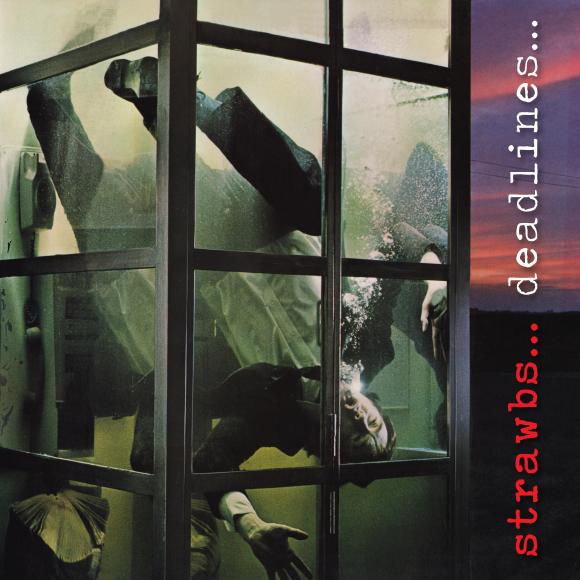 This is a tremendous project, pulling together some great tapes to make the reissue of Deadlines on CD by Witchwood Media a really worthwhile release of the last Strawbs album release from that classic period (1968-1978). (It was available on the One Way label, but without any bonus tracks and not remastered to the standard currently achieveable through the good offices of Cyclone who handled this and the previous archive release Of A Time.) Remastering of this album has brought out a lot of detail which frankly I missed previously, whether because I was listening to vinyl which is always a bit muddier IMHO, or possibly a poor CD transfer by One-Way without the attention that Dave has lavished on this - it's a thoroughly fine piece of work.
As most folk know, the album had to be partially re-recorded after an unfortunate studio accident, and we've had the luck to still have access to some two-track masters of the original sessions. Some of these are included here on the CD and as bonus tracks for those pre-ordering before 19 Sept through the Witchwood Records online shop, which give a wider perspective to some of these well-known tracks. (They were sitting in boxes on my landing, having been transferred to digital format for Dave to listen to for the boxed set, but travelled with me to the All Cannings festival where they were handed over to DC for remastering, ensuring the best possible quality - but not before Nigel Bennett took a few snaps of the tape boxes ....
For those who regard themselves as Dave Cousins' fans as opposed to Strawbs, the Cousins acoustic demos represent an chance to hear Dave's songs in development, at a stage few of us are privileged to enjoy. A little distortion, but that fades into the background in the circumstances. Some have slightly different vocals at that stage, and as demos the audio quality is what it is, recorded on Dave's reel to reel recorder for playback to the band who would then work it up into a full band presentation. Some of these featured on the boxed set Taste Of Strawbs, and were extremely well received (particularly "Time And Life", also featured here), but there's a much wider selection here, which perfectly complements the released version - all reissues should look like this!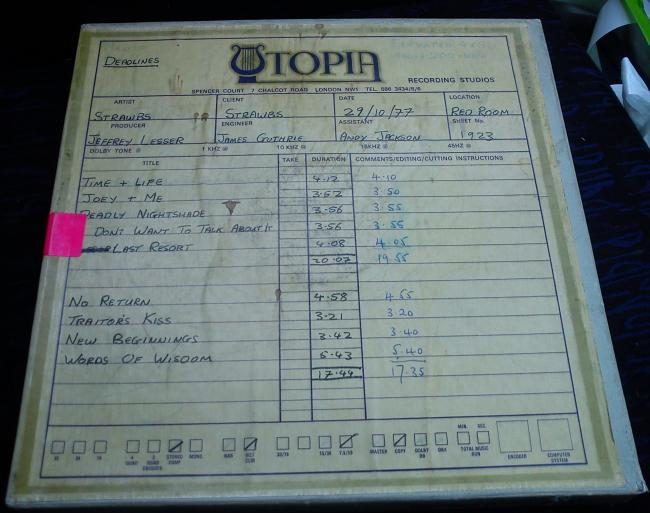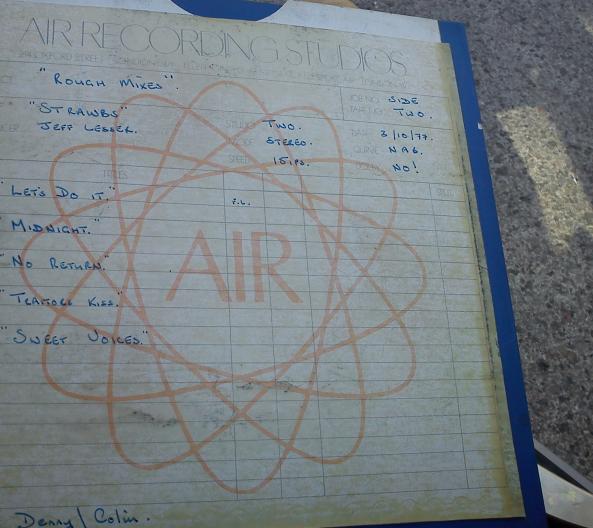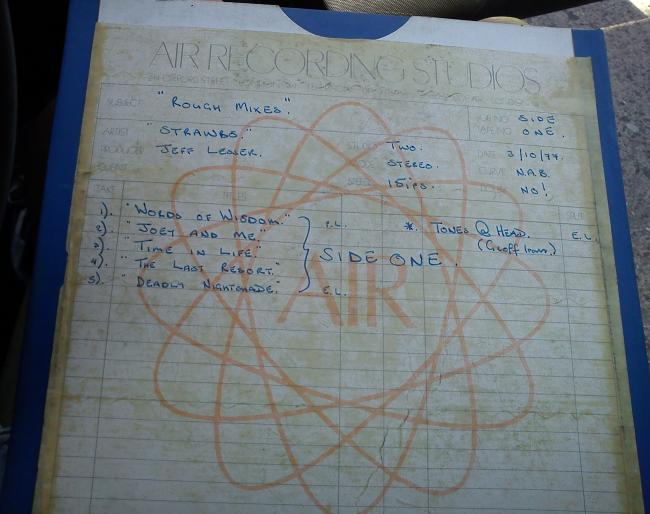 Photos taken by Nigel Bennett - click to see larger version
SONG BY SONG
No Return
(Track 1, released version) - A fine opening - I always thought "No Return" one of the best opening tracks - an intro with great mounting excitement. It's mainly a Lambert vocal track, Jeffrey Lesser being convinced that DL should be the lead vocalist of the Strawbs (no dissing DL, but think he was wrong - there is something about Cousins vocals which is essential to the Strawbs sound). Some great backing vocals from massed Strawbs, Cousins and Cronk. Lots of thrashing power guitar chords in there from DL. For me the crowning moment of this song is when Cousins' vocals (albeit fairly heavily processed) get their first airing, after the bridge in the rising crescendo leading to the lengthy outro with synthesiser noodling from Mealing.
(Track 11, Cousins version) - just acoustic guitar instead of the power chords, different lyrics. Just a fantastic demo, entirely fit for purpose - an unparalleled insight into how Cousins' songs develop.
(Track 18, Dublin version) - without synthesiser overdubs, or any of the backing or Cousins incidental vocals (the bits which for me, lift the track). Essentially a Lambert solo track with Strawbs as backing band - an interesting window on what might have been if Jeffrey Lesser had his way. Synthesiser fans can add their own instrumental flourishes - perhaps we'll have a competition. (Without the synths, it's nice to hear some really neat rapid cymbal work for from Tony on the fade).
Joey And Me
(Track 2, released version) - One of DC's favourites, I understand, and the first single from the album (Arista did three singles, certainly giving it a good outing: Joey was released in Germany, Holland and Spain as well). Joey may be Dave's alter-ego - Joseph is his middle name. The released version allows the electric guitar chords to predominate - the earlier version (see below) has a more acoustic flavour, which I prefer. Great piano solo in the middle.
(Track 19, Dublin version) - a really different mix, accentuating the acoustic guitar over the electric. The vocals are less double-tracked, and clearer as a result, though Lambert is more audible in the mix. But the real treat for me is, instead of the piano solo, a completely different electric banjo solo, followed up again in the outro, with Lambert on electric. This for me entirely transforms the song, and is worth the price of admission alone.
| | |
| --- | --- |
| UK 45 release | German 45 release |
| Dutch 45 release | Spanish 45 release |
Sealed With A Traitor's Kiss
(Track 3, released version) - IMHO this is the Strawbs power ballad to end all power ballads. Opening with simple piano accompaniment and soulful Cousins vocal on the first verse, the full band comes in between verses 1 and 2, for which Fernandez drums sits behind vocals, piano and light synthesiser. The dynamics of the song are just splendid - the bridge starts out fairly restrained and builds to a big climax, Cousins' heartfelt "I can't have been the only man ..." and then a nicely judged Lambert electric solo, before the last heartbreaking verse - "take care of the kids..". If you're going to write about a marriage break-up, that's how to nail it.
(Track 12, Cousins demo) - with Cousins piano (whilst in the band he relies on flash keyboard players, he writes many of his songs on piano). Again, very different words.
(Track 17, band demo) - still fundamentally based on the Cousins demo lyrically, and without the real power which Lesser added to the released version, but great to hear the transition between Cousins' own demo and the final released version.
(Pre-orders bonus MP3 track, Dublin version) - fundamentally similar to the released version (other than the lead vocal, which I think is different), but with some guitar wah effects, and without yet the power of the released album version. Again another stepping stone to what emerged on vinyl.
I Don't Want To Talk About It
(Track 4, released version) - Lambert back on lead vocal for this Cousins/Cronk number, which also was released as a single. Again nice dynamics, building to a peak on the chorus, with great backing vocals which are much more audible on this remastering. Originally titled "Let's Do It" on the original session tapes I've seen.
The Last Resort
(Track 5, released version) - nearly my top track of the album in many ways. Cousins finally allowed to let rip on the sort of bitter lyric he does best - "Will you miss me, I doubt it ?" Great riff-based intro, which recurs throughout, acoustic guitar still audible in the mix, which adds a lot. Synth stabs opening up the middle eight, Cousins vocals, "the damage has been done..." leading into an archetypal Lambert solo - I can feel myself starting to play air guitar, it's unavoidable - before the chorus to close.
Time And Life
(Track 6, released version) - the quasi-title track, referring to "deadlines", with Cousins and Lambert swapping call and response for the verses, joining together for the choruses. Fernandez drums prominent, Lambert power chords, melodic bassline links, and effect laden echo on the vocals. Synth-powered links after second chorus leading to Lambert electric solo, descending to repeats of chorus in various keys before finale.
(Track 13, Cousins demo) - as featured on Taste, this deconstructs the complex instrumentation of this song as released, and demonstrates it to be perfectly viable with just vocal and acoustic guitar - one of those that it would be great to see given an Acoustic Strawbs treatment with Chas on 12-string, Lambert taking a lead and Cousins providing a steady strum. A recast gem.
New Beginnings/Sweet Voices
(Track 7, released version) - simple piano intro, with melodic Lambert vocal. Really strong chorus line, with multiple Strawbs backing vocals, some superb Chas bass frills. Middle eight leading to instrumental section, morphing back to chorus.
(Pre-orders bonus MP3 track, Dublin version) - Interesting variant, with very different words, titled Sweet Voices, previously released on Taste. Again, an opportunity to see how Lambert's songwriting morphed during the recording process of Deadlines.
Deadly Nightshade
(Track 8, released version) - Having played this with the Strawberry Fools, it's moved from one of my less favourite tracks to one I really really enjoy playing - a classic Cousins story song, with a sinister twist. Echoey harpsichord to open over the loveable and much-missed Robert Kirby's mellifluous organ, leading to Cousins heavily effected vocal. Really ratchets up loads of notches between verses 1 and 2, with heavy instrumental bridge. Chorus kicks in after verse 2. Builds to a superb crescendo.
(Track 14, Cousins demo) - complete with DC count-in, this works perfectly on acoustic (Dave could do it solo, and with Ian Cutler and it would be perfect for the Acoustic line-up). Lyrics here are pretty much as per the released version. The riff (performed on acoustic of course) is perfectly formed and this archetypal Cousins acoustic treatment of the chorus is superb.
Words Of Wisdom/Somewhere
(Track 9, released version) - Great synth build for this song rescued from Cousins back pocket, first written circa 1973 (there are a few acoustic demos of the song on its own from around that time but it was included as part of the original "Shine On Silver Sun" suite, recorded in 1973 and released on A Taste Of Strawbs). Military drumming from Tony, good presence of acoustic guitar, mellotron and other keyboard accompaniment striking a slightly atonal note, with low-register Cousins lead vocal and classic massed Strawbs backing vocals, particularly on closing "somewhere, somewhere ..." before extended instrumental close.
(Track 15, Cousins demo) - Gets the same effect with just acoustic, which suggests an Acoustic Strawbs version could be very successful. Very clearly recorded demo, really superb Cousins vocals, albeit without much effects or EQ - IMHO better than the heavily effected treatment which Lesser applied to the recorded version. There are a few demos of this song lurking on tape, but this is by far the best.
(Preorder bonus MP3 track, Dublin version) - cleaner and less effected than the released version, the acoustic guitar is much more audible and the lead vocal much more upfront, with the massed chorus vocal just right in counterpoint. Listening to this against the released version, think I prefer this.
Midnight/The Chosen Ones
(Track 10, outtake) - The high-energy track that didn't make it onto the album. Cousins and Lambert again swap verse vocals, very high register for both, joining together for choruses. Classic Cousins lyrics, this song really powers through, lots of energy. Middle eight, punchy bass, swirly keys, leading to driving instrumental section, cracking Lambert solo. Really great ending. Would have been interesting to have it finished to the same standard as the released version of Deadlines.
(Track 16, Cousins demo) - you get to hear the vocals more clearly, with Cousins' careful enunciation over simple chordal backing. Not a complete version (fades after verse 2), but enough to give the boys the general idea for the recorded version.