GHOSTS AND SPECTERS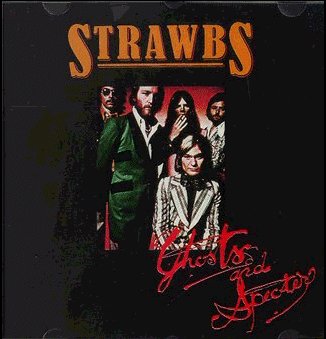 The Strawbs took a brief trip to Tokyo in 1975 to appear on a Japanese TV spectacular - apparently the first simultaneous broadcast to all of Japan's islands. The back cover notes this was recorded live at Sunplaza, Tokyo, Japan on 13 Apr 1975. Someone was obviously in the audience with a tape recorder. Not particularly good quality, sadly, it suffers quite a bit from audience noise - in Japanese! However it did at that time represent one of the only concerts available from this period, possibly the Hero And Heroine/Ghosts band at their height, and includes frequently requested favourite "The Life Auction".
Not really very good quality - for a much better quality version of this, recorded for broadcast, see Live In Tokyo DVD.
Subsequently, Witchwood Media released a later 1975 concert from the Calderone in NY, US - NY 75, which has some similarities in terms of setlist, but by then John Hawken had departed to be replaced with Robert Kirby and John Mealing.
Musicians
Dave Cousins (vcls, gtrs)
Dave Lambert (vcls, gtrs)
John Hawken (kybds)
Chas Cronk (bs, vcls)
Rod Coombes (drms, perc)


Track listing
Round And Round (Cousins)
Autumn (Cousins/Hawken)
Tears And Pavan (Cousins/Ford/Hudson)
Lemon Pie (Cousins)
Remembering (Hawken)
You And I (When We Were Young) (Cousins)
Just Love (Lambert)
introductions
New World (Cousins)
The Life Auction (Cousins)
drum solo
Hero And Heroine (Cousins)
Round And Round (reprise) (Cousins/Hawken)
The River (Cousins)
Down By The Sea (Cousins)
Lay Down (Cousins)