THE THREE MUSTGETBEERS
Page contributed by Pete Bradley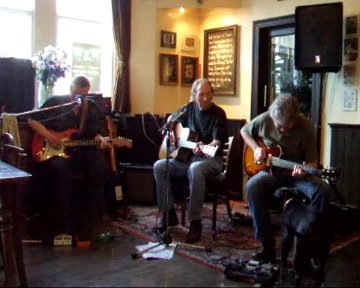 On the first day that Brian Willoughby moved to Twickenham in the 70s, he went for an exploratory stroll through the town and found Jemimah's Wine Bar (now The Eel Pie) in Church Street, with a billboard saying that blues was playing inside. Brian wandered in for a listen and chatted to Bob Lewis at the interval, mentioning that he was also a guitar player. Bob invited him to join in for the second half and they have been playing together in many different bands ever since.
Cathryn Craig tells the story that Bob Lewis was instrumental in the creation of "Alice's Song", by spilling tea on Brian's new carpet. Cathryn leapt for the cleaning fluids, whilst Brian sat on the sofa playing his guitar. Brian hit on a beautiful melody that made Cathryn cry, but Brian assumed she was overcome with fumes from the carpet cleaner. He recorded the melody for her and she then wrote the lyrics.
Bob's Red Hot Pick-up Band featured another excellent guitar player, John Evans. Bob and John teamed up and calling themselves Dr Bob and Big John, they made quite a name for themselves as a rhythm and blues duo, around the Twickenham area. Whenever other commitments permitted, Brian would join them. Originally, the three of them played as Dr Bob and Big John featuring Brian Willoughby, but soon called themselves The Three Mustgetbeers. The maths and nomenclature got slightly complicated though, as occasionally they were joined by Rob Townsend (Family, The Blues Band, The Manfreds) on drums.
The Three Mustgetbeers played mainly covers of Country Blues standards, but sneaked their own compositions in occasionally. They were characterised by a driving rhythm from Bob's acoustic guitar, with beautiful improvisations from John and Brian, orchestrated by an almost telepathic connection between them.
When Bob first became ill, John and Brian continued playing as a duo. They were soon joined by Mark Pickup, from Craig and Willoughby's Rockin' Rhythm Revue, on saxophone and when Bob was well enough they would play as a foursome. On at least one occasion, Cathryn Craig joined Mark, Brian and John, calling themselves the Three and a half Mustgetbeers.
When it became apparent that Bob was unlikely to be well enough to play with them again, Brian, John and Mark rebranded themselves as the 3MGBs, but they are so well known on their circuit, that most venues still refer to them as the Three Mustgetbeers.
See also Cathryn Craig & Brian Willoughby Craig & Willoughby Rockin' Rhythm Revue
Back to main Related Bands and Artists page
A note from Brian Willoughby
"Doctor" Bob Lewis, one of Brian's musical colleagues from the Twickenham area, and a member of The Three MustGetBeers and the Rockin' Rhythm Revue passed away on 4 Feb 2017.
When I wasn't working with Strawbs or one of their many off-shoot bands, I took great delight in playing with Bob Lewis, a wonderful character in my home-town of Twickenham.
Bob was a metronomic rhythm guitarist and a charismatic stage performer and there was always a queue of local celebrity musicians anxious to play with him.
Bob was the first person I met when I moved to Twickenham, in the '70s and we remained close friends. Latterly, Bob, Big John Evans and I were The Three Mustgetbeers, playing Bob's brand of country-blues and R'n'B and enjoying every minute!
When Cathryn Craig and I formed our Rockin' Rhythm Revue, Bob was the obvious choice as joint lead vocalist. I believe he was very proud of this position and he was loved by his fellow band-members. Cathryn and I recorded his unmistakeable voice for our latest album project, singing "Spirit Is Stronger Than Truth".
Sadly, Bob passed away today (4 February) and this has left a huge void in my life.
I shall miss him answering the phone with "'allo maestro" whenever I called, but equally, I shall remember him fondly for his sense of humour, his life story, his loyalty and his love of red wine, mussels, prawns, France, Spain, history and The Blues.
R.I.P. "Doctor" Bob!
Albums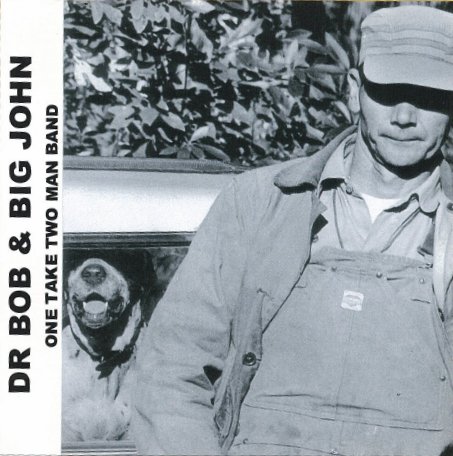 Dr Bob and Big John: One Take, Two Man Band
DVDs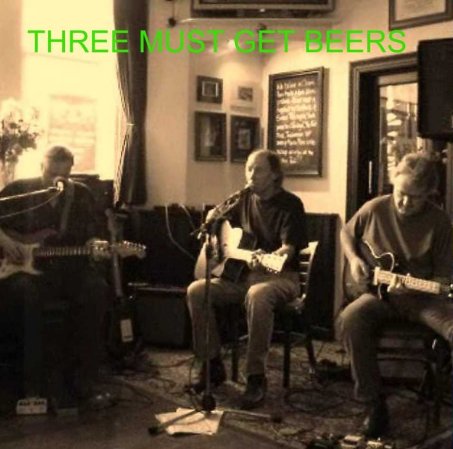 The Three Must Get beers Live

A recording from their gig at the Queen's Head in Kingston on June 6th 2010 was released on DVD, but is no longer available.