CHAS CRONK - ALBUM REVIEWS
Chas Cronk: Liberty - review by Lindsay Sorrell

Back to main Chas Cronk page
Back to main Related Bands page

CHAS CRONK: LIBERTY - Review by Lindsay Sorrell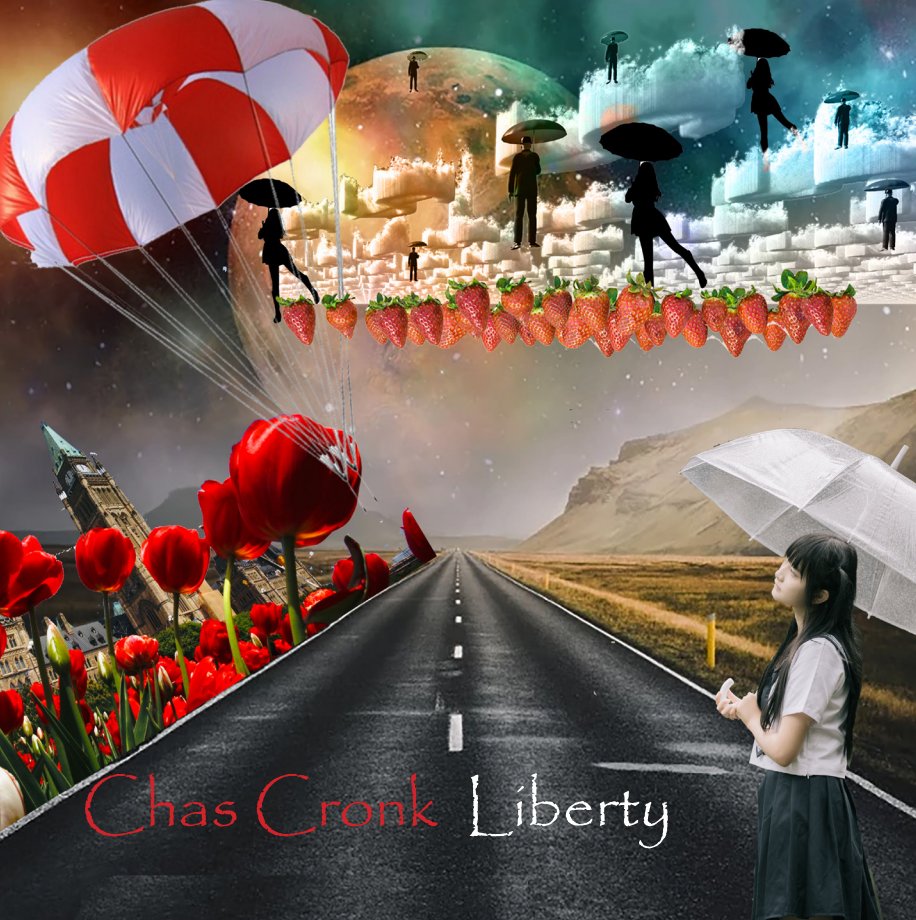 Chas Cronk's new solo album Liberty may well raise a few eyebrows among fans of bands with which Chas has been associated during the course of his career. Undoubtedly, he has long held a reputation as a world-class bass player with Strawbs, Rick Wakeman, Steve Hackett, the lesser known (but highly talented) Cry No More and various other bands and artists. Additionally, Chas is a well-respected member of Strawbs' three-piece acoustic line-up, in which he is a master of bass foot-pedals, acoustic guitars, backing vocals and soaring harmonies. He has also shown his songwriting talents over the years, having written or co-written several songs with Strawbs and other artists which have been extremely well-received, not to mention a solo album of relaxation music entitled Mystic Mountain Music released in 2002.
However, despite Chas's previously known talents and achievements, Liberty should carry a bit of a health warning that a "WOW" moment is to be expected on listening to the CD (or the vinyl LP) for the first time. Song after song is beautifully crafted with an abundance of interesting and alluring sounds interwoven with Chas's warm and occasionally almost hypnotic vocals. Many of the songs have memorable choruses - my head was full of them after the first listen! Not content with simply writing and singing all the songs (Dennis Waterman eat your heart out) Chas plays the vast majority of the instruments himself. There are a few guest appearances, however, in the form of stunningly good guitar playing from Dave Lambert on "A Splash of Blue" and a superb guitar solo from Dave Bainbridge on "Slipping Downstream". There is also some great drumming on the excellent title track from the mysterious Major Baldini. Incidentally, "A Splash of Blue" and another dreamy, beautiful song ("Everybody Knows") are the only tracks on the album which have previously been released - the first appeared on an album Chas released with Dave Lambert (as Lambert Cronk) in 2007 called Touch the Earth, and "Everybody Knows" appeared on Strawbs' album entitled The Broken Hearted Bride (though Dave Cousins, rather than Chas, sang the lead vocals on that version).
The abstract themes which run through Liberty are of nature's beauty, hope and light (particularly welcome in these very dark days) and many of the songs are uplifting and rousing. "Into the Light", as the title suggests, conveys light ahead guiding a path to better days. A couple of my other own personal favourites are "Away", with its achingly beautiful harmonies and comforting choruses, and "Take My Hand" with lovely mellow bass sounds overlaid with attractive keyboards and some great guitar. This song conjures up a bit of a Native American vibe in my imagination. There are two instrumental tracks ("Flying Free" and "Reverie") - I particularly like the ethereal, choral sounds on the latter. A multitude of other gems await discovery, but I won't spoil the surprises! Liberty comes beautifully packaged with interesting and intriguing cover artwork, a booklet including lyrics to all the songs, plus several photos. Liberty was recorded during lockdown and released by Renaissance Records in the USA on 4 Mar 2022 - links below to the CD and LP purchase pages on the Renaissance website. Liberty is also available from various other outlets in the USA and UK (there are a few sellers on eBay.co.uk currently). NB - I've just come across WowHD.co.uk which has a message saying they've sold out of the CD, so maybe best not wait too long if you intend to buy a copy.
TO ORDER CD & VINYL - www.renaissancerecordsus.com