DAVE COUSINS & CONNY CONRAD - GERMANY 2005

Schloss Weitenburg set list
Lay Down
The Shepherd's Song
Grace Darling
Josephine
Down By The Sea
Tell Me What You See In Me
Deep In The Darkest Night
It's Just My Way Of Loving You
Deep Inside
The Call To Action
Part Of The Union
FRIDAY 10 JUNE - KIK, OFFENBURG
SATURDAY 11 JUNE - GASTHAUS LOWEN, WEITINGEN
SUNDAY 12 JUNE - SCHLOSS WEITENBURG, KREIS TUBINGEN
TIME OF MY LIFE - Review by Jon Connolly
In the expectation of catching the great Dave Cousins doing something new I flew in from Canada to catch as much of the German tour as possible. I got to see three performances culminating in the fabulous Schloss Weitenburg set high up in the hills of the Black Forest.
The first set was in the town of Offenburg. I met Dave Cousins and Conny Conrad with their charming, attractive and very likeable other halves Geraldine and Sally at a small guest house where we were all camped for the night. They found me sunning on the guest house terrace with a beer in my hand, just as they were leaving to set up for the first concert. I quickly put down my beer, hitched a ride in their already crowded vehicle, and got to see how Dave Cousins, whom I personally believe has no equal as a song writer and lyricist, shapes and develops a show from scratch.
The first night was in a small university type hall, with a surprisingly young crowd. The set was divided into four parts. First Conny Conrad came on and played two solo instrumentals, electric guitar backed by tapes, sounding to me a little like a space age Shadows. Conny can certainly play the guitar! Dave then came on solo doing acoustic guitar and the number here that stood out was a very respectable "Lay Down". Dave and Conny then came together for a terrific acoustic set of which a stunning version of "Josephine" wowed everyone to wild applause. Conny obviously knows Strawbs music and had no problem keeping up with Dave's choice of songs for the night, which I found out later appeared to be chosen at will, playing the music as the mood took him. The last third of the set was from the new High Seas album. I had not heard the album yet, but here it sounded very good in concert. Dave had explained that the act was in formation for a later tour, and for the formation period tapes provided the backing, there was more than enough musicianship on stage to make up for the tapes. Highlights of this set were "The Call To Action" and "Deep In The Darkest Night".
The next day I met up again with the touring four (Dave, Geraldine, Conny and Sally) at Conny's house. Lovely place nestled in the woods, next to a running stream, with windows cut in the house to reveal stunning vistas. At my request Conny kindly showed me why Dave had chosen to collaborate with him. Over the last thirty years he has done a lot of session work, including writing and producing songs for popular German shows, several albums with his popular German group Dark Ocean. Inside the house is Conny's custom built studio where he and Dave created the album.
That night we were off to a party in a small inn known to Conny and Sally and packed with their friends and supporters. I sat at a long table next to Dave and couldn't reach my mini disc recorder fast enough to catch him play new and old songs at the table. Conny joined him; we all added harmony and the rest of the place went quiet as we all enjoyed the intimacy of the moment.
By this time I had heard the new album (going out that very morning to buy a Discman just to hear the disc). I told the group how much I enjoyed the CD. Some great tunes, strong hooks, very, very enjoyable. I did mention that I preferred however "It's Just My Way Of Loving You" the way it had been played previously in concert in the states, it was slower and more acoustic. I had a query. Why, in all these years that I've listened to the band didn't Dave perform "The Shepherd's Song"? This had developed into a brief discussion of what songs would be great to hear played live acoustically. To my great surprise and immense excitement Dave decided right there and then to grace us with a blistering live set. Conny said let's save it for the castle tomorrow, but Dave was having none of it. They began with an absolutely fantastic version of "The Shepherd's Song", Dave and Conny taking the Spanish riff to new heights, and as they played I had that incredible tingling feeling that only ever happens to me when I am witnessing and hearing something truly great. Superlative acoustic versions of "Josephine", "Down By The Sea" and "Grace Darling", the version I wanted to hear of "Just My Way Of Loving You" and literally the very best version I have ever heard of "Tell Me What You See In Me". I like Conny from the word go, he is obviously a kind man, but it was at this moment when I realized why Dave had chosen to collaborate with him. Dave Lambert is one of my favourite Strawbs musicians and has enhanced many songs for the Strawbs, but a change is good for the human species and here in this inn the old songs sounded incredibly exciting, vital, fresh, lively and dare I say it, I've heard many Strawbs/Dave Cousins concerts over the years, this performance ranks amongst the very best!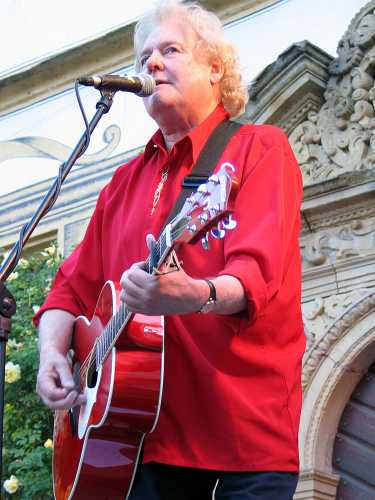 Because I am in the belief that everything Dave does now should be recorded, I came equipped with the permission of Dave, with a state of the art DAT recorder plugged right in the console. Hopefully this performance will not stay hidden; it is the best live recording for content and performance I have ever heard. Late that night as I reviewed the concert on headphones I was bouncing around waving my arms in pure abandon. Normally when I pray it's generally to ask for something, the next morning I actually got to thank god, the tape is that good. Please fellow Witchwooders do not ask me to send you a copy; it's in safekeeping for Dave.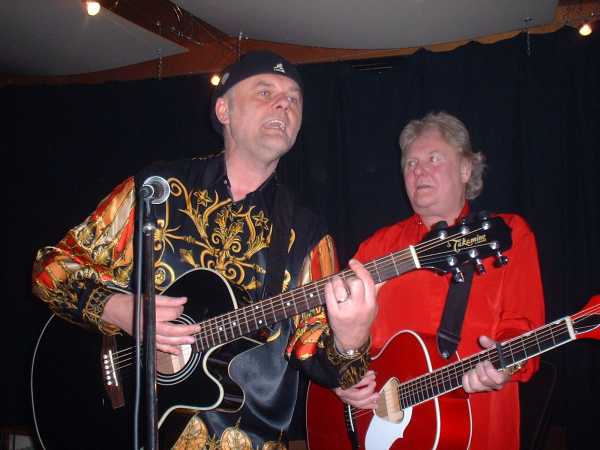 The next day with the sun shining in a clear blue sky the crew arrived to set the stage up in the courtyard of Schloss Weitenburg castle high up in the wooded hills looking to immense valleys below. The castle, converted into a hotel, is run by a most pleasant and gentle aristocratic baron, and the courtyard was an ideal place to have the CD party.
A more than healthy crowd were treated to a format little changed from the first night, but with some song changes. The blonde sitting next to me had never heard Strawbs music before, and genuinely was wiping away tears of emotion as Dave and Conny performed some amazingly strong acoustic performances. In her halting German she told me that for her Dave Cousins was real blues, that he sang with feeling and touched her soul. I'm not sure it sounded like the blues to be, but I know what it's like to be touched by a Dave Cousins song and performance.
The new album tracks played surprisingly well received by the audience, and I say surprisingly because the latter part of the show would all be unfamiliar tunes. The melody and hooks are strong and easy to get into. Again, another great show for me, the acoustic numbers were the highlight.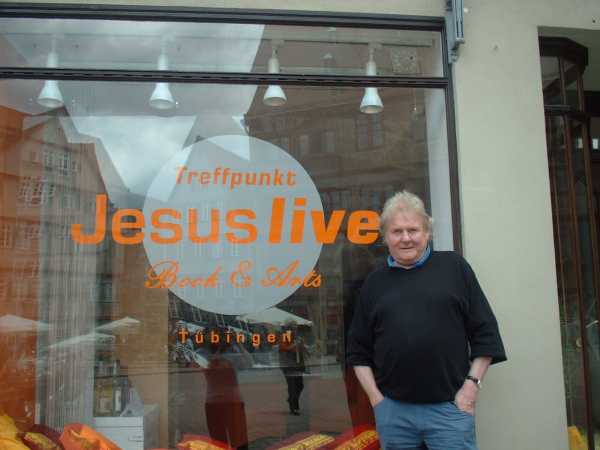 At the end of the show the very enthusiastic crowd bought up all the CD's on sale and Conny and Dave stayed to sign autographs and all the memorabilia that the fans brought. For me it was time to say goodbye. It was hugs all around. I couldn't' have been treated nicer and I am so grateful to have had the experience of traveling with them. There isn't a harder working person in showbiz then Dave, and it was very educational watching him and Conny develop this start of the tour.
Whether Cousins and Conrad AKA High Seas will be anything more than a one off is yet to be seen. The CD I heard was the German version with lots of progressive synthesizer and keyboards, very popular in Germany. I understand from Conny a revised version with some keyboards removed to make room for more guitars will be available to the rest of the world. I intend to buy both. It's very nice to have this CD of their collaboration, and I highly recommend ordering a copy.
I want to thank Dave, Conny, Geraldine, Sally and all the lovely people I came in contact with for giving me the time of my life.

TUESDAY 14 JUNE, EISENBAHNMUSEUM, LOSHEIM
VERY SPECIAL CONCERT - Review by Peter Krott
Losheim is a little village near Tier. It was the last concert from Dave and Conny. We entered that venue called "Eisenbahnmuseum" at 19.00 and heard the soundcheck. The concert was announced at 19.00, but there was no audience. We wait until 19.30 and realised, that we will be the only guests, except the personnel of the hall.
At 19.40 the door opens and Dave came in. He looked at us and I have the idea that he will check that situation. I waited a few minutes, went into the room and asked him a question about one of my favorite songs: "You And I (When We Were Young)". He anwered my question and told me about the song. One other song, which I've played on the piano for myself for many years, I asked him about that too - "So Close And Yet So Far Away" from the Deep Cuts album.
Then Dave went to the stage. To his red guitar. "It will not come true, that he plays this song for me" I' we thought. What can I say. He plays "You And I" - much more intense than on "Ghosts" or "Baroque & Roll". The song lasted 5 minutes, he sang like I never heard him. Nobody there except my friend and me. Then he plays "So Close And Yet So Far Away" and at my request "Poor Jimmy Wilson" from the first Strawbs album. Then he told about Blue Weaver, that the Strawbs had a new line-up, played a new song which he wrote that afternoon (I don't know the title). Later he told us that he asked Mary Hopkin to sing on his new album.
Then he went off, came back for the gig and before he begin to play he went to the microphone and says: "We will play a very special concert for you".
It was very wonderful, the best concert I've ever seen and I've seen a lot. I'm 52 years old and went to concerts since I was 17. But this one was unforgettable. the best of all. After the concert he gave us an address where we can send our CD's to sign. When I said to him "Hope to see you soon" he laughed and (so I think) he remembered the words he wrote on the back cover of the "Old School Songs" LP.
I will enjoy the next time I see him.