FIRE - ALBUM REVIEWS
The Magic Shoemaker Live
Off Strawbsweb
Back to main Fire page
Back to main Related Bands and Artists page

FIRE: THE MAGIC SHOEMAKER LIVE
RAPTUROUS APPLAUSE AND STANDING OVATIONS - Review by Lindsay Sorrell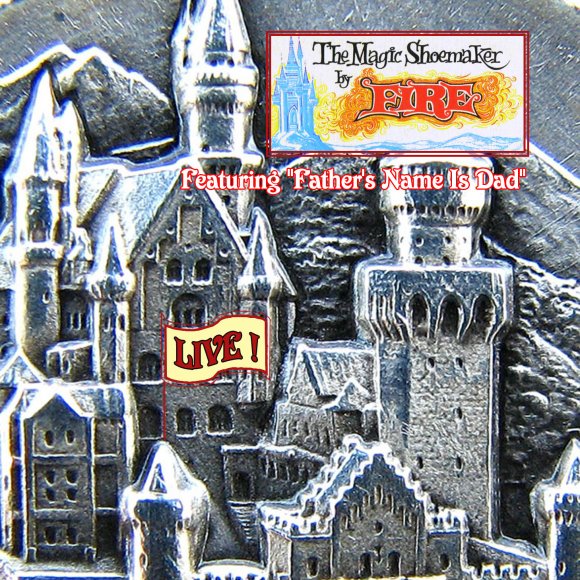 The story behind the making of this album is fascinating; the three members of Fire, a psychedelic band which ceased to exist in 1971, came together after a 37 year absence to stage their magnum opus, originally released as a studio album entitled "The Magic Shoemaker" in 1970. Fire had never before had the opportunity to perform the "fairytale opera" in its entirety thanks to their disbandment before the album was released. However, a recent surge of interest in all things retro, including music from the psychedelic era, led the band's founder, Dave Lambert to consider fulfilling his long-held dream to do just that. Dave's fellow band members (Bob Voice – drums, backing vocals) and Dick Dufall (bass, backing vocals) didn't need persuading to join in the venture, and even the band's earliest manager, Ray Hammond, was involved.
On the original studio album, episodic narration of a tale which wove several songs into a story had been undertaken by Dave Lambert himself, surrounded by a group of inquisitive young children. The songs'lyrics are frequently naive and childlike, yet the music is aimed at distinctly more mature listeners which adds to the charms of this distinctly "unusual" album. When Fire performed two concerts at The Windlesham Theatre, Surrey, on 30th November and 1st December 2007, it would clearly have been an impossibility for Dave to narrate as well as being lead vocalist and playing several instruments, so Ray stepped into the breach, beautifully narrating a storyline cleverly rewritten to include cues for two Fire classics which did not appear on the original "Magic Shoemaker" album, namely "Father's Name is Dad and "Treacle Toffee World".
The concerts were professionally recorded with a view to a possible live album being released if all went to plan, however, that appeared to be a sizeable "if" in view of the extraordinary nature of the concerts. Thankfully, everything ran smoothly; rapturous applause and standing ovations attested to the great success of the performances of all involved on both nights and as a result, this live Fire CD was released on 6th October 2008, on Angel Air Records.
The opening track, "Overture (To A Shoemaker)", sets the scene for the musical journey ahead; as its title suggests it incorporates snatches of melodies from many of the pieces of music to follow in true theatrical tradition. In so doing, it also hints at the multitude of musical styles tackled by Fire. While the band has generally been labelled as being psychedelic, a dominant genre of their heyday, music on this album defies such simplistic categorisation as it involves a far broader range of styles.
"Children Of Imagination" leads in with faint piano which gradually increases in volume, eventually to provide the backing for whimsical lyrics which leave no doubt as to the fantasy nature of the musical tale to follow. The song fades away as quickly as it first appeared, with piano becoming ever more distant and a little flute-like embellishment adding to the childhood theme.
Whoops of delight from the audience accompany the drumming which introduces "Tell You A Story". This song rocks, incorporating some decidedly psychedelic electric guitar a la Hendrix, great bass lines and some excellent vocal harmonies, a frequent feature of the album.
"Magic Shoes" then provides a contrast, with simple piano initially accompanying Dave Lambert's vocals. The fairytale continues with more pleasant harmonising, and increasingly bluesy piano is joined by the rhythm section.
The slower-paced, "Reason For Everything" follows, with Dave Lambert's powerful vocals, some nice jangly guitar and yet more blended harmonies.
"Treacle Toffee World" is one of Fire's best known songs from the psychedelic era; no wonder this has always been a favourite. Vibrant, punchy and decidedly fresh-sounding, the song continues to gain recognition; the forthcoming Apple Artists compilation album is to be entitled "Treacle Toffee World - Further Adventures Into The Pop Psych Sounds From The Apple Era 1967-1969", and the song will be one of four Fire tracks to feature on the album. (Release date is 27th October 2008 on RPM Records, part of the Cherry Red Group).
The atmospheric "Only A Dream" is very definitely a favourite of mine, with an emotion-packed vocal delivery. Sparse instrumentation gradually gathers pace to provide a backing for anthem-like choruses and yes, more great harmonies.
"Flies Like A Bird" is another of my favourites - an innocuous piece of tuneful electric guitar leads into something far grungier, as ever underpinned by some terrific bass and drumming. A terrifically exciting song, punctuated by a passage of Queen's English narration by Ray Hammond. Fascinating!
Next is "It Wouldn't Have Happened In My Day", another slower paced song which bemoans the problems caused by the younger generation. Reading the abbreviated story, (thoughtfully included in the CD's booklet) it is apparent that the inspiration for the song is a Princess's unwanted pregnancy, shamefully caused by her covert liaison with the Prince of a sworn enemy. The preceding fairytale picture-book mental imagery created by the album is given an unexpected jolt by this song's rather more contemporary lyrical content: "raffle down the club", "insurance for the car" etc. This album certainly didn't stick to the rules!
"War" – full on discordant and dirty guitar. Any punk band would surely be proud!
Entirely different yet again, with a jazzy feel, lots of light and shade and soulful vocals from Dave Lambert, is "Like to Help You If I Can". Rich, tuneful electric guitar and sympathetic bass and drums complete the package.
"I Can See The Sky" is another rocker, with very prominent bass and lots of exciting twists and turns including some great harmonica playing by Dave Lambert.
Though not on the original "Magic Shoemaker" album, "Father's Name Is Dad" has generally been considered Fire's piece de resistance. There are so many versions around, attesting to the impact of its powerful chords (it was even sampled by The Pet Shop Boys for their song "Flamboyant" in 2004). Unsurprisingly, given the excellent sound quality throughout "The Magic Shoemaker Live!", this version completely captures the essence of the song, powerful and punchy to the max.
"It's Just Love" – this song will be familiar to Strawbs' fans, through the inclusion of "Just Love", a rocker on "Hero and Heroine". However, this version is gentler, with its acoustic delivery receiving warm applause.
Piano, played by Dave Lambert, introduces "Shoemaker" and provides sympathetic accompaniment to his plaintive vocals. Eventually the pace quickens until theatrical-sounding keyboards dominate, very nostalgia-inducing and reminiscent of intros to children's theatrical productions in particular. Soulful vocals and piano take over once again, with some nice percussive touches to finish.
The finale of the concerts (pre-encores, of course!), "Happy Man Am I", is a jaunty, skiffle-type number, as upbeat as its title suggests. Though reminiscent of Lonnie Donegan and his ilk (including songs by The King Earl Boogie Band, the band Dave was with before joining Strawbs in 1972), this song uniquely includes a beautifully narrated passage from Ray once again, which helps happily tie up any loose ends of the story which may remain. The tale finishes on a suspenseful note, however, with "…but…..as they say….that's another story……………."
Expressive piano introduces "Mama When Will I Understand", another soulful number with insightful lyrics, again using a child's stance, which tackles adult subjects such as racism and drug addiction. Dave Lambert again shows his versatility, and ability to deliver vocals which complement the emotion of each song so well. A superb finish to an absolutely fascinating album.
The CD is well presented with a 12-page colour booklet which is both informative and decorative, including some excellent photos of the band both recent and from the 60s/70s. Some excellent notes by Stefan Granados give an explanation of the origins of Fire, the band's reformation, and feelings evoked for the band members by the reunion. The Magic Shoemaker storyline and an explanation of how the songs relate is also helpfully included.
Strawbs' fans who have always appreciated Dave Lambert's contributions with his rich lead vocals and harmonies, some great songwriting, and exquisite guitar playing shouldn't let the "psychedelic" label usually attached to Fire allow them to bypass this album. This is Dave, together with his Fire colleagues, Bob and Dick, playing with great professionalism and a passion for the project which is evident throughout. The "live" feel of the concerts has been captured superbly, recorded by Paul Smith, and enormous credit must also go to Chas Cronk for the outstandingly good sound achieved on the finished article.
A nice touch....several Strawbs fans received thanks in the booklet for their efforts to help Dave, Bob and Dick in fulfilling their dream. "The Magic Shoemaker Live!" has already brought happiness to those involved and those fortunate enough to witness the concerts; the album will undoubtedly bring pleasure to many more fans of different musical persuasions for a long time to come.

ICONIC WRITING, SUPERB RECORDING, INTOXICATING FEEL - Review by Nigel Bennett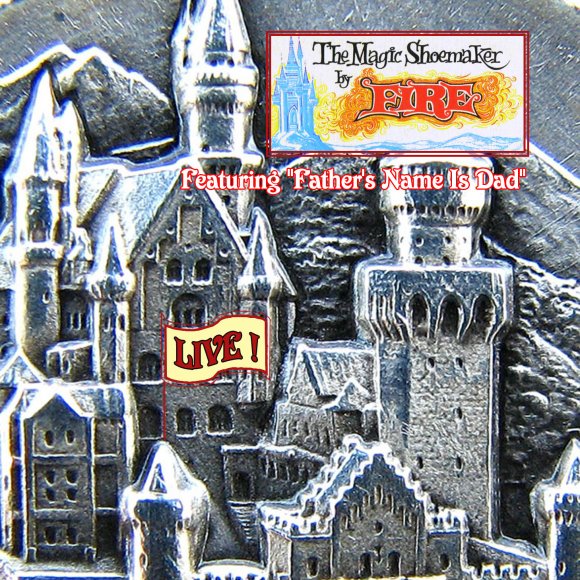 There is already one gold star review of this CD available (see Lindsay's erview above) but here are a few words from my own perspective. So here goes ...............
Having been lucky enough to be present at the two ground breaking gigs, I now find myself sat here thinking more about the music rather than the event itself and its presentation.
An opportunity to get this CD so soon after release has allowed me to listen to a piece of iconic writing that I admit I was initially relatively unfamiliar with, but is now without doubt, a pleasure. (As indeed was the whole presentation across those two days of November and December).
So how do you comment on a work so diverse in content from acoustic driven sensitive ballads to hard rocking and at times has an almost progressive feel. All written of course in a time when the label of "psychedelic" was given to genres of many varieties including Floyd, Cream, Jefferson Airplane, Grateful Dead or even the Beatles with their offering of "Lucy in the Sky with Diamonds". (You can probably name loads of others too).
Each of those of course carried its own history and a personal label in that era, of which "Fire" clearly has a place to call its own.
There is something here for all to engage in and as I have already said you will go from Acoustic, to a glimpse of Jazz and all things rocking and all of those in each of their own varying forms, are a recognised part, of the genre of the psychedelic offering. You might yourself clicking fingers or beating out the beat, joining in with some fine harmonies. The playing, it seems, seemingly hadn't been done for 37 years, prior to those nights, but this superb recording was made by expert Strawbs soundman Paul Smith and mastered by no one less than Strawbs guru the estimable Chas Cronk who has done a fantastic job, captures every bit of the atmosphere of those evenings.
So much so, even if you were not not lucky enough to be there, you can share in and enjoy this finely preserved the "live" event .. I can vouch for that and I would recommend that you play it loud so you too will really get to share in that "live feel" experience.
This is a work that will grow on you the more you play it, it has an intoxicating feel that makes you want play it time and again once you get started. So into the album itself - it's a concept and fairy tale all rolled into one and I'm not going to try and dissect each individual track - this is for you when you listen. The thing is, each track has something to attract your attention and this is a very much an overview on each of the tracks.
The opening overture is .. well not quite like what follows after and you might feel you have at first dropped in on a session with a "far out" ground breaking band but sets the scene nicely building to the entrance of the story.
"Children Of Imagination" is relatively short, before some thumping drumming picks up the pace in "To Tell You A Story" with thrashing guitar, with distinct bass line and continued drumming.
"Magic Shoes" changes pace and almost at time has a "barber shop" feel with harmonious vocals and a tempting little chorus. You get a real laid back feel with "Reason For Everything" and quite typical of some of Dave's recent offerings on his solo albums with his typical style encompassing the time span and passage in between. "Treacle Toffee World" takes us back to the harder in your face rocking style finishing in sensational style with Dave letting rip on his beloved guitar.
Back to a few quieter moments with "Only A Dream" with a story telling reflective lyric.
"Flies Like A Bird" has a nice sing along type of chorus, before you get a snatch of the "on the night narration" and a fast pace finish.
"It Wouldn't Have Happened In My Day" - a salutary tale??? Let's just say some might associate themselves with this dilemma. Reflective, charming and a sharp edge you might not find in every fairy tale. Will it all turn out well in the end? You'll have to listen to the rest of the album to find out. We are only about half way through.
Love the opening to "War" and the whole heavy rocking bit of this instrumental piece.
Jazz - who needs Sinatra or Cullum - this is Lambert with "Like To Help You If I Can". Aided and abetted with some nice harmonies.
The start of "I Can See The Sky" for some reminds me a little of "The Who" but perhaps more typical song from the era and the middle guitar piece of something else - may be a passage from Capability Brown called "Sole Survivor" from 1972 - perhaps they were influenced.
"Father's Name Is Dad" is a song much heralded and covered and every one should know this version - lovely guitar, bass and drum line.
"It's Just Love" is not the rocking version that Strawbs fans know and love - but an acoustic based version which will be greeted with equal fondness.
Dave Lambert on piano - love the opening to this track a simple but haunting little melody - Shoemaker ….. the album done and dusted ! Yet the lyric will stick in your brain and I'm sure you will be reciting "He's a shoemaker" before too long. This last track (except of course for the bonus track) - is a jaunty and happy little toe tapper which finishes it all off quite nicely - "Happy Man Am I". And so should Dave, Bob, Dick and Ray be, for re-creating this imaginative production.
So what of the bonus "Mama When Will I Understand" ….. For those that know Dave this will be no surprise β€" a well crafted song with a challenging thought provoking lyric - yes a real bonus !
OK, so I am still true to my word the songs have not been dissected, I've tried to just give an overview - your real pleasure will come later when you play it. An album diverse in nature, agreed, but this is one which, because of that, will hold your attention. And, given the time span and interest since it was first written, it looks like it will continue to give some long lasting pleasure.

Comments from Witchwood - the Strawbs Discussion Group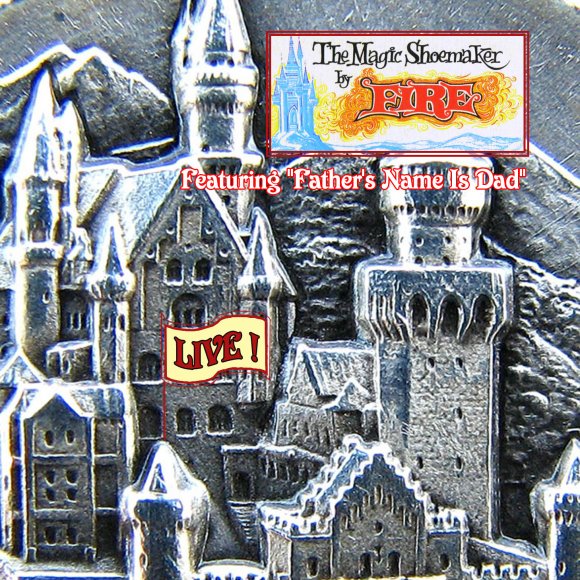 Pete Bradley
All I can say is in my opinion this is a truly amazing album. It is even better than the studio album, which itself is a masterpiece. Really unbelieveable that it didn't get the srecognition it deserved at the time, so it is good to think that it is finally getting noticed. I'm sure that it was quite influential just not credited. If you listen to Pink Floyd's Wall, then I'm sure you can hear bits that wre ripped off from The Magic Shoemaker.
If you are expecting the album to sound like the Strawbs, you might be surprised, so do look out for the Youtube clips first, but I'm pretty sure that you will love it. "Father's Name Is Dad" has been watched 1,300 times now, so quite a lot of people have dipped their toe in the water. (Just go to Youtube and search for Magic Shoemaker).

Back to main Fire page
Back to main Related Bands and Artists page