HUDSON FORD - THE A&M YEARS, 2017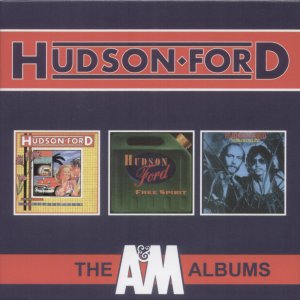 For large scans of the images, click on the images: you may need to use the zoom feature in your browser to see the full image.
Back to main Hudson Ford albums page
Back to main Hudson Ford page
Back to main Related Bands page
3CD boxed set, CAROLR070CD, (Caroline, 2017). CD size box, with three facsimile card sleeves inside - one for each of the original albums - and a 20pp booklet with sleeve notes by yours truly (not reproduced). The front of the card sleeves match the original UK LP sleeves - except that Free Spirit has a black border around the gas can to show off the curves. The backs are modelled on the UK originals, but reworded to include bonus tracks, 2017 release info and, on Nickelodeon, an additional musician credit - Will Hill, who played drums on "This Is Not The Way (To End A War Or To Die)". The CDs themselves are designed to reflect the album sleeves - all in all a nice package.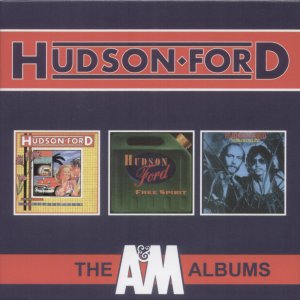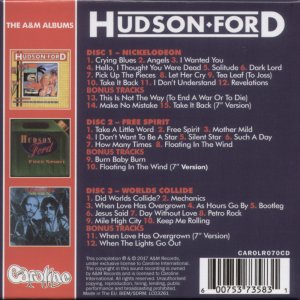 Tracks
DISC 1 - NICKELODEON
Crying Blues (Hudson/Ford)
Angels (Hudson/Ford)
I Wanted You (Hudson/Ford)
Hello, I Thought You Were Dead (Hudson/Ford)
Solitude (Hudson/Ford)
Dark Lord (Hudson/Ford)
Pick Up The Pieces (Hudson/Ford)
Let Her Cry (Hudson/Ford)
Tea Leaf (To Joss) (Hudson/Ford)
Take It Back (Hudson/Ford)
I Don't Understand (Hudson/Ford)
Revelations (Hudson/Ford)
Bonus tracks
This Is Not The Way (To End A War Or To Die) (Hudson/Ford)
Make No Mistake (Hudson/Ford)
Take It Back (7" version)(Hudson/Ford)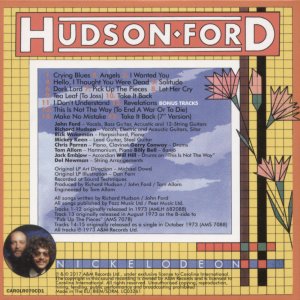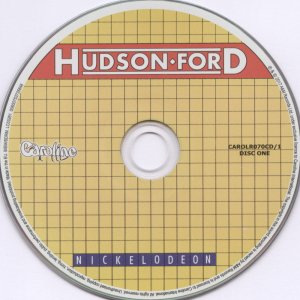 DISC 2 - FREE SPIRIT
Take A Little Word (Hudson/Ford)
Free Spirit (Hudson/Ford)
Mothermild (Hudson/Ford)
I Don't Want To Be A Star (Hudson/Ford)
Silent Star (Hudson/Ford)
Such A Day (Hudson/Ford)
How Many Times (Hudson/Ford)
Floating In The Wind (Hudson/Ford)
Bonus tracks
Burn Baby Burn (Hudson/Ford)
Floating In The Wind (7" version) (Hudson/Ford)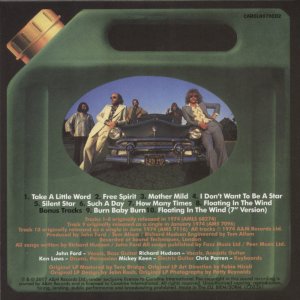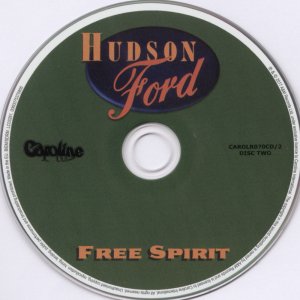 DISC 3 - WORLDS COLLIDE
Did Worlds Collide (Hudson/Ford)
Mechanics (Hudson/Ford)
When Love Has Overgrown (Hudson/Ford)
As Hours Go By (Hudson/Ford)
Bootleg (Hudson/Ford)
Jesus Said (I Am The Door) (Hudson/Ford)
Day Without Love (Hudson/Ford)
Petro Rock (Hudson/Ford)
Mile High City (Hudson/Ford)
Keep Me Rolling (Hudson/Ford)
Bonus tracks
When Love Has Overgrown (7" version) (Hudson/Ford)
When The Lights Go Out (Hudson/Ford)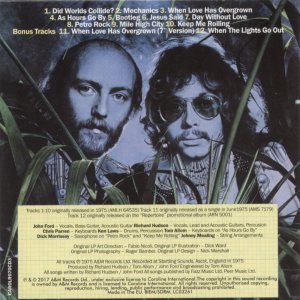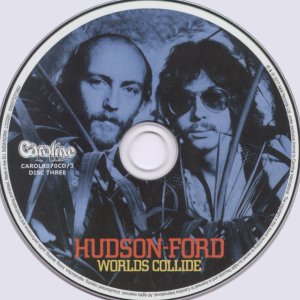 Back to main Hudson Ford albums page
Back to main Hudson Ford page
Back to main Related Bands page