HUDSON FORD - THE A&M ALBUMS
Review and interview with Richard Hudson by Lindsay Sorrell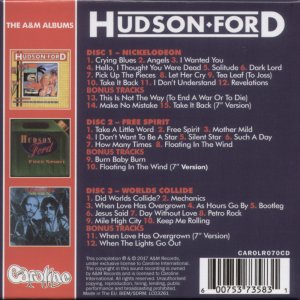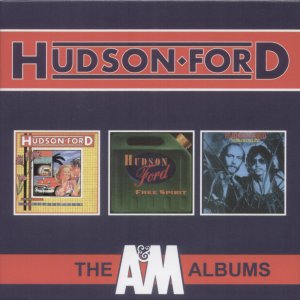 As a huge fan of Hudson Ford back in the day, I was delighted to hear that the band was at last to have an official release of three of their albums: Nickelodeon, Free Spirit and Worlds Collide. It has always irked me that while many people knew Hudson Ford for their chart singles ("Pick up the Pieces", "Burn Baby Burn", "Free Spirit" and "Floating in the Wind"), and several appearances on Top of the Pops and other TV programmes, too few were aware of the wealth of great music contained in their albums. As the years have passed their contribution to the world of music had seemingly been overlooked, and then came the excellent news that Caroline International, launched by Universal Music and described as "a full service global partner for independent labels and artists" had decided to release these aural gems as a triple CD box set entitled The A&M Albums.
It was sheer delight to receive the box set and see what a superb job Caroline International had made of the release. The packaging is first-rate, with a very sturdy and attractive box cover adorned with photos of the original album covers, track listings and credits. Each CD replicates the running order of the respective albums, with added bonus tracks to finish. This handsomely packaged box set is excellent value, and listening to the music within is an absolute joy. For those who already know Hudson Ford's albums it feels as though justice has at long last been served, as it is now possible to play these officially-released albums, knowing that Richard Hudson (generally known as Hud) and John Ford will receive their dues rather than be ripped off by ruthless bootleggers. Music always seems to sound so much better when it's legit to me. The musical contributions of many other terrific musicians can also be heard on the albums (as credited on the individual mini replicas of the original vinyl album covers), including of course Chris Parren, Hudson Ford's terrific keyboard player and the much missed Ken Laws (drummer) and Mickey Keen (lead guitar), neither of whom are still with us. It's sad, of course, that they didn't get to see the albums released, but good to know that their talents will live on to be appreciated by new generations of listeners.
The box set also includes a wonderful booklet with sleeve notes written by Dick Greener (owner of Strawbs' website aka Strawbsweb). For anyone not aware of Hudson Ford's history, the pair left Strawbs to form Hudson Ford as a result of the band's musical differences at the time – all events now long since consigned to history).
Several years ago I had the pleasure of interviewing Hud; the interview is still available on Strawbsweb in the "Features" section for anyone interested, along with an interview I did with John Ford way back in 2004 (gulp!). John has been living in New York for many years, while Hud still lives in London. He is always happy to have a chat, so I thought it was high time to ask a few questions about his own thoughts on the recent release of The A&M Albums:
(The box set is currently widely available from Amazon and various other major retailers, and as a beautifully-packaged triple album represents excellent value).
INTERVIEW
LS: How did the release of the new box set come about?
Hud: That's a good question. John and I had been in constant contact with Universal Records ever since they acquired the rights to our albums; we were pressing them to release the albums on CD, but to no avail. Then out of the blue we were contacted by Caroline Records on behalf of Universal Records, to inform us that they intended to release the three Hudson Ford A&M albums in a box set. You can imagine how pleased we were; at last, we were having a legitimate release of our albums on CD.
LS: Do you have a favourite Hudson Ford album, and if so, why is that?
Hud: That's a difficult one, because they are all so different. The first album was written more for just John and I, and the subsequent two were written more with the band in mind, giving the players more scope to express themselves musically.
LS: I notice that the fourth album released by Hudson Ford, "Daylight", is not included in the box set. Why is that?
Hud: Daylight was released on CBS, which Universal don't have the rights to. I think now would be a good time for us to approach CBS.
LS: The songs on all the albums are credited to both yourself and John Ford – did you have a particular way of putting songs together, e.g. did one of you write more music and the other more lyrics?
Hud: No, we had no set formula, we both did both.
LS: You obviously have a flare for song writing (apart from with Hudson Ford, you and John have written songs for several bands including Strawbs, The Monks and High Society). Do you continue to write?
Hud: Yes, John and I are both still actively writing, John having written many great solo albums. I am at the moment working on my first solo project.
LS: With Hudson Ford you took on a front-man role, sharing lead vocals and front of stage with John. Nowadays you play drums with several different bands – do you ever hanker after the spotlight again? Do you ever play other instruments apart from drums these days?
Hud: No I certainly don't hanker for being out front again. I am really enjoying myself playing in the background, as I am working with some really excellent musicians. I still play guitar.
LS: Do you have any particular memories of the Hudson Ford days you would like to share?
Hud: The whole period of Hudson Ford was a joy. Working with John and the HF band where no big egos were involved was what made touring so much fun.
LS: Hudson Ford played far more shows in Canada and USA than in the UK – why was that? In which other countries did Hudson Ford play?
Hud: That was down to our management, as they thought America and Canada were the big markets to concentrate on. We played a few countries in Europe, but mainly worked in America, Canada and England.
LS: The band was relatively short-lived – how and why did Hudson Ford come to an end?
Hud: Again that was a management decision, they thought John and I should just concentrate on writing songs, we had great success with other projects, but on reflection, I wish we had carried on touring as Hudson Ford.
LS: Sadly, Ken Laws and Micky Keen are no longer with us. Are you still in touch with remaining members John Ford and Chris Parren these days?
Hud: Yes I am, I speak to John all the time and I met up with Chris a couple of weeks ago. I also recently met up for a beer with some of our old road crews; Frank Boulter, Dickie Bell, Rob Harvey, Nish and their wives. We had a really enjoyable day reminiscing.
[DG: since initially answering the questions, we have had the sad news that Frank Boulter's wife Christine died]
Back to main Hudson Ford features page
Back to main Hudson Ford page
Back to main Related Bands page