RUTHLESS BLUES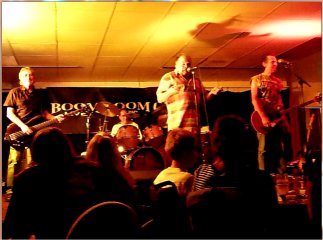 Contributed by Pete Bradley
Ruthless Blues evolved, rather than formed, from the ashes of a band called Telemacque round about 1979, though nobody is quite sure of the exact date.
The original line-up comprised John Knightsbridge (guitar/vocals) and Paul McCallum (bass/vocals), both from Telemacque, along with Dave Blake (rhythm guitar/ vocals), Jeremy Trulove (harmonica) and Jim McCarty from Rennaissance/ Illusion on drums. John Knightsbridge had previously played with Jim McCarty (along with John Hawken) on Illusion's Enchanted Caress album (and had also, briefly been a Strawb when Roy Hill was the band's lead singer for two gigs in 1980!).
The band has undergone several personnel changes, and none of the original members remain in the present line-up.
In 1984, Jim McCarty left, and was replaced by Tony Fernandez, who had played with John Knightsbridge in the Roy Hill band.
Johnny Mars (harmonica and vocals) fronted the band when both Jeremy and Dave left, but his workload was such that he too left. The band continued with either Stevie Smith (harmonica and vocals) or John Earle (sax/ vocals) fronting the band, depending on who was available. When both turned up for the same gig, they became a five piece again, and remained as such for eleven years.
Since then, there have been a few more changes, and the band now comprise Stevie Smith, Tony Fernandez, Martin Taylor (guitar/ backing vocals) and Andy Herbert (bass).
For their 2011 tour, our very own Chas Cronk depped for Andy Herbert.
Back to main Related Bands and Artists page

Albums
For full details see www.ruthlessblues.co.uk.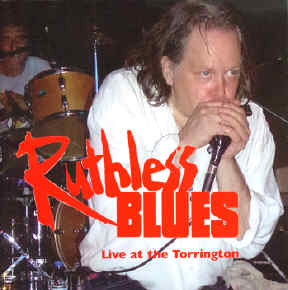 Live at Angie's (Cassette only 1985)
Ruthless(Casette only 1987)
Ruthless Blues (President Records PTLC 1102, 1992)
Sure Enough (President Records PCOM 1122, 1994)
Live At The Torrington (Mystic records, 2006)

Weblinks