ROD DEMICK/DEMICK AND ARMSTRONG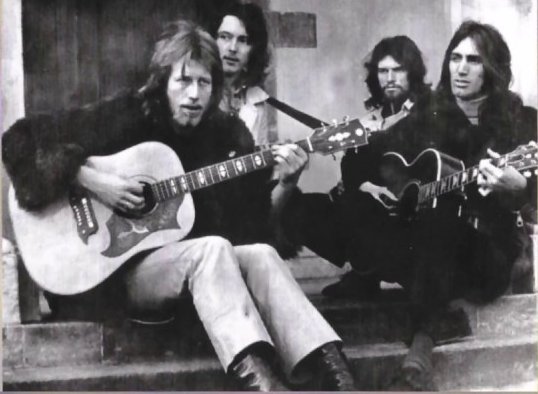 Rod Demick started playing in Belfast in 1962, whilst still at school. He came over to England and joined ex-Belfast band The Wheels, who scored a hit with "Gloria".
Demick then teamed up in the very early 70s with Herbie Armstrong, initially as The James Brothers, becoming the backing band for Screaming Lord Sutch. After six months in Europe with his Lordship, they returned and secured a record deal with first MAM and then A&M for two country/folk/blues albums.
Armstrong went on to join Kenny Young in mid 70s pop band Fox, whilst Rod joined pub-rock band Bees Make Honey. All three, Young, Armstrong and Demick turned up in Yellow Dog, Rod later going on join Meal Ticket. Rod has played on sessions and tours for the likes of David Essex, Henry McCullough, Dr. John and Billy Ocean, and wrote songs and recorded with Ian Gomm. After a six month stint with Ron Kavana, Rod joined the re-formed Strawbs in 1985 to replace bassist John Ford who had decided to settle in America, and has played with the band till Chiswick in August 1998. Turkey Leg Johnson (effectively that Strawbs line-up without Dave Cousins or Tony Hooper) occasionally made its presence felt as the opening act for Strawbs gigs.
From 1988 onwards Rod also worked in various bands featuring Jim McCarty - the Top Topham-Jim McCarty Band (recorded an unreleased, unmixed studio album and one live cassette recording) and the Jim McCarty Group. In 1992, in honor of the Yardbirds' election to the Rock & Roll Hall of Fame, Jim McCarty and Chris Dreja backed by Rod and "Detroit" John Idan did several reunion concerts and recorded a live album now available on Renaissance Records (RMED00169), featuring the hits, new originals and previously unrecorded materials.
Rod left the Strawbs when John Ford rejoined for the 1999 UK tour for which Rod was the opening act. Many of the tracks from a solo album were featured in that acoustic set; it doesn't appear that that album has been made available commercially - shame: it's very good.
Recently Rod has been playing with Paul Lamb and the Kingsnakes - see http://www.paullamb.com/, which also features recent pictures of Rod and a fuller biography.
Back to main Related Bands and Artists page

Albums
Demick & Armstrong: Little Willie Ramble (MAM AM 1001 (mono), AS 1001 (stereo), 1971)
Demick & Armstrong: Looking Through (A&M AMLH 68098, 1972)
Rod Demick: Live & Well (Mojo Records M1, cassette only)
Rod Demick: Straight To The Heart (CDR pre-release)
For album details, see albums page.

Singles
Wheels
"Gloria"/"Don't You Know Columbia" DB7682 (1965)
"Bad Little Woman"/"Road Block" Columbia DB7827 (1966)
"Kicks"/"Call My Name" Columbia DB7981 (1966)
The Wheels singles and six unreleased tracks are available on Belfast Beat Maritime Blues ACE/Big Beat Records CDWIKD152 (1997)
The James Brothers
"I Forgot To Give You Love"/"The Truth About It" Page One Records POF077