STRAWBS AT THE BBC - VOLUME 1 - IN SESSION, 2010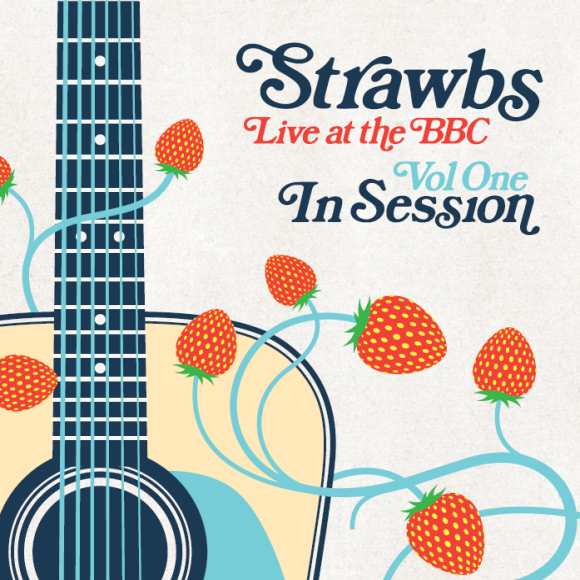 Universal released two major compilations of rare tracks from BBC sessions/live radio shows in July 2010. The material was released in two volumes - Volume 1 In Session, 1 CD sessions tracks from 60s and 70s shows Top Gear, Sounds Of The Seventies etc. and Strawbs At The BBC Volume 2 In Concert, 2CDs comprising three hour long concerts broadcast by the BBC in 1971 (Wakeman's last show with Strawbs), 1973 (BATS line-up) and 1974 (Hero And Heroine line-up), which are spread over 2 CDs.
The sessions here range from 1968 to 1973. Some material had already been used on A Taste Of Strawbs (marked here with (T)) and the 2008 Universal CD releases of Strawbs and Dragonfly (marked (U) below).
For Strawbs at the BBC Volume 2 page see Strawbs At The BBC Volume 2 In Concert.
Volume 1 (In Session) - track listing
1968: (Cousins/Hooper/Chesterman with Tony Visconti on recorder)
(Top Gear, 10 Dec 1968)

The Battle (T)
Poor Jimmy Wilson (U)
That Which Was Once Mine (U)

1969: (Cousins/Hooper/Chesterman with Clare Deniz)
(Peter Sarstedt show, 25 Aug 1969) - see the two Peter Sarstedt BBC Transmission discs on the Transmission discs page for more info
.
Another Day (T)
We'll Meet Again Sometime
1970: (Cousins/Hooper/Wakeman/Ford/Hudson)
(Sounds Of The Seventies, 5 Oct 1970)
Canon Dale
Song Of A Sad Little Girl
1971: (Cousins/Hooper/Wakeman/Ford/Hudson)
(Sounds Of The Seventies, 23 Jun 1971)
The Hangman And The Papist
Witchwood
1971: (Cousins/Hooper/Ford/Hudson/Weaver)
(Sounds Of The Seventies, 30 Nov 1971)
Benedictus
New World
1972: (Cousins/Hooper/Ford/Hudson/Weaver)
(Sounds Of The Seventies, 19 Apr 1972)
Tomorrow (T)
Is It Today Lord
Heavy Disguise
New World (T)
Here It Comes (T)
1973: (Cousins/Lambert/Ford/Hudson/Weaver)
(Sequence, 9 Jan 1973)
Lady Fuschia
Part Of The Union
The Winter And The Summer