STRAWBS AT THE BBC - VOLUME 2 - IN CONCERT, 2010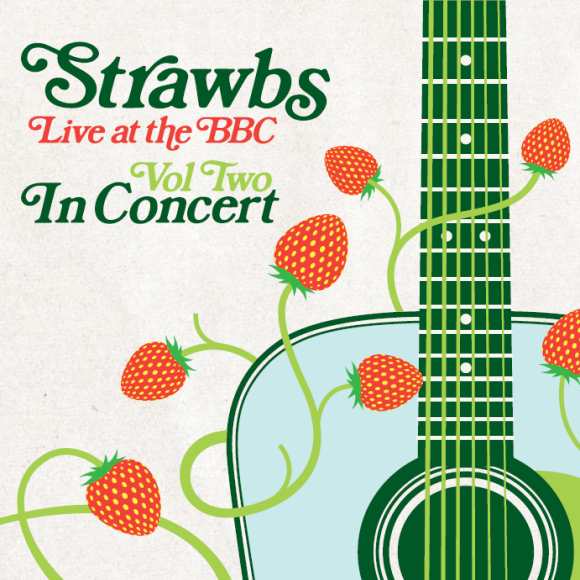 Universal released two major compilations of rare tracks from BBC sessions/live radio shows in July 2010. The material was released in two volumes - Volume 1 In Session, sessions tracks from 60s and 70s shows Top Gear, Sounds Of The Seventies etc. and Volume 2 - In Concert.
This 2CD set comprises three hour long concerts broadcast by the BBC in 1971 (Wakeman's last show with Strawbs), 1973 (BATS line-up) and 1974 (Hero And Heroine line-up), which are spread over the 2 CDs.
The 1971 concert, recorded on 23 June 1971 and transmitted on 1 July, has some true gems - a Wakeman instrumental "RMW", versions of "In Amongst The Roses" and early version of "Flower And The Young Man" sung by Cousins, not Hooper, and for fun some Americana - a banjo-enhanced version of "When You Wore A Tulip". This may have been resurrected in rehearsals for a show scheduled for 5 July or 12 July 1971 at the Hop Poles in Enfield, when Cousins, Hooper and Chesterman were to reunite as the Strawberry Hill Boys. (There was some confusion between Colin Scot and the SHBs over the dates and, according to Paul Brazier who was there and recorded the shows, they all decided to do both gigs!) As "Tulip" was so much fun, they decided to do it for the BBC as well!
The 1973 concert includes for the first time "Stormy Down" and Dave Lambert's "Bovver Blues" skinhead parody, omitted from the previous BBC releases and bootlegs. The other tracks from the 1973 concert were previously released on the bootleg Heroes Are Forever and BBC In Concert
The 1974 concert was previously released on the bootleg Heroes Are Forever and some of tracks (marked *) also appeared on BBC In Concert (where tracks, eg "Lay Down", were played at both gigs, the 1973 versions were used).
Tracks from the 1973 and 1974 BBC concerts have appeared on BBC transcription disc, on various bootleg releases and were made available legitimately on the 1995 Windsong BBC In Concert and now the Universal release Strawbs At The BBC Vol 2 - however different releases have different selections, no one release being the definitive collection: (see below).
For Strawbs At The BBC Volume 1 - In Session , see Strawbs At The BBC Volume 1 page.
Volume 2 track listing
CD 1
1971: (Cousins/Hooper/Wakeman/Ford/Hudson)
Paris Theatre, 5 Aug 1971

The Hangman And The Papist
Martin Luther King's Dream
A Glimpse Of Heaven
Witchwood
In Amongst The Roses
R.M.W.
The Flower And The Young Man
Fingertips
The Shepherd's Song
When You Wore A Tulip
Sheep

1973 Part 1: (Cousins/Lambert/Ford/Hudson/Weaver)
Paris Theatre, 25 Mar 1973

New World
Sheep
Tears And Pavan
Stormy Down
The Hangman And The Papist
Benedictus
CD 2
1973 Part 2: (Cousins/Lambert/Ford/Hudson/Weaver)
Paris Theatre, 25 Mar 1973

Heavy Disguise
Bovver Blues
The River/Down By The Sea
The Winter And The Summer
Part Of The Union
Lay Down

1974: (Cousins/Lambert/Cronk/Coombes/Hawken)
Golders Green Hipodrome, 11 Apr 1974

New World
Lay Down
Autumn (*)
Tears And Pavan
Just Love (*)
Out In The Cold/Round And Round (*)
Hero And Heroine (*)
The River/Down By The Sea
Lay A Little Light On Me (*)
Track table
To follow