DAVE COUSINS & RICK WAKEMAN -
THE CLASSIC ROCK SOCIETY ANNIVERSARY GIG,
THE OUTWOOD CENTRE, ROTHERHAM - 29 SEP 2001
Back to main Cousins and Wakeman page
Back to main Related Bands and Artists page

COUSINS & WAKEMAN TOGETHER AGAIN - Review and photos by Andy Waterhouse
Saturday 29th September saw the 10th anniversary concert of the Classic Rock Society. Rick Wakeman's New English Rock Ensemble were headlining with several other contributions beforehand. The venue was a school hall, standing only; not much of a problem except that the doors opened at 7.00 pm and the show finally finished just before midnight! My legs definitely aren't as young as they used to be....
The show was due to start at 8.00 pm. The hour beforehand passed quickly enough, with a lot of worried looking technicians and engineers searching with torches for an apparent electrical fault. After much checking of connections they looked none the wiser, or happier, but nevertheless Martin Hudson of the CRS took to the stage on time and welcomed everybody. He then went on to introduce one of the society's directors and its president: Dave and Rick ("a strawb and ex-strawb") explaining that it had been fifteen years since they had last played in public. Dave took to the stage, plugged his guitar in ready to start and then noticed that Rick was still chatting to Martin. "Late as usual!" was Dave's observation.
"A Glimpse Of Heaven" sounded as good as ever, the keyboards complementing the acoustic guitar perfectly and the song was well received. Unfortunately Dave had broken a string during the song.
"Some things never change", mused DC.
"Same guitar that he used fifteen years ago" suggested RW.
"Same strings, but on a different guitar" retorted DC.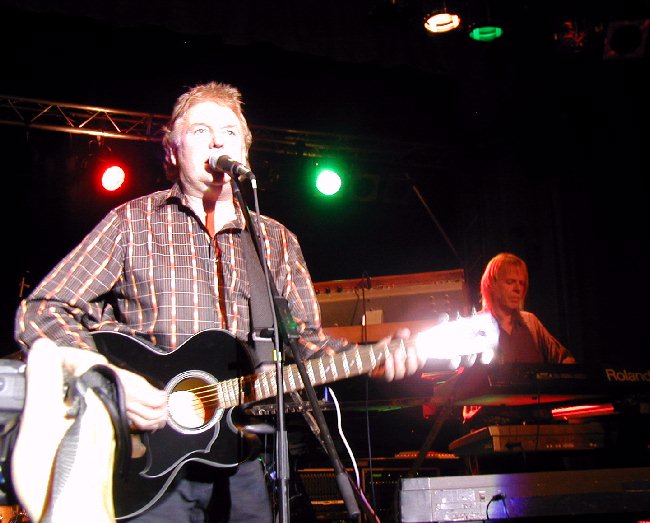 More photos - click here.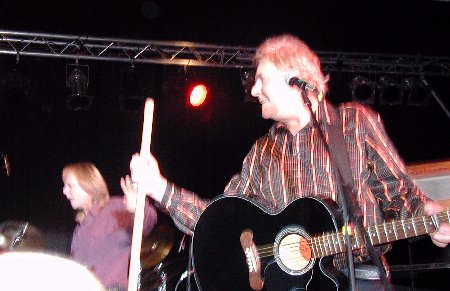 The broom!
Rick asked Dave if he would like another guitar and then promptly left the stage in search of one, returning immediately with a broom suggesting that DC should improvise! RW left again returning moments later with a guitar. This proved difficult to operate and help had to be sought to find the on/off switch for the pickup. During this interlude DC made some comment about RW always using a broom and tidying up in the studio, so much so that he used to wear an apron. Rick reminded Dave that on one occasion he had been wearing much less. Dave then told the story of RW, the worse for drink, recording in the nude (which I knew about) and how following that, suitably embarrassed, he later went fully dressed to another part of the studio to meet up with the band, engineers etc. only to discover that they were now all stark naked! (which I didn't know about).
Anecdotes over and the guitar sorted, the excellent "Shepherd's Song" followed. The Cousins/Wakeman version seems to sound better every time I hear it, and tonight was certainly no exception. I had expected, and hoped, that it would be included in the set and it was a privilege to hear it performed live. All too soon we were into the final song. Tony Fernandez joined them on stage and the familiar opening strains of "Hangman" filled the air. The guitar led the way. As the song moved towards its conclusion the combination of the driving keyboards, relentless drum beat and guitar provided the perfect backing for DC's vocals (which were in fine form throughout). Again the song was extremely well received, but all too soon the short set was over as DC and RW took the deserved applause of the crowd and left the stage.
The rest of the evening, for the record:
DC and RW were followed by a similarly short set from a uillean pipes player (whose name I can't recall : Troy [Donockley ?? - DG] ??) and accompanying keyboard player. John Wetton then sang three of his songs to take us up to the main event.
RW and the NERE played a range of material; some well known pieces (extracts from Journey, Six Wives and Arthur) from Rick's extensive repertoire as well as newer items from Return To The Centre Of The Earth and, according to him "probably the most obscure track I've ever recorded : "The Phantom", which was requested by Oscar" (Rick's youngest).
The band played for nearly 2½ hours and were excellent. The guitarist, bass player and vocalist were new to me but all fine musicians (the vocalist had a very theatrical stage presence, or as my wife put it: oozed sexuality – looked to me like he'd spent too long at a school for aspiring rock stars! – but nonetheless had a superb voice for the material). Tony Fernandez was commanding as ever and there was some wonderful interplay between Rick and Adam Wakeman, particularly on "Merlin"; they were obviously enjoying themselves hugely!
Extracts from No Earthly Connection led towards the climax, a stunning rendition of "Starship Trooper" from Rick's days with Yes. The inevitable encore concluded with "Eleanor Rigby"; the first time I've ever heard RW's arrangement in the style of Prokofiev with vocals. The show over, all the artistes returned to the stage, except DC who had apparently left earlier.
As the house lights came up I reflected on what had been an excellent evening all round. An appreciative audience, evidently not quite capacity but it can't have been far short of it, including a number of families with young children, many of whom were sat on the apron of the stage amongst the monitors. All that remained was to try to move my legs again and walk to the car! I had a quick look at the photos I had taken and then headed home. It had been a good one.

THEY PLAYED THE 'ALEXANDER' SONGS AND SHED NOSTALGIC TEARS! - Review by Eamonn Harvey
Rotherham was truly the centre of the universe on Saturday night! DC was on cracking form and clearly thoroughly enjoying playing with the 'caped crusader' once again. His appearance on the stage was all too brief. They kicked off with a cracking rendition on A Glimpse Of Heaven" followed by an interlude that can only be described as pure comic genius - Morecambe and Wise eat your heart out! Then came the beautiful "Shepherd's Song" (what a classic album From The Witchwood truly is!). Finally DC and Rick were joined by Tony Fernandez for "The Hangman And The Papist". I lost count of the number of times I've heard this song performed on stage by either the full band or Dave and Brian as a duo. It never fails to move me and Saturday night was no exception! A great night and a privilege to see two great talents together again.
P.S. I had spent most of the day in Sheffield celebrating the birth of my best mate's third child at the tender age of 50 and was somewhat the worse for wear when I accosted Dave at the bar and rudely interrupted a conversation he was having with some friends. He was really good about this and if you get to read this Dave, apologies again and thanks for being so tolerant!

A COLLECTION OF ANTIQUES AND ..... - Review by Alison Brown
My first visit to Rotherham and we arrived to pinch the last parking space in the car park. I guessed Dave and Rick would be on first and saw Bobby Williams' unmistakable hair near the front and made a bee-line. We waited in eager anticipation as the lights went out just after 7:30. Forty minutes later, after much scurrying around on stage with torches looking for some mysterious loose connection, Martin Hudson appeared to introduce an 'ex-Strawberry' boy and 'proper-Strawberry' boy.
It was straight into an excellent "A Glimpse Of Heaven" during which Dave broke a string and the mic packed up briefly. The following comic interlude involving a broom, Dave's waistline, knobs that don't do anything and the telling of the "Toyko Rosie" tale (a session and three-quarters, according to Dave) while another guitar was found for Dave, kept us all entertained.
Then it was into a beautiful rendition of "The Shepherd's Song" (one of my favourites). Next Dave introduced Tony Fernandez on stage for "The Hangman And The Papist" and remarked that the whole stage was begining to resemble a collection of antiques and curios! I can honestly say that this was the best "Hangman" I have heard performed and it still manages to hit home. A fine performance and well worth the trip in itself (the rest of the gig was tremendous too) - but much too short!
As Bobby had travelled furthest (5000 miles) to be there - he got to draw the raffle up on stage!

Photos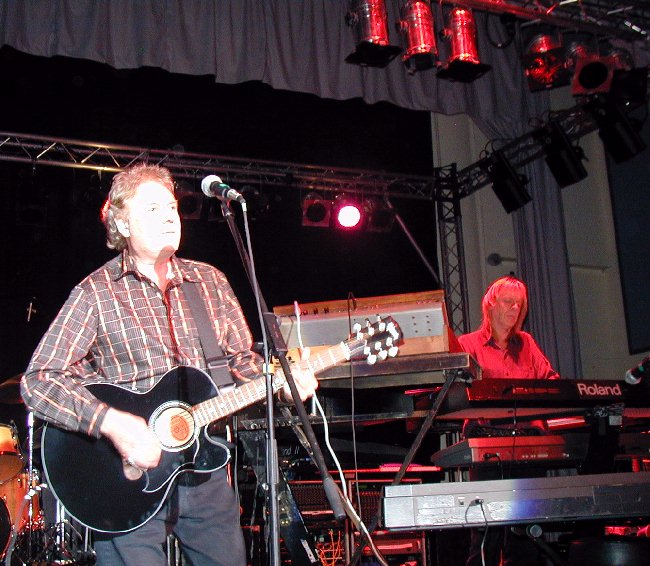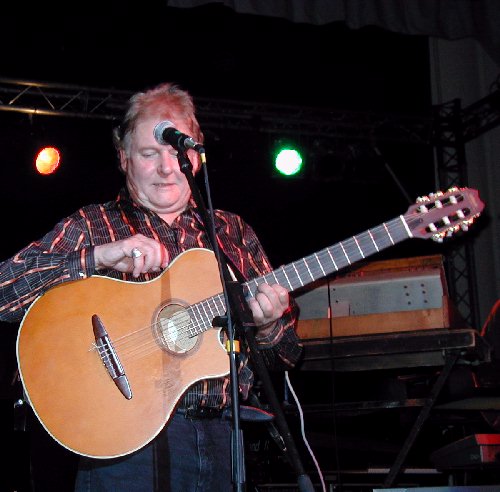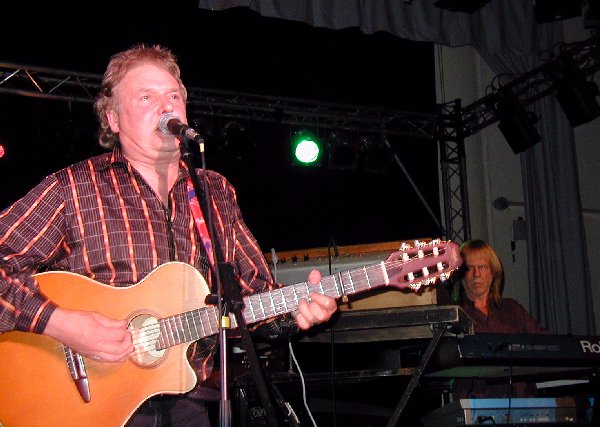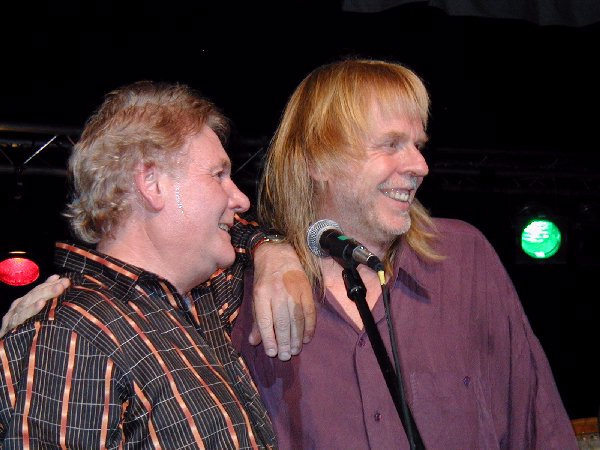 Back to main Cousins and Wakeman page
Back to main Related Bands and Artists page