DAVE COUSINS & RICK WAKEMAN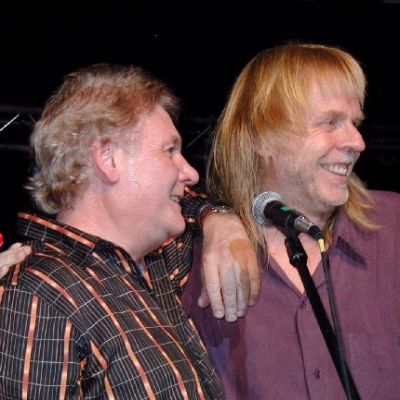 After Rick's departure from Strawbs to join Yes, relations between the two were strained for a while, but Wakeman was soon back on the scene to play on Two Weeks Last Summer, and a few years later on Nomadness.
The two did not play together for a lengthy period after that until some duo shows organised in 1988, in Exeter and Dranouter, Belgium. The tapes from these shows languished in the vaults for some years, and were finally released in 2005 as Cousins and Wakeman Live 1988.
In 2001 their involvement with the Classic Rock Society led to a one-off show in Rotherham, (see live reviews page) and then Dave and Rick got together again in 2002 to make the album Hummingbird, which featured some excellent new songs from Dave, some interesting reworks of old numbers and some attractive instrumentals from Rick.
Rick and Dave played as a duo again - a key attraction at the spectacular 40th Anniversary Strawbs weekend in Sep 2009, released on CD/DVD in 2010.
See also Rick Wakeman, Yes
Back to main Related Bands and Artists page
Albums
Hummingbird (WMCD 2007, Witchwood Records, 2002)
Rick Wakeman And Dave Cousins Live, 1988 (WMCD 2024, From The Witchwood Media Archives, Vol.1, Witchwood Records, 2005)
40th Anniversary: Rick Wakeman And Dave Cousins Live, 2009 (WMCD 2024, Witchwood Records, 2010)
Full album details and more album cover pictures on
Weblinks