RICK WAKEMAN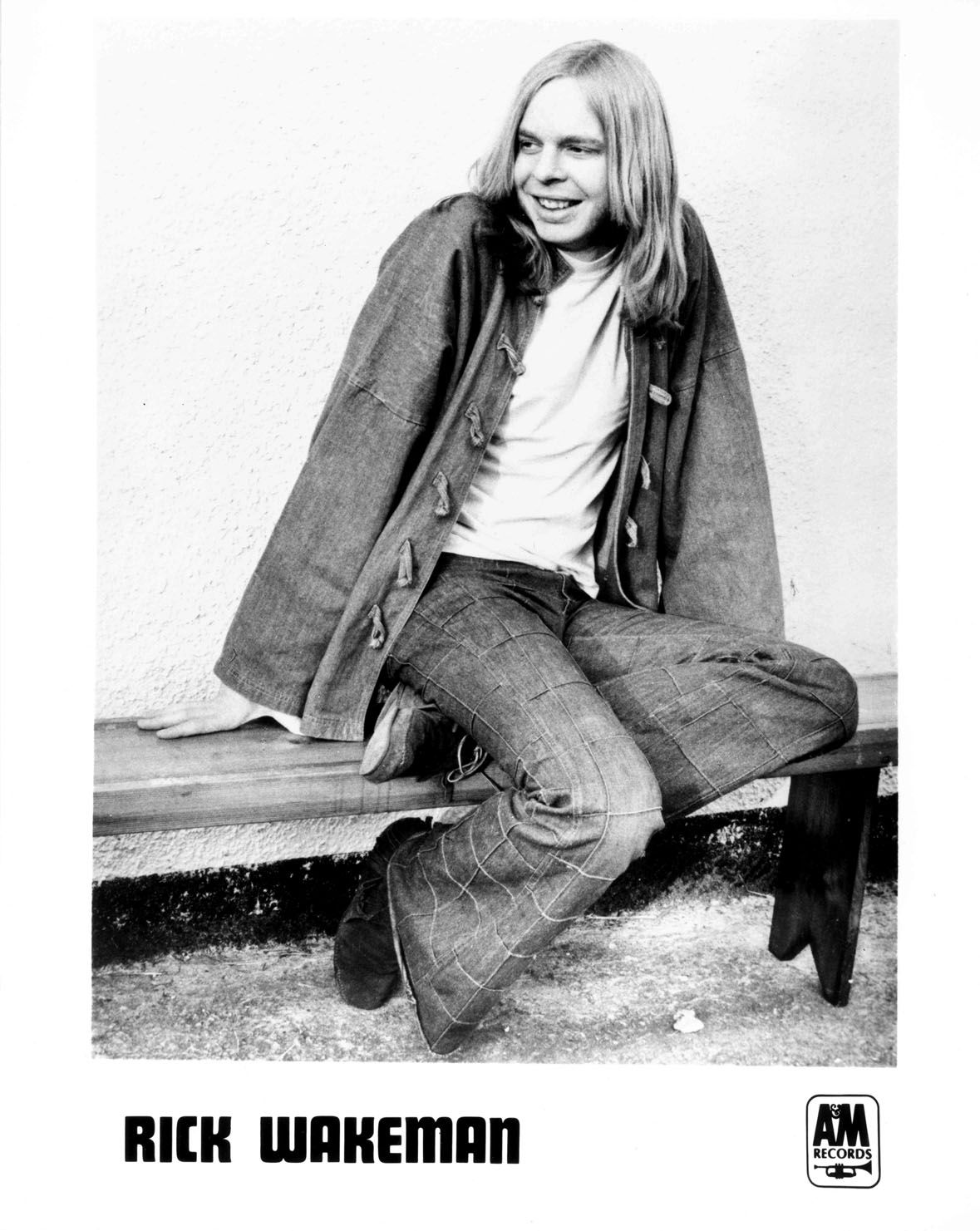 After a classical piano training, playing piano on countless sessions, and holding down a job in a pub band in Ilford, Rick Wakeman joined the Strawbs in 1970 and shot to stardom. He left in July 1971 to join Yes and has had an enormously prolific solo career.
Six Wives was made by Rick after his departure from Strawbs, and, in the face of astonishment from A&M, made number 7 in the UK charts and the Top 30 in the US. Apart from being an excellent album, it is of more than usual interest to Strawbs fans - on "Catherine Howard" which closes Side 1, Dave Cousins plays banjo, Dave Lambert plays guitar, Chas Cronk plays bass and Barry de Souza plays drums. Scant months later, Cousins, Lambert and Cronk would be playing together in the reformed Strawbs after the split with Hudson Ford, a partnership which lasted for around 5 years until Lambert left during the recording of Heartbreak Hill, but which resumed again since Chas rejoined both Acoustic and Electric Strawbs in 2004.
Rick's departure was reputedly the inspiration for Cousins' bitter lyrics in "Tomorrow", but the rift can't have lasted long as Rick played beautifully on Dave's solo album TwoWeeks Last Summer, particularly in evidence on the mighty "Blue Angel" and "Ways And Means". He next played on the Nomadness album, amidst studio high-jinks which saw first the Strawbs disrobed and then Wakeman (you can hear Cousins chuckling about it on "Tokyo Rosie").
He has stayed in touch with Dave Cousins over the years, though their busy schedules haven't permitted them to play together much. In 1988, Dave and Rick played onstage in the west country and Belgium; and in 2002 Dave persuaded Rick into the studio to record a duo album - Rick Wakeman and Dave Cousins: Hummingbird, currently available from Witchwood Records. The tapes from the West country show came out in early 2005 as Rick Wakeman and Dave Cousins: Live 1988 on Witchwood Records.
In the meantime, at Chiswick '98, Adam Wakeman filled in adeptly for John Hawken in the "Hero And Heroine" band, and in 2000, whilst Blue Weaver was unable to tour with the Electric Strawbs, he went on the road with them for several of the out of London gigs. I saw him at the rehearsals at the the Turk's Head, hurriedly writing down the music. Catching "The Hangman And The Papist" intro at a sound check in King's Lynn only a few days later, it was astonishing to hear just how splendidly Adam had fitted in .... he insists it's hard practice, but maybe it is in the genes ..... And of course, now, Oliver Wakeman has filled the keyboard role to perfection after John Hawken's retirement.
Acoustic Strawbs played on Rick's Planet Rock show with Rick, a while back. In 2009, Rick launched a lavish staging of his seminal Six Wives album, live in Hampton Court. Acoustic Strawbs were the support act. The whole show was filmed for DVD release and the Acoustic Strawbs DVD was released in Sep 2009
Rick played a duo gig with Dave - the first for many a year - at the spectacular 40th Anniversary Strawbs weekend in Sep 2009, whicvh was released on audio and video in 2010.
See also Rick Wakeman & Dave Cousins, Yes
Back to main Related Bands page
Albums
The Six Wives Of Henry VIII (A&M AMLH 64361, 1973; CD CDA3229)
Catherine Of Aragon (Wakeman)
Anne Of Cleves (Wakeman)
Catherine Howard (Wakeman)


Jane Seymour (Wakeman)
Anne Boleyn (Wakeman)
Catherine Parr (Wakeman)
Albums with Dave Cousins
Rick Wakeman and Dave Cousins: Hummingbird (Witchwood Media, 2005)
Rick Wakeman and Dave Cousins: Live 1988 (Witchwood Media, 2005)
Rick Wakeman and Dave Cousins: Live at the 40th Anniversary (Witchwood Media, 2010)
Other Strawbs related material
Rick's A&M "Chronicles" best-of CD Voyage (A&M CD: 540 567-2, 1996) contains "Temperament Of Mind" from Antiques and Curios, and Rick's piano version of "A Glimpse of Heaven" appears on:
The Piano Album (Castle Communications, CD: ESS CD 322, 1995)
Simply Acoustic Video (Hope Vision, HRV 002, 1996)
Simply Acoustic - the music (Asaph Records, CD: ARD 1088, 1997)
The Piano Tour Live Video (Hope Vision, HRV003, 1997)

Chas Cronk also played as part of Wakeman's backing band from time to time and appears on:
Glory Boys/Ghost of a Rock & Roll Star (45, President, 1984, WAKE1) - along with Bimbo Acock and Tony Fernandez
Live at Hammersmith (President CD: RWCD02, 1985) - along with Fernandez
Crimes of Passion (President CD: RWCD03, 1986) - with Acock and Fernandez

Tony Fernandez has been a near permanent fixture in Wakeman's band and appears on far too many to list !!!



Singles