SANDY DENNY/FOTHERINGAY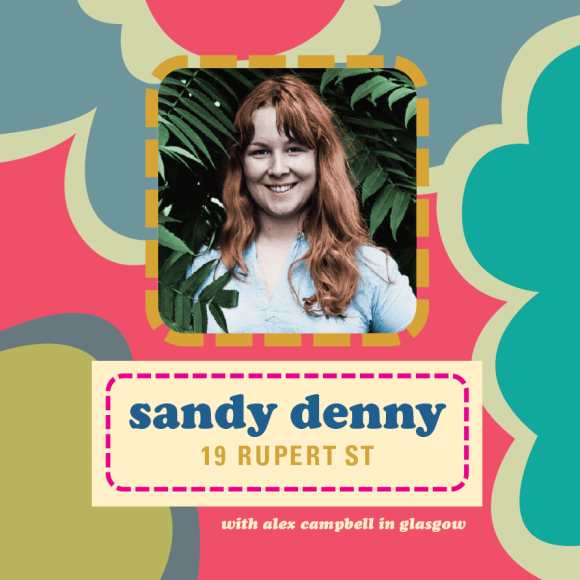 An arts student at Kingston, Sandy was a regular round the London folk scene in the mod 60s, where she met such luminaries as Paul Simon and Jackson C. Frank, who she later went out with. 1967 was a busy year for her: legend has it that she met Dave Cousins at a folk club who asked her there and then to join the Strawbs. She did so, and though she didn't perform live very many times, they immediately set off to Copenhagen to record what became the All Our Own Work album.
Cousins had difficulty getting the Copenhagen tapes placed with a record company, and by the time anyone was showing interest, Sandy had moved on. Round about the same time she recorded some material which emerged as Sandy And Johnny (with Johnny Silvo) and Alex Campbell And Friends. Her tracks from these albums were re-issued as a compilation album, which was re-issued on CD as The Original Sandy Denny.
After Sandy Denny left the Strawbs, she joined Fairport Convention, reputedly auditioning them!! She recorded three albums with Fairport, which coincided with their movement away from being a "covers" band towards electric folk music. She stayed with them until 1969, after the recording of Liege and Lief, when, owing to her dislike of touring, she left the band and decided to form her own band Fotheringay.
Fotheringay included her husband to be Trevor Lucas, guitarist Jerry Donahue and stalwarts Gerry Conway and Pat Donaldson. Fotheringay released one self-titled album, and began recording a second, for which Sandy recorded the Dave Cousins song "Two Weeks Last Summer"; before that album was completed, the band split and the track was not released. She had asked Cousins to write an additional verse for the song, which he obligingly did. This version appears on the 4LP or 3CD retrospective Who Knows Where The Time Goes. The set also includes "Sail Away To The Sea" from the Sandy and the Strawbs All Our Own Work album.
Sandy moved on to a solo career, releasing three excellent solo albums in three years and was repeatedly voted the UK's top female vocalist, though commercial success eluded her. She briefly rejoined Fairport again, for their Live album and the superb Rising For The Moon, but left again after a while. She had resumed her solo career, releasing the critically acclaimed Rendezvous, but died at a friend's home on 21 April 1978.
The re-issue programme for Sandy continues apace - Who Knows was followed by 2004's A Boxful Of Treasures (with three Sandy And The Strawbs tracks) and Sandy Denny At The BBC, released in 2007. And the second Fotheringay album emerged in its entirety in 2008, with "Two Weeks Last Summer" and a version of "Wild Mountain Thyme".
2010 saw the release by Witchwood Media of Sandy And The Strawbs: All Our Own Work - The Complete Sessions, carefully remastered from the original master tapes by producer Chris Tsangarides. The album has been extremely well received by the music press and the media generally, and has become one of Witchwood Media's best selling albums ever.
And, later in the year another amazing compilation of Sandy Denny material, a Limited Edition 19-CD set produced by Universal, which in addition to collecting together all of Sandy's released material, has found some more unreleased gems to add the the Sandy canon. Eleven of the CDs feature Sandy's studio recordings with Alex Campbell, Johnny Silvo, Fotheringay, Strawbs, Fairport Convention and solo with additional content; outtakes, demos and live recordings. A further 8 CDs of bonus material; unreleased songs, demos, unreleased BBC recordings, alternate takes, live recordings, acoustic versions, and rare radio interviews. This set includes the legendarily 'long lost' Lord Bateman. Lavishly packed and features all new artwork, with a 72 page 11" square hardback book containing over 100 rare and mostly unseen photographs, handwritten lyrics and fascinating memorabilia. A celebratory strictly limited edition 7" vinyl only single was released to celebrate "Record Shop Day" in 2010 - a demo of "I'm A Dreamer" backed with the first demo of "Who Knows Where The Time Goes".
And in 2011 Witchwood Media released 19 Rupert Street, a real find for Sandy Denny fans - some unreleased/unheard material recorded informally at Alex Campbell's house in Glasgow in 1967. Stuart Douglas, Alex Campbell's cousin found a tape of this when he cleared out Patsy Campbell's flat in Glasgow when she died in 2005. Carsten Linde provided the original tape, which was recorded in the living room of 19 Rupert Street, Glasgow, on 5th August 1967 on a quarter track domestic machine. You can hear Sandy and Alex laughing and joking as though you were in the room with them.>
In October 2012, owing to huge demand for the boxed set, Universal have released a 4CD compilation from it at a more manageable price - The Notes And The Words.
Strawbs Albums
Albums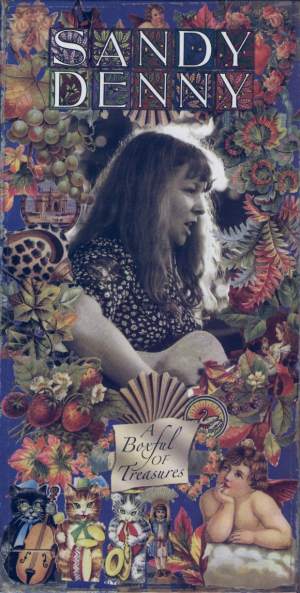 Alex Campbell & Friends (Saga EROS 8021, 1967)
Sandy Denny and Johnny Silvo: Sandy and Johnny (Saga EROS 8041, 1967)
Fairport Convention: What We Did On Our Holidays (Island ILPS 9092, 1969)
Fairport Convention: Unhalfbricking (Island ILPS 9102, 1969)
Fairport Convention: Liege And Lief (Island ILPS 9115, 1969)
Fotheringay: Fotheringay (Island ILPS 9125, 1970)
Sandy Denny: The North Star Grassman and the Ravens (Island ILPS 9165, 1971)
Sandy Denny: Sandy (Island ILPS 9207, 1972)
Sandy Denny: Like An Old Fashioned Waltz (Island ILPS 9258, 1973)
Fairport Convention: Before The Moon (NMC Pilot 133, 2002, recorded 1974)
Fairport Convention: Fairport Live Convention (Island ILPS 9285, 1974)
Fairport Convention: Rising For The Moon (Island ILPS 9313, 1975)
Sandy Denny: Rendezvous (Island ILPS 9433, 1977)
Sandy Denny: Gold Dust (Island IMCD 252, 1998)
Sandy Denny: The BBC Sessions 1971-73 (Strange Fruit, SFRSCD002, 1997)
Fotheringay: 2 (Fledg'ling, 2008)
Sandy Denny and Alex Glasgow: 19 Rupert Street (Witchwod Media WMCD 2053, 2011)
Re-issues/compilations/boxed sets
Sandy Denny (Saga EROS 8153, 1970, reissue of Sandy tracks from Sandy & Johnny/Alex Campbell & Friends)
Sandy Denny: The Original Sandy Denny (Mooncrest CREST 28, 1978)
Fairport Convention: Heyday (tape; subsequently reissued on LP/CD by Hannibal)
Sandy Denny: Who Knows Where The Time Goes (Island SDSP 100, 1985)
Sandy Denny, Trevor Lucas & Friends: The Attic Tracks 1972-1984 CD (Raven RVCD 46, 1995)
Sandy Denny - Boxful Of Treasures (Fledgling NEST 5002, 5CD, 2004)
Sandy Denny - Live At The BBC (Universal 948 992-8, 3CD + DVD, 2007)
Sandy Denny - Limited Edition Boxed Set (Universal, 19CD, Oct 2010)
Sandy Denny - The Notes And The Words - Limited Edition Boxed Set (Universal, 4CD, Oct 2012)
Bootlegs
Sandy Denny: Borrowed Thyme
Sandy Denny: Dark The Night
Fotheringay: Poems From Alexandra
Sandy Denny: One Sad Last Refrain (bootleg of final Sandy Denny concert)
Fotheringay: Wild Mountain Thyme
Singles
Singles from Sandy/Fairport/Fotheringay
Fairport Convention: Meet On The Ledge/Throwaway Street Puzzle (Island WIP 6047, 1968)
Fairport Convention: Si Tu Dois Partir/Genesis Hall (Island WIP 6064)
Fotheringay: Peace In The End/Winter Winds (Island WIP 6085, 1970)
Sandy Denny: Pass Of Arms EP: Here In Silence/Man Of Iron (Island WIP 6141, 1972, picture sleeve)
Sandy Denny: Listen, Listen/Tomorrow Is A Long Time (Island WIP 6142, 1972)
Sandy Denny: Whispering Grass/Friends (Island WIP 6176, 1973)
Fairport Convention: White Dress/Tears (Island WIP 6241)
Sandy Denny: Make Me A Pallet On Your Floor/This Train (Mooncrest MOON 54, 1976)
Sandy Denny: Candle in the Wind/Still Waters Run Deep (Island WIP 6391, 1977, withdrawn)
Sandy Denny: I'm A Dreamer (Second demo)/Who Knows Where The Time Goes (First demo) (Island 260-787 3) (see scans to right)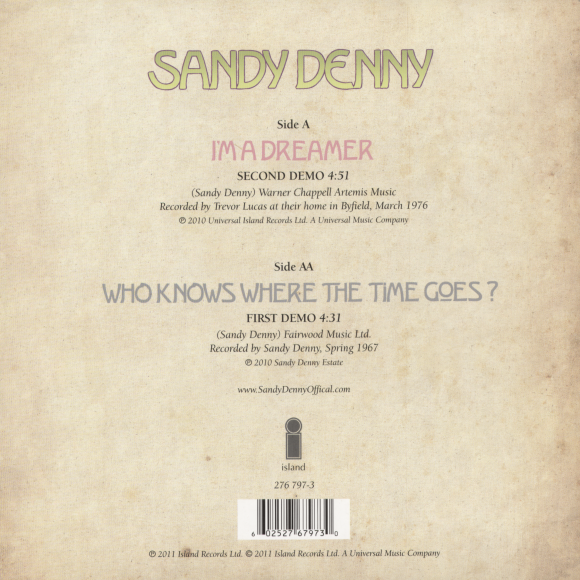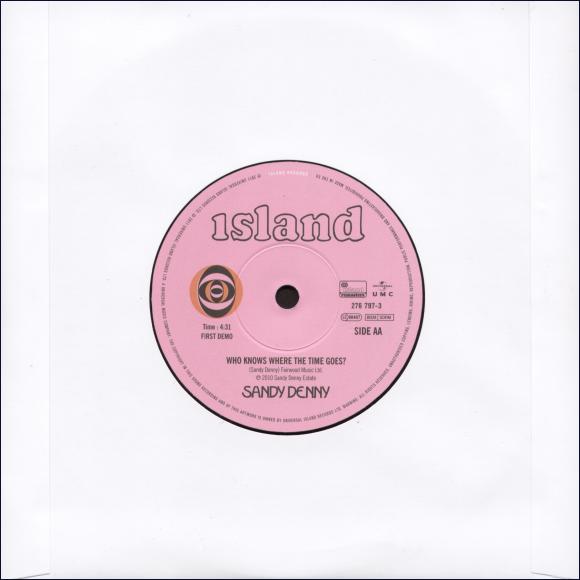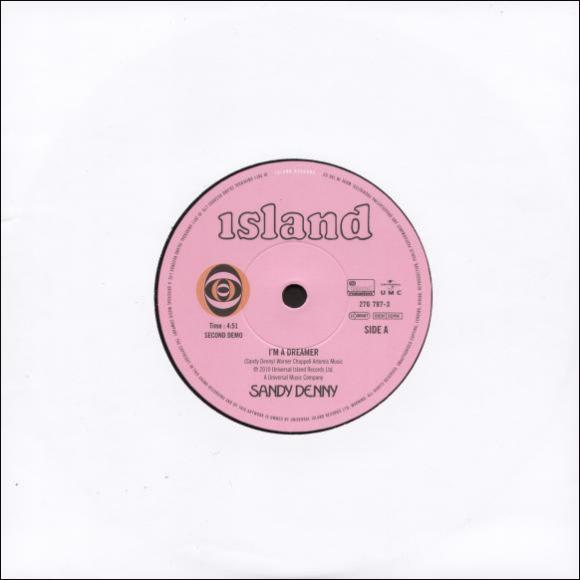 Weblinks