HUDSON FORD - BURN BABY BURN/ANGELS, A&M 1974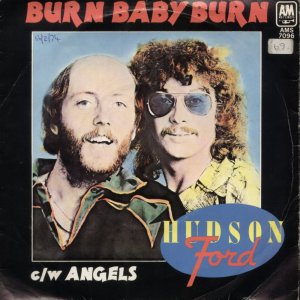 For large scans of the images, click on the images: you may need to use the zoom feature in your browser to see the full image
"Burn Baby Burn" is a non-album track as far as the UK and Europe is concerned. It appeared on the US/Canadian editions of Nickelodeon (which came out in early '74), replacing "Solitude". It also was issued on CD on the UK version of Halcyon Days.
UK vinyl
Europe vinyl
Asia Pacific vinyl
Other vinyl
Back to main Hudson Ford singles page
Back to main Hudson Ford page
Back to main Related Bands page


UK VINYL
UK promo release
"Burn Baby Burn"/"Angels"
(AMS 7096, A&M, 25 Jan or 16 Feb 1974)
The release date appears to have been 25 Jan 1974, according to the promo sticker on the back of this promo copy. The promo label has 18 Jan 1974, so it may be that it was scheduled for late Jan but slipped a week. Also spotted online a copy which has obviously had the label date stickered over. (Record Collector quotes 16 Feb, which I think must have been a mistake.)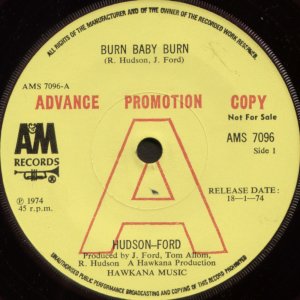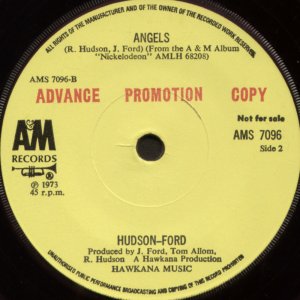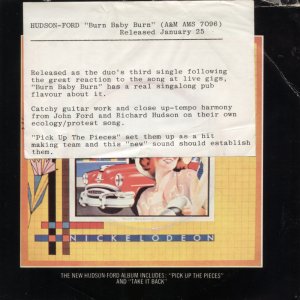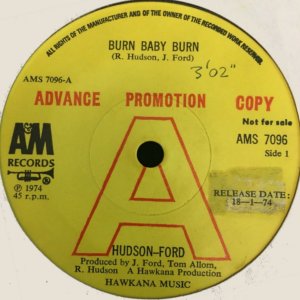 UK release
"Burn Baby Burn"/"Angels"
(AMS 7096, A&M, 25 Jan 1974 - see note on promo release>above)
There are three variant printings of "Burn Baby Burn" - some are marked printed in Holland, some marked printed in England, others with no information, all with the normal AMS 7XXX UK numbering format, rather than any European-style XXXXX AT numbering. Some releases had a picture sleeve (which has the UK numbering) and some copies released in UK may have been printed in Holland.
There are two UK release labels - not known which was the original and which the reprint, though the picture cover release (whose labels nearly match the promo - apart from the trademark wording, which w9ould only apply to the proper red and black logo rather than the black on yellow version used for promos) is likely to have been the original.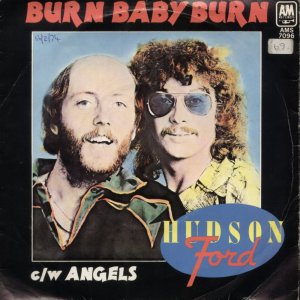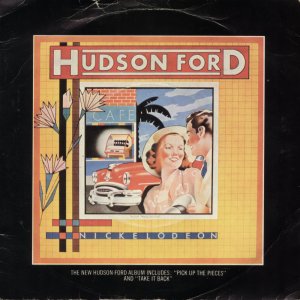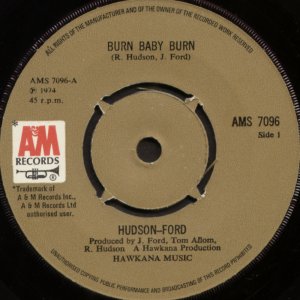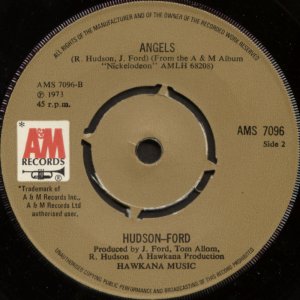 UK variant release
"Burn Baby Burn"/"Angels"
(AMS 7096, A&M, 25 Jan 1974 see note on promo release>above)
Different typography and "Made in England" at the bottom of each label. A copy of this exists with the variant side 1 and the standard side 2. Maybe they had excess quantities of one side's labels whe they commissioneda reprint.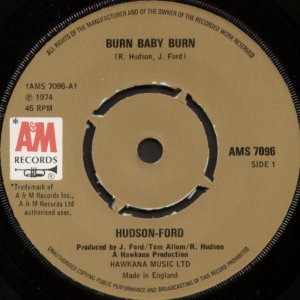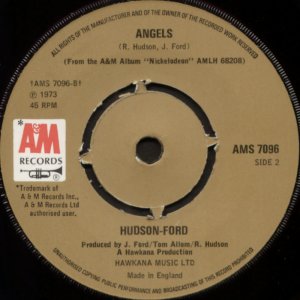 Dutch pressing
"Burn Baby Burn"/"Angels"
(AMS 7096, A&M, 1974)
Whilst originally thought to be a Dutch pressing, this has the same numbering at the UK single - see note above and is more likely to have been a UK release pressed in Holland.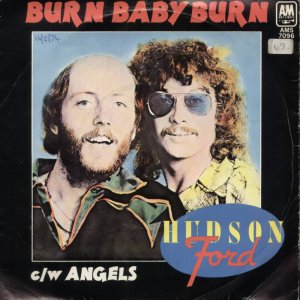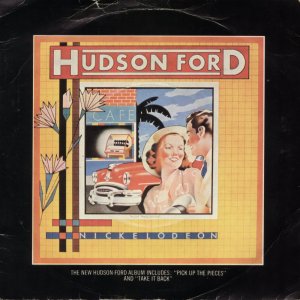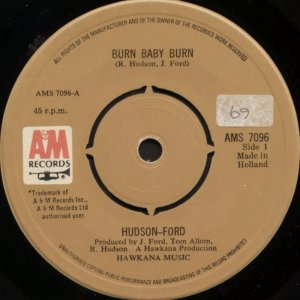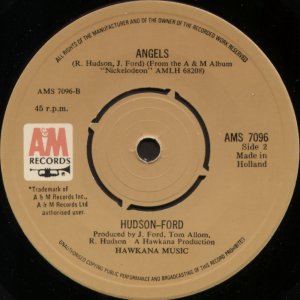 EUROPE VINYL
Scandinavian release
"Burn Baby Burn"/"Angels"
(A&M AOMS 7096, 1974)
Interesting release - the brown label design looks a bit like an Australian or NZ release (like the brown label release of Hero And Heroine, which is thought to be a Scandinavian release. The A&M "plate" sleeve confirms it with the legend "(P) 1972 A&M Records Inc. Distributed in Scandinavia and Finland by the Sonet Group". (1972 may refer to the sleeve or this may have come from an older 45, as the record clearly has a 1974 date.) So it looks like Sonet, which had indepedently released Strawbs albums from the very beginning, was no longer doing so by late 1973/early 1974, but were acting merely as a distributor for A&M at that point.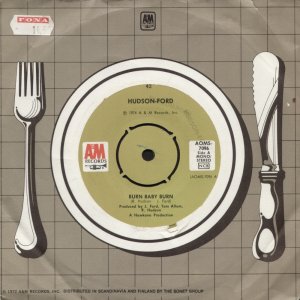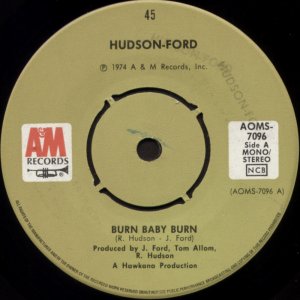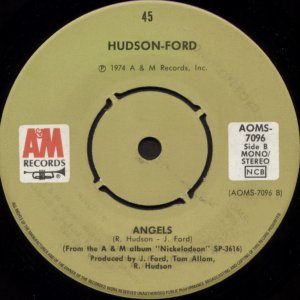 German promo release
"Burn Baby Burn"/"Angels"
(A&M 13 182 AT, 1974)
Not a particularly attractive promo sleeve, the actual release sleeve is much nicer. Both have the same single inside.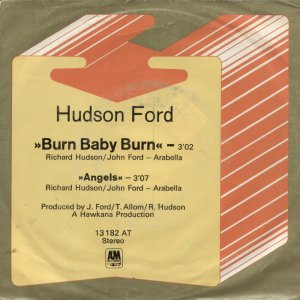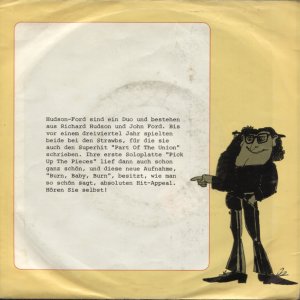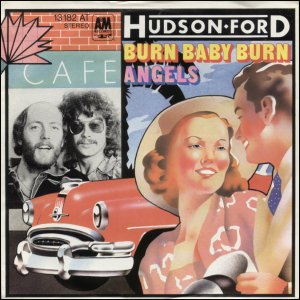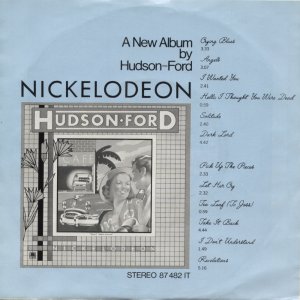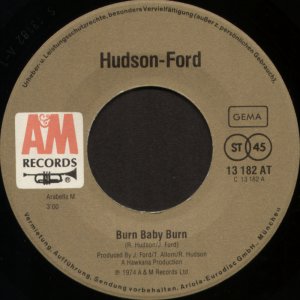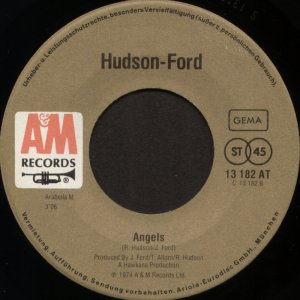 Spanish release
"Burn Baby Burn"/"Angels"
(A&M 13 182 A, 1974)
Nice picture sleeve (same as the front cover of the German release), identical on both sides except for tiny printing on the back running along the right hand border indicating the manufacturer.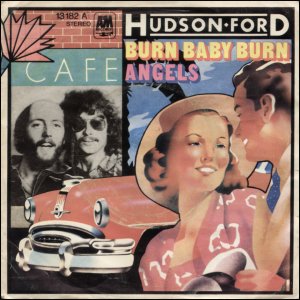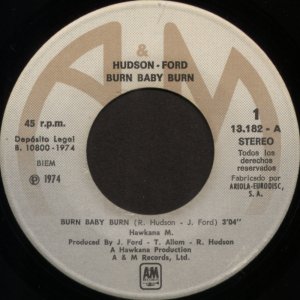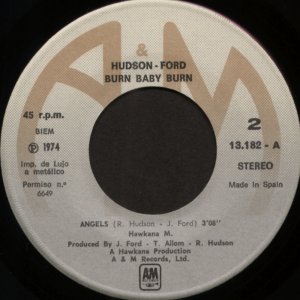 Portuguese release
"Burn Baby Burn"/"Angels"
(A&M 8E 006-95 421 MF, 1974)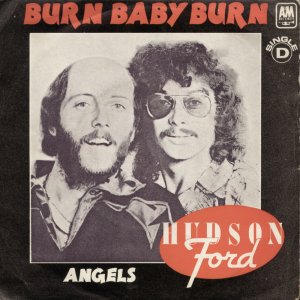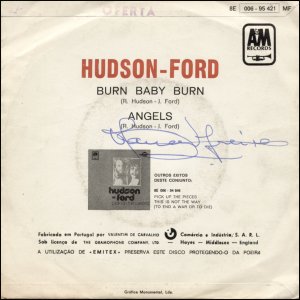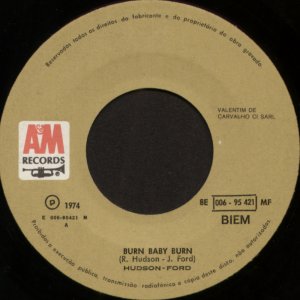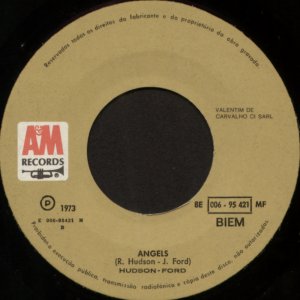 Yugoslavian release
"Burn Baby Burn"/"Angels"
(A&M/Jugoton, SAM 88743, 1974)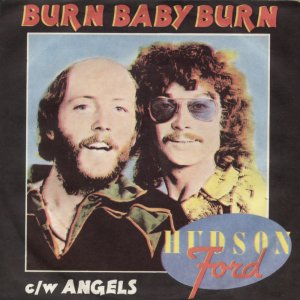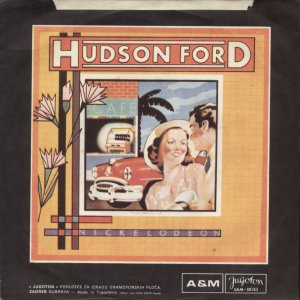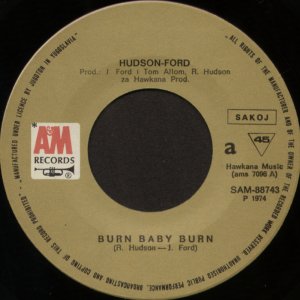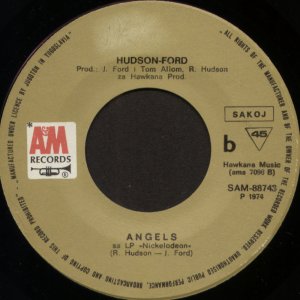 ASIA PACIFIC VINYL
Australian release
"Burn Baby Burn"/"Angels"
(A&M/Festival K 5499, 1974)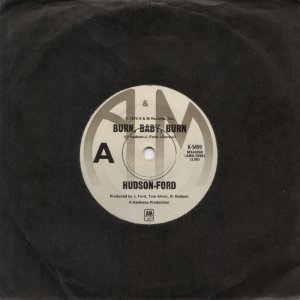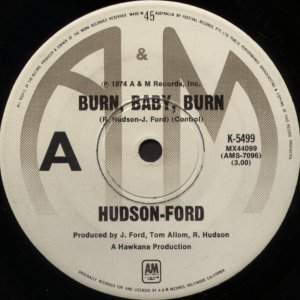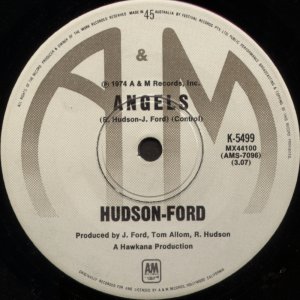 New Zealand release
"Burn Baby Burn"/"Angels"
(A&M/Festival K 5499, 1974)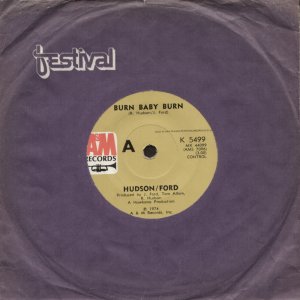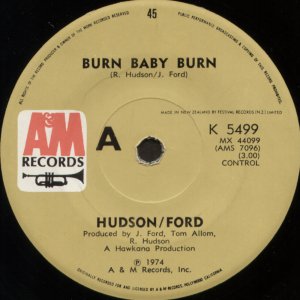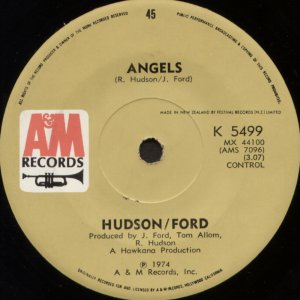 OTHER VINYL
South African release (*)
"Burn Baby Burn"/"Angels"
(A&M AMRS 1093, 1974) (*)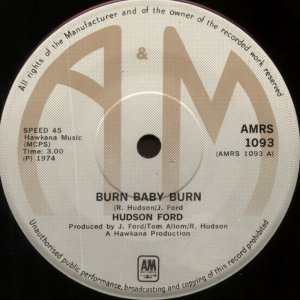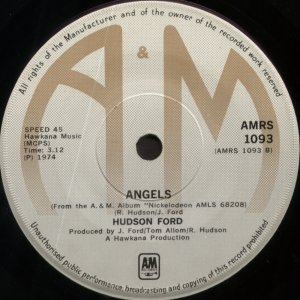 Back to main Hudson Ford singles page
Back to main Hudson Ford page
Back to main Related Bands page