NICK ELIOT - INTERVIEW BY LINDSAY SORRELL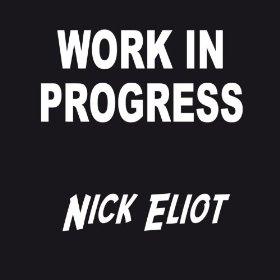 Undoubtedly of interest among Strawbs' fans and many others will be the debut album from Nick Eliot, son of original Strawberry Hill Boy, Tony Hooper. I've had the privilege of listening to several demo versions of Nick's Work in Progress album over the past few months, and after sorting out the various legalities Nick now has the finished album available to download, either in its entirety from around £7.49, or as individual tracks from around 79p. It is available from iTunes, Amazon and approximately fifteen other outlets - just search for "Nick Eliot, Work in Progress" and you shouldn't have any difficulty in finding it.
Anyone who would prefer to own a hardcopy of the album should contact Nick directly on Facebook at this link: https://www.facebook.com/nick.eliot.12
A homemade CD will cost £10 including p&p in the UK (not sure about overseas - best to contact Nick).
Nick is also on Twitter and he is planning to post forthcoming gigs on his sites in the future.
With seventeen tracks on the album there are, as might be expected, a variety of different themes. Many of Nick's songs concern romance and heartbreak however, themes which sit well with his frequently wistful vocal style. There is some lovely guitar work, sometimes mellow, sometimes much rockier, and Nick also adds some welcome piano embellishment.
Intrigued to know more about Nick and his music I put a few questions to him. When asked about his musical inspiration he mentioned bands like Coldplay and Snow Patrol, shades of which can be detected on Work in Progress, along with Nick's obvious appreciation of the acoustic singer-songwriter genre. One particular song on the album of which I happen to know his proud Dad is particularly fond is "Emmeline", the inspiration for which was Nick's niece, Tony's new granddaughter.
I'm not going to attempt to dissect or analyse seventeen songs; far better for anyone interested in hearing Nick Eliot's work to seek out one of the above-mentioned sites, listen to some samples and treat themselves to a copy of the album.
Here's a little insight into what makes Nick tick ;-)
1) When did you first start writing songs and playing music?
I actually i got into it by complete accident, when i was having mental health problems my dad bought me a four-track, probably to give me an outlet. So i started writing straight away and found I was quite good at it, I'm still rather fond of my very early stuff. That was about six years ago, but most of the music on the demo is from the last two years.
2) What instruments do you play, and have you had formal training?
I haven't had any formal training, but I'm competent on the guitar, but pretty rubbish at the piano! Although I do play on the demo.
3) What instruments do you use on the CD? Did anyone else contribute in any way with playing, songwriting or other aspects of getting it together?
I use several guitars, both electric and acoustic onto Logic. I also use a lot of Logic instruments such as pianos with strings and synth pads. Dad helps me out on a couple of tracks but essentially it's all me, although he does give his opinion!
4) Have you ever played live, and do you have any plans for live gigs in the future? Up till now I've only played acoustic live sets, but have larger plans to play in the future with backing tracks or possibly a band.
5) Have you ever been part of a band or have you always worked as a solo artist?
I've always flown solo, although most of my influences are bands.
6) Who/what/where inspires you to write music?
It's always been about the challenge for me, i just want to write music which has an impact on me like bands such as Coldplay, Snow Patrol and Radiohead. I dont think I'm there yet but you never know what the future may bring!
7) What is your own personal choice of music to listen to, or artists to watch?
Generally its alternative UK rock such as those mentioned previously and Muse, Biffy Clyro etc. but i also like singer-songwriters such as Ed Sheeran and Jason Mraz. The music I tend to listen to is very middle of the road!
8) Do you have any particular musical ambitions?
I'd love to do an album like OK Computer by Radiohead.
9) Your dad was one of the founder members of Strawbs (as they became known after originally calling themselves The Strawberry Hill Boys) - are you well-acquainted with the classic early Strawbs' albums, in which he played an integral part? Have you ever seen Strawbs perform with your dad in the line-up?
I've seen dad perform a couple of times, once when I was very young and then at Chiswick. To be honest, I haven't listened to it as much as I probably should have. Dad never plays it at home. But from what I have heard I most definitely prefer the early stuff to the later albums. I particularly liked Of A Time.
10) Away from the world of music, do you have any particular hobbies or interests?
I play rugby!