DAVE COUSINS & CONNY CONRAD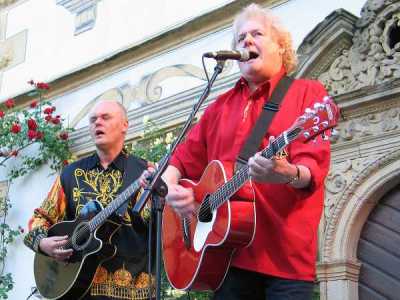 German prog artist Conny Conrad invited Dave to sing a couple of tracks on his Generations album, and the results were such that the two men, encouraged by those around who had heard the results, decided to produce a whole album together. High Seas is the result, containing some of the best new songs from Dave for a while, and some heavier than usual progressive, almost orchestral, instrumentation taking the listener back to the orchestral splendour of "Down By The Sea".
Dave and Conny arranged a short tour in Germany to launch the album, the actual album launch taking place at the Schloss Weitenberg in July 2005 (Jon Connolly was there - see his excellent feature). Those of us who caught Dave performing in the UK with Conny and his band, Dark Ocean, at the MPL in Teddington, in August 2005, also had the opportunity to hear just how powerful this material - particularly the standout track "Call To Action" - could be with a driving live band behind it; we hope the occasion will be repeated.
In 2006, Dark Ocean released Cosmica, with Dave Cousins guesting on two tracks. Conny's albums are available from his webshop at: http://www.coco-records.de/webshop/.

Albums
Conny Conrad & Friends: Generations (Popline 518851 2, 2004)
Dark Ocean: Cosmica - special guest: Dave Cousins (CoCo records international, 2006)
Full album details and more album cover pictures on Album details page.

Weblinks