BURNING FOR YOU - REVIEWS AND COMMENTS

Contents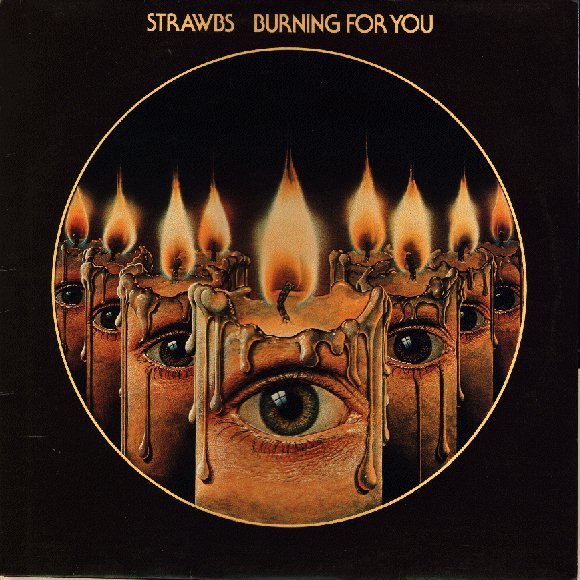 Big Prog Rock Fan, Loved The Grandiose Keyboards - Review by Jim Morris
I started collecting Strawbs albums in the late 70s when I started having some of my own money. Till then I had survived solely on Nomadness, my big brother's only Strawbs album (it remains my favorite to this day). BFY and Deep Cuts may have been the first two Strawbs albums I bought, finding them in a discount bin at a store in my neighborhood. I also picked up Deadlines and Early Strawbs from that same bin. It was probably a year or two before I was able to drive to the used record store and discover all the other A&ampM albums. So needless to say, the Oyster LPs and Deadlines have a special place in my heart as they were my first exposure to the Strawbs after Nomadness and I absorbed them into my psyche like a sponge.
I'm happy to report that they did nothing but grow my love for the music of the Strawbs. I really didn't know any better at the time if they had sold out or abandoned their roots or whatever. I was a big prog rock fan and loved the grandiose keyboards of the Moody Blues, Procol Harum and Genesis so I was really attracted the dueling keyboards of Mealing and Kirby. Deadlines is the epitome of late 70s big, fat keyboard sounds. The sounds on "Words of Wisdom" are so huge they swallow the universe. Personally (and I know I'm going out on a limb here) I prefer the Hawkins/Mealing/Kirby melodic complementary stylings to the Wakeman/Richards how-fast-can-I-play style. Now that I'm older and .... well, let's just say now that I'm older I definitely don't rank these albums as high as Ghosts, H&ampH or Bursting, but they still have a lot of appeal.
"Burning For You": This song is well worth all the less-than-par Strawbs songs in existence. And the performances on the last tour really did it justice - downright spooky. What an encore! The LP version only has one fault - what the hell was Rod trying to play at the instrumental climax? Is that fill so damn complex that I don't understand it? Were his drum heads too tight? Was it already the 70th take and they just couldn't spend any more time and money to perfect that fill?
"Cut Like A Diamond": I couldn't believe the power of this song when played live. I saw a show at the Ambler Cabaret near Philadelphia in the early 80s where they played this twice, opening both sets with it! On the LP it fits perfectly between the first and 3rd song. I wish it had been recorded with the Deep Cuts hard edge instead of the BFY glossy finish.
"I Feel Your Lovin Comin' On": A questionable title, with not the most profound lyrics (although I like "I can feel the hope in your heart"), but what a great pop song! The arrangement is great - especially that moment when the guitar solo comes in. Perfect. Who sat around and came up with that stuff?
"Bacarole": Great keyboard sounds and counter melodies complement the rich vocal. This song successfully relays the intended mood of "Goodbye"
"Alexander The Great": People have hailed this as the best song lyrically and one of the bright spots on the album. I like it and appreciate the sentiments and the anger. Like "Hanging In The Gallery" the rock star dies in the end. But its impact on me is like "My Friend Peter" - it rocks, it makes a point, but I guess I just don't relate to it somehow. Maybe I resent it because it ruins what would have been the perfect album side to fall asleep to.
"Keep On Trying: I agree - this is one of those great #1 singles that never was. The lyrics seem simple, but are they? "when you feel like dying, don't give up keep on trying, swallow your pride, come back into my life". Usually you encourage people not to give up so that they get back on their feet and follow their dreams, etc. etc. But here after encouraging the person to get back on their feet, the writer wants the person back in their own life. Some somewhere along the way they parted ways and neither of them are doing very well. The writer is pleading, we can't do it alone. I suppose I'm making a bit too much of it. I also like the arrangement.
"Back In The Old Routine": Very catchy. Nice guitar work. I don't understand the lyrics in spots. "I look forward to the weekend, imagine the day when we're back in the old routine" What does that mean?
"Heartbreaker": Best heard live, for sure. I like the middle part "I can believe....etc." the best. The guitar riff is a pale, rather weak interpretation of "Down By The Sea", in my opinion.
"Carry Me Home": Nice ballad. Nice vocal. Nice guitar solo.
"Goodbye" : Stating that goodbye is not an easy word to say is very interesting when it's the most frequently recited word on the whole album. It closes the album with a bit of ambiguity and angst - I like that. The chord changes reflect the uneasy, difficult goodbye. The lyric on the break is perhaps the most heartfelt on the album "I tried, I lied, I looked the other way, I tried to make you see that we were through". Cousins follows up on this with "Sealed With A Traitors Kiss"... on Deadlines.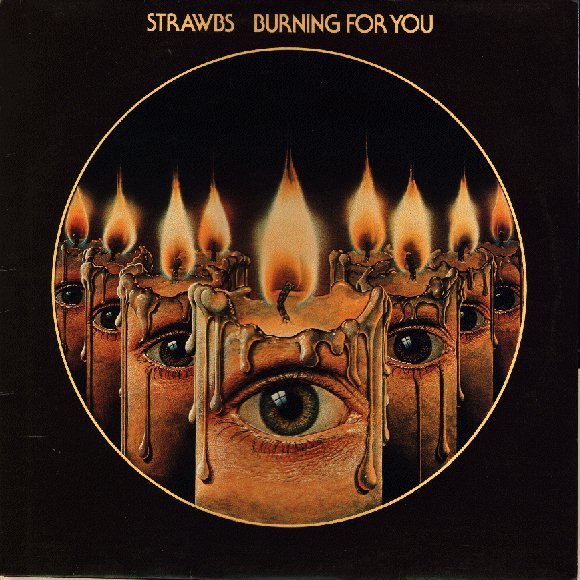 HALF AN AURAL ORGASM - Review by Ken Levine
BFY is my favourite post-A&ampM Strawbs album of the 70s. It is a much more positive and confident album musically than BFYand it flows much better from track to track. It also contains far less filler, although BFYarguably houses the best song of the period, "Simple Visions", and a close second, "Beside The Rio Grande".
Someone referred to it as being savaged by the critics, but in Montreal it seemed to spur a short-lived revival of the group. This was largely due to heavy FM airplay of the song "Heartbreaker". It marked the first time in my area that a song sung by someone other than Cousins became the favourite radio tune from a Strawbs album.
I remember hearing "Heartbreaker" before I heard anything else from BFY, but only half-listening, not knowing it was Strawbs but enjoying the melody and the emotion of the singer. While some may say it was atypical of the Strawbs, and certainly its lyrics were mundane even for Lambert, I argue that "Heartbreaker" is quintessential Strawbs musically: gentle acoustic start, a warm mixture of acoustic and electric guitar throughout, and liberal washes of mellotron in the more maudlin moments, with a dynamite ending that wastes not a note. As I already mentioned, if it had been recorded a couple of years earlier when the group still had a shot at mass American success, it might have made all the difference. As it is, the song clearly had a lot of impact on non Strawbs fans. In the early 80s I mentioned to a fellow student that Strawbs was my #1 group and he said, "Oh I haven't heard them but someone told me that the song "Heartbreaker" is amazing."
Next track I heard was "Burning For Me", a true Cousins classic, perhaps one of his best sung tunes ever, and an atmospheric masterpiece. Both "Heartbreaker" and "Burning For Me" reintroduced fans to longer instrumental passages, a feature sorely lacking in Deep Cuts, and, although not exactly complex, "Burning For Me" was probably the closest thing to a Cousins epic released on the Oyster label. "Cut Like A Diamond" subtly carries on with the orchestral flourishes of its predecessor to create an odd continuity, and I really do prefer it to "Turn Me Round", which is downright embarassing in parts. "Cut Like A Diamond" has enjoyed a deserved revival in recent years. The version on Greatest Hits Live was described as "One Ton of Dynamite" in a review in Folk Roots magazine in 1994.
I remember hearing "I Feel Your Lovin Coming On" on the radio and not really tuning in until that incredibly sweet but short guitar break near the end and saying "that's Dave Lambert". Poppy but classy. Barcarole is another piece that could have been done during the band's peak, and is soft prog rock at its finest, almost like something the Moody Blues might have wished they had achieved. I never cared for "Alexander The Great" except to appreciate Cousins anger at the critics.
"Keep On Trying" was the second most popular radio track where I lived, and is probably Strawbs most optimistic song, very well sung, but with a chorus (the part sung by Lambert) not nearly as catchy as the verse, an a lack of any real instrumental break. While others see a lineage from "Part Of The Union" to "Back In The Old Routine", I see "Wasting My Time" from BFYas the more direct and culpable predecessor, and both as pretty impotent, but "Back In The Old Routine" definitely the better of the two for its multi-layered acoustic guitars and chorus. "Carry Me Home" is another soft Lambert love song and "Goodbye" is a complete throwaway, even worse than the closer on Deep Cuts, "So Close And Yet So Far Away". This one really sounds like they were playing to mums and dads.
At a college radio station where I used to work, comments were liberally scribbled across album covers concerning the recording within, and the comment for Burning for You was "An Aural Orgasm for Strawbs fans, a return to form." I half agree. The best half of this album is worthy of Strawbs best work, but again the filler quotient is excessive. It is clearly the sound of a great group, but one in creative decline.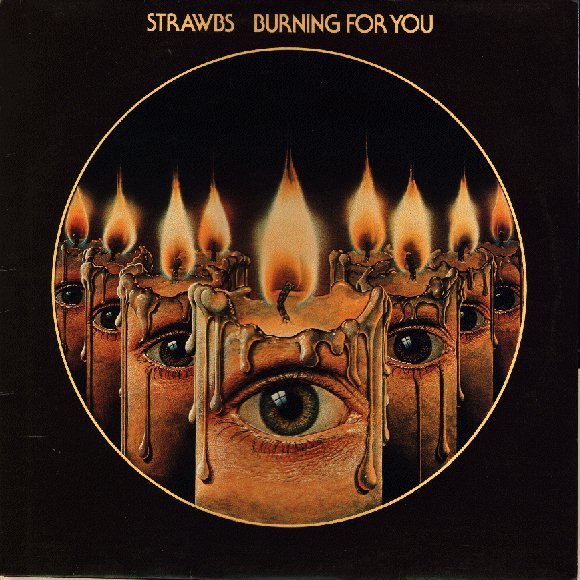 Comments from Witchwood - the Strawbs Discussion Group
Steve Young
There certainly is an issue of a lack of originality on this CD. Every record up to Nomadness seemed to be a significant step forward from the previous. Even Nomadness was different because it was more song orientated, with previous A&M releases each having a sense of `concept'. I think Deep Cuts was a successful venture into continuing the song orientated tradition, with BFYbeing a very poor example.
The first thing I notice about BFYis the sparceness of the lyricism. Only in "Alexander The Great" does DC really let his poetic talent reign. And whilst I would agree that `why use ten words when one will do', throughout most of BFYthe lyrics don't work as well as they could/should. If anything, Lambert comes out well on this record, and perhaps Cousins should have trusted and relied on his bandmates more....
I also have issue with the instrumentation on this album. There's too many instruments hitting the same notes. Lambert is orchestrating with his guitars when he is well capable of playing it straight. The guitars together with the two keyboards, plus orchestra, just makes the whole sound a very distant sound.
However, "Burning For Me" is a great song, and hearing it live on the last tour only confirmed that. And again with "Cut Like A Diamond", a great song when heard live. In fact, I completely disagree with those who have undervalued it live, particularly as an opening song. I first heard it live at the Sir George Robey in Finsbury Park around 85. Believe me, it was a noisy pub, the gig didn't start until about 11.15pm, the stage and room was small, and the opening chords of "Cut Like A Diamond" cut the crap. It also seemed somewhat bizarre seeing Tony Hooper playing the song.
I also love "Carry Me Home" - perhaps inspired by something that each of the band would say after the post gig drink!!
David Claridge
"Burning For Me" is an excellent opener, whetting the appetite nicely. I think it opens the album in a similar way to "Flying" on Bursting....... inviting the listener inside. "Cut Like A Diamond" I like for one little 'soundbite'- When D.C. sings the line 'Sweet as a razor's edge' I love the phased effect on his vocals on the word 'Razor'. I'm a bit like that. Like on Hero And Heroine, when the delay/echo comes in on the 'For he has yet to suffer' line, it's definately a 'hairs on the back of the neck tingling' kind of thing.....
"Back In The Old Routine" is a goody. I like the acoustic guitars, a bit of a 'head phones' moment, when you can slip on the 'cans' and pick out and listen to each acoustic, be it slide, or simply strummed. I'm curious to know Cousins' thoughts on this one. So similar to "Part Of The Union", was it an in-joke p*ss-take of Hud and Ford's ditty, or just a song they hoped would fend off the taxman (Or I.R.S. inspector, if you like).
And to the finale, "Goodbye". My favourite. I've used this one once or twice over the years. In moments of feeling generally sorry for myself, it's useful therapy. I've also been guilty of using it in my early fumblings at entrapment of the opposite sex. I remember taking a tape of this one on my Friday evening 70 mile trip down to the university for the weekend where my then girlfriend was studying. I told her about my devious plans at seduction the other day. She said all she remembers was keep telling me to 'Turn that awful bl**dy noise off'. There's no telling for some people's taste, is there? Still, that was around about '85, and we're now laden with a happy marriage, two children, a cat, a worryingly large mortgage, and more credit cards than a small third world country.
Bennett Wolf
I also considered "Cut Like A Diamond" a poor man's "Turn Me Round". It was, to me, the first weak Strawbs album. There was too much Dave Lambert singing (though his guitar playing was at an all time high). I guessed that they thought his voice was more marketable. In defence, the title track is one of my faves or the period. The Wakemanesque Synth solo, real strings and Lamberts E-bow guitar really gel in the fade out. "Back In The Old Routine" is also a fine throwback to earliers Strawbs styles. The real epics here are "Alexander" (I had a friend who was certain it was about Alex Harvey) and "Heartbreaker" with its great guitar riff midsection but unfortunately over synthed production. "Goodbye", with its cool fade in guitar solo entrance, seems almost like an apology from Cousins for not being able to do better. I wonder if he wasn't toying with the idea of breaking up right then. The record suffered from too much vapid subject matter and dare I say it,wimpiness. Dave wanted (needed perhaps) America so we had to deal with BFY.

Back to main Burning For You page
---