STRAWBS et al: THIRTY YEARS IN ROCK, 2001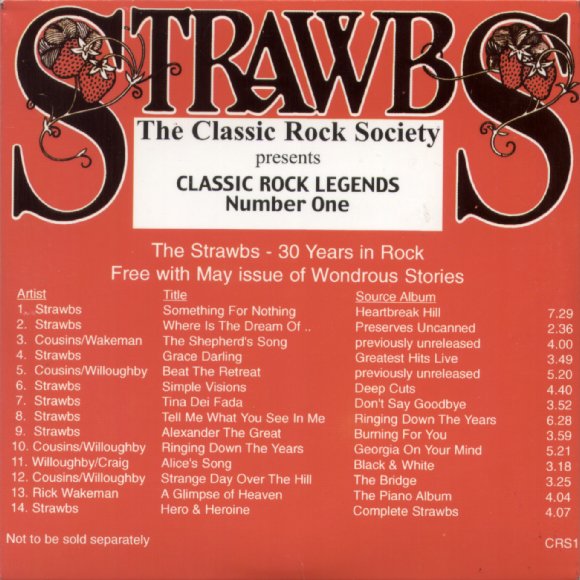 Classic Rock Society, free with May 2001 issue of "Wondrous Stories", the CRS' magazine)
A compilation of tracks to which the band controls the rights (i.e. excluding the A&M years, which have in any case already been well retroed both by Choice Selection and Halcyon Days). An excellent selection of the "eighties" to "noughties" period albums on Road Goes On Forever label or the band's own Witchwood label, with some unreleased tracks (tantalising as there are more half-promised) by Cousins and Wakeman and Cousins and Willoughby.
The Classic Rock Society magazine ("Wondrous Stories") and CD were available from Classic Rock Society (their website was then at http://www.birwood.demon.co.uk/crs.htm) and briefly from Witchwood Records.
---
---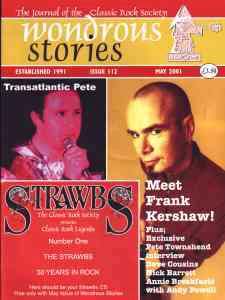 Track listing (Strawbs, unless otherwise stated)
Something For Nothing (Heartbreak Hill)
Where Is This Dream Of Your Youth (Preserves Uncanned)
Cousins & Wakeman: The Shepherd's Song (unreleased 1988 live recording)
Grace Darling (Greatest Hits Live)
Cousins/Willoughby: Beat The Retreat (unreleased 1980 live recording)
Simple Visions (Deep Cuts)
Tina Dei Fada (Don't Say Goodbye)
Tell Me What You See In Me (Ringing Down The Years)
Alexander The Great (Burning For You)
Cousins/Willoughby: Ringing Down The Years (B-side "The King" single/Georgia On My Mind CD)
Willoughby/Craig: Alice's Song (Brian Willoughby: Black & White)
Cousins/Willoughby: Strange Day Over The Hill (C&W: The Bridge)
Wakeman: A Glimpse Of Heaven (The Piano Album)
Hero And Heroine (Complete Strawbs (Chiswick '98))
Sleeve Notes
To follow.
---