MARY HOPKIN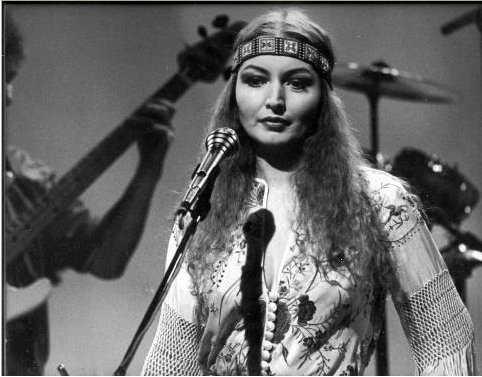 Contributed by Pete Bradley
Mary Hopkin first came to prominence when she appeared on the UK TV talent show "Opportunity Knocks". She was spotted by Twiggy, who recommended her to Paul McCartney, and so she became one of the first artists to be signed to the Apple label. McCartney produced her first single, "Those Were The Days", and her first album, "Postcard".
On six successive weeks on the Cliff Richard show, she sang a different song, and the public then voted to select which song she would sing for the 1970 Eurovision Song Contest. The song that one the public vote, "Knock, Knock. Who's There?" apparently was not her favourite, although she has ever publicly revealed which track she preferred. The Eurovision contest was held in the Netherlands, four countries having jointly tied for first place the year before. There were twelve participating countries. "Knock, Knock. Who's There?" received a total of 26 points, and came second to Dana's entry from Ireland, "All Kinds Of Everything" which received 32 points.
In 1971, she married Tony Visconti. Tony had previously arranged the strings on the Strawbs' first single, "Oh, How She Changed" and provided various arrangements for Strawbs' first album Strawbs. He then took over as producer for Dragonfly, Antiques and Curios and From The Witchwood. As a result Dave Cousins played (as did Clare Deniz) on Mary's 1971 album Earth Song, Ocean Song. See Sessions page for more details.
When Mary was in need of a guitarist for gigging, she asked Dave for advice. Dave played Mary a recording he had of a young friend of his playing a tune called "Fingers Crossed", and so it was that on his 22nd birthday, Brian Willoughby became Mary's guitarist. A recording made in 1972 of a concert at the Royal Festival Hall, featuring Brian Willoughby on guitar, Danny Thompson on double bass and Tony Visconti (who even duets with Mary!) remained in Mary's attic until 2005
Although Mary disliked the music industry, and effectively retired from public performances, to concentrate on bringing up her family, she did make several TV appearances, and many studio recordings, guesting on many albums as Mary Visconti. She also joined a band called Sundance (along with Mike Hurst and Mike de Albuquerque of ELO), and also made a studio album with a band called Oasis in 1984 (not the Gallagher brothers' band, who re-used the name in 1991).
In 1994 she hooked up with Brian and Dave to sing several songs with them on their album The Bridge. The Bridge was released on audio cassette, and subsequently deleted, but many of the tracks were remastered, and released on the Strawbs album Blue Angel in 2003. Maintaining her friendship with Brian, she co-wrote and sang on the track, "Love Belongs Right Here", on Brian's "Black And White" album, and sang "The Rejected Lover" as a duet with Cathryn Craig on Craig and Willoughby's, "Calling All Angels" album.
Her daughter, Jessica Morgan, created the label, "Mary Hopkin Music" and has been sifting through Mary's archives and has released several albums, with the promise of more to come. In addition, she has opened a recording studio, Space Studios, where Mary can write and record at will. Space Studios runs its own Youtube site, which features video clips from many artists, not least being Brian and Cathryn, who, along with Mary recorded a live version of "The Rejected Lover".
Photo of Mary reproduced by kind permission of Pat Richmond who at one time ran Mary's fan site.
Back to main Related Bands page page
Albums
For fuller list see www.maryhopkin.net.: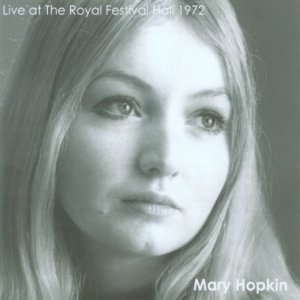 Postcard (Apple SAPCOR 5, 1969)
Earth Song Ocean Song (Apple SAPCOR 21, 1970)
Those Were The Days (Apple SAPCOR 23, 1970)
Strawbs, The Bridge (RGFCD 020, 1994)
Brian Willoughby, Black and White (PYO CD001, 1998)
Strawbs, Blue Angel (WRCD 2008, 2003)
Live at the Royal Festival Hall (MHM 001, 2005)
Valentine (MHM 002, 2007)
Recollections (MHM 003, 2008)
Christmas Songs (EP) (MHM 004, 2008)
Craig And Willoughby, Calling All Angels ( 2009)

Singles
Those Were The Days (1968)
Goodbye (1969)
Temma Harbour (1970)
Knock Knock Who's There (1970)
Think About Your Children (1970)
Let My Name Be Sorrow (1971)
Water Paper and Clay (1971)

Weblinks