UNIVERSAL JAPAN CD REISSUES, 2018
Without much ado, Universal Japan has reissued all 9 A&M albums - from Strawbs to Nomadness - in an attractive boxed set, with obis, the front of which mimic the original Japanese vinyl release obis.
Running order
The track listings are the same as the UK Universal releases (apart from Bursting At The Seams and Hero And Heroine) in:

1998 - (Antiques, Witchwood, Grave New World and Ghosts)
2008 - (Strawbs, Dragonfly and Nomadness)
On Bursting At The Seams it was originally intended that "The River" would flow into "Down By The Sea" - however DBTS was too boomy a track to fare well as the last track of a vinyl release and so the running order was reversed in the mastering process. The 1998 UK CD release and the 2002 Japanese facsimile release "corrected" the running order to reflect Strawbs' original intentions; however this 2018 Japanese CD release sticks to the original UK vinyl running order with "The River" following "Down By The Sea".
The bonus track "Still Small Voice" on Hero And Heroine (which was also a bonus track for 2008's CD reissue of Nomadness) is replaced by "Why And Wherefore" (previously only released on the UK version of Halcyon Days) - good call.
Remastering
It appears that these releases have been remastered in Japan at Universal Mastering Tokyo (UK CD releases were mastered by Roger Wake (1998) and Paschal Byrne (2008)). They also state that they are based on 192kHz/24 bit flat transfer from analogue master tapes, by:
Jared Hawkes at Abbey Road Studios, London) (Strawbs, Dragonfly, Witchwood, Bursting)
Brett Zinn at Iron Mountain Studio, Boyers, PA, US (Antiques, Grave New World, Hero, Ghosts, Nomadness)
One reviewer has praised the sound quality to be of the highest: "These might just well be the best sounding Strawbs discs ever!"
They are all SHM CDs ("Super High Material CDs") - a type of Compact Disc that uses an improved transparency polycarbinate resin as its transparent substrate, and this is claimed to provide a clearer medium for the reading of the data and so reduce read errors and improve the sound quality. SHM-CDs are fully compliant with the Red Book standards and play in any Compact Disc player. - For more info see: www.obsoletemedia.org
Packaging
The packaging FAITHFULLY replicates the original UK vinyl releases, including the original catalogue numbers (though back of sleeve UK address details for A&M have been removed and "Made in Japan" added. Nice touches include:

Grave New World is the full triple gatefold - first time ever on CD;
Strawbs has the CD inserted from the middle of the gatefold, just the like the first copies pressed in 1969; and
Antiques of course has the original back cover photo
The outer clear plastic sleve has an SHM sticker on it.
Where there were lyric inner sleeves or inserts in the original UK vinyl releases (Grave New World - the full booklet, Dragonfly and Nomadness (inserts), Bursting, Hero and Ghosts (inner lyric sleeves)), these are included. Each also has a sizeable booklet with English language and Japanese lyrics (for the original tracks, but not bonuses) and several pages of Japanese sleeve notes, written by Junichi Yamada.
Promo box/separately available
These are appearing on ebay as individual purchases and - in a very few cases, as a promo box set of all 9CDs - it seems that individual purchases include the Obis and the other components, just not the box. All in all a very very satisfying bundle, which I've only just started to listen to - only two negative comments:

The CDs look very dull - silver CDs with very tiny black printing like some bootlegs that have appeared - the UK 2008 releases had mockups of the original album labels (brown label for Strawbs and Dragonfly and silver for Nomadness) - much more satsfying and more costly for bootleggers to rip off.
And why oh why did they not nake it a 10CD set with Two Weeks Last Summer also included?
Front covers with obi (click to see larger version)
Back covers with obi (click to see larger version)
Example CD scan - other releases match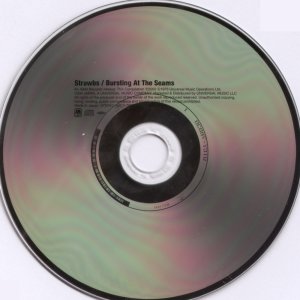 Catalog numbers
Strawbs - UICY-78833
Dragonfly - UICY-78834
Antiques - UICY-78835
Witchwood - UICY-78836
GNW - UICY-78837
BATS - UICY-78838
Hero - UICY-78839
Ghosts - UICY-78840
Nomadness - UICY-78841
---
---