POSTERS - 1973-1980
Click on the thumbnails to view the full size page scan.

Contents

March 1973 UK gig posters, Cliffs Pavilion, Southend, 28 Feb 1973, Newcastle City Hall 22 March 1973, and others
Recently acquired, a pack of 10 posters for the 1973 Bursting At The Seams tour, produced either by the promoter, Derek Block, or Strawbs' Arnakata management. Illustrated here - 28 Feb - Cliffs Pavilion, Southend and 22 Mar - Newcastle City Hall, but also included were:
2 Mar - Town Hall, Birmingham
3 Mar - City Hall, Hull
5 Mar Victoria Hall, Hanley
6 Mar - Winter Gardens, Bournemouth (2 copies)
7 Mar - The Dome, Brighton
10 Mar - New Civic Hall, Barrow
Elsewhere I have seen:
17 Feb - Guildhall Portsmouth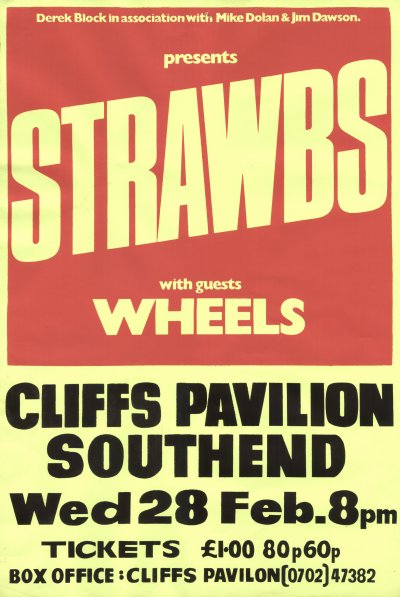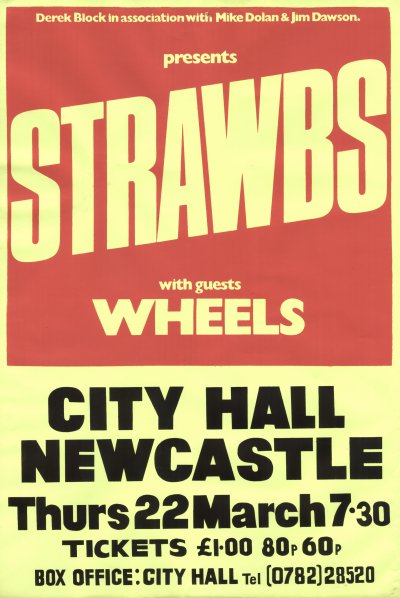 PACE poster for the Strawbs
PACE posters sprang up to provide wallcoverings for the 70s pop and rock teens. They were big beasts covering a large area, and the Strawbs offering used an otherwise largely ignored photo (it as picked up for a rock "trading card"), capturing the "glamness" of late 72/early 73 Strawbs, particularly Blue with his fetching blue eyeshadow! (DG)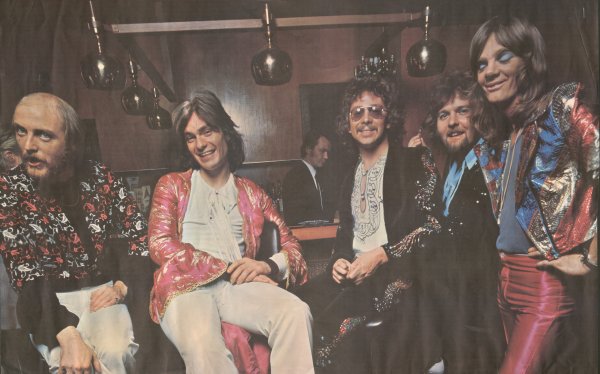 May 1973 US gig supporting Ten Years After
The Bursting band touring the US - during this tour they did in fact burst at the seams (DG)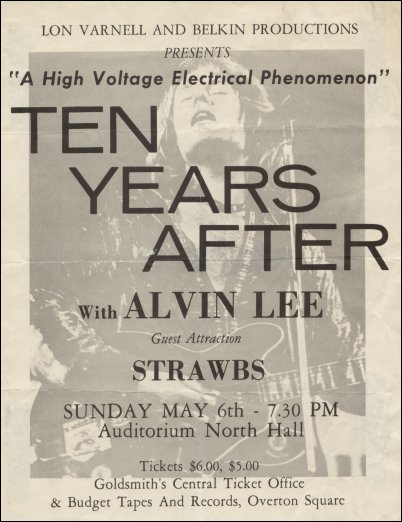 New Strawbs line-up, Winter 1973/early 1974 (710mm x 510mm)
I think got this from my local record shop when they'd finished with it. A huge poster just showing the new line-up, no specific release being advertised. Was on my wall for many years, but has lasted reasonably well. (DG)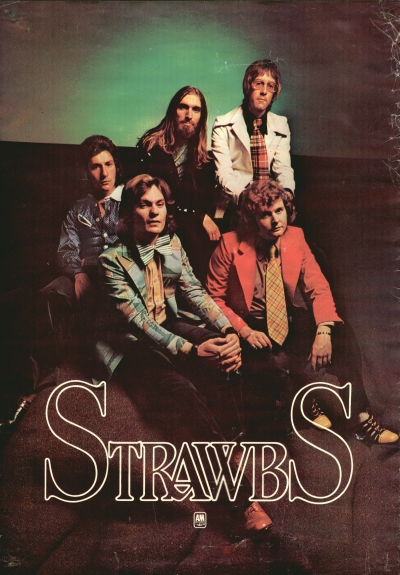 By Choice small poster
Nice colour flyer/small poster for the By Choice album (DG)

Hero And Heroine square poster, early 1974 (61 cm x 61 cm)
Think this has been lurking in a poster tube for a while - a square pretty straightforward repro of the album cover. (DG)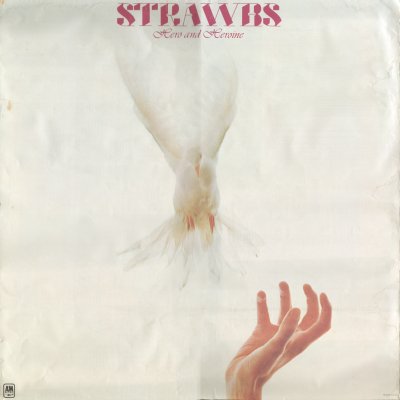 Hero And Heroine colour poster, early 1974 (76cm x 51cm)
On my wall for a very long time. Not in the best condition by any means, but the colour image of the album, held by an alabaster hand coming out of the sand, is one of my favourite poster images. (It was also used for full page ads, mainly in black and white, but in colour in Billboard in the US.) (DG)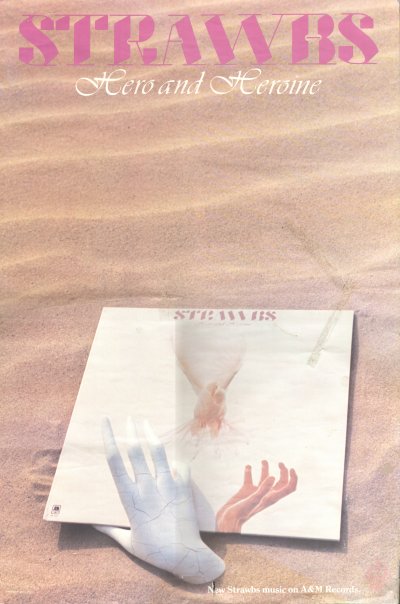 Hero And Heroine US release poster, early 1974
One of my most recent acquisitions - an inconic photo of Dave, "halftoned" and produced in two colours - a deep rich red and white. Spotted on Ebay - never seen it before: on my wall in the office now! (DG)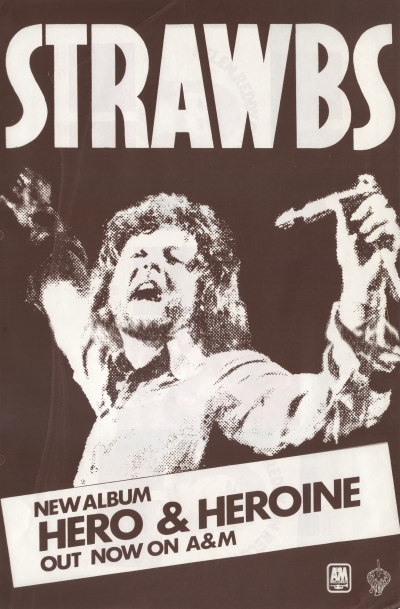 UK handbill advertising Strawbs gig in Hanley, April 1974
Strawbs played Hanley in 1973 and came back for the H&H tour. Interesting bedfellows - other artists coming to Hanley ranged from glamsters the Bay City Rollers and Alvin Stardust to US rockers Blood Sweat and Tears. (DG)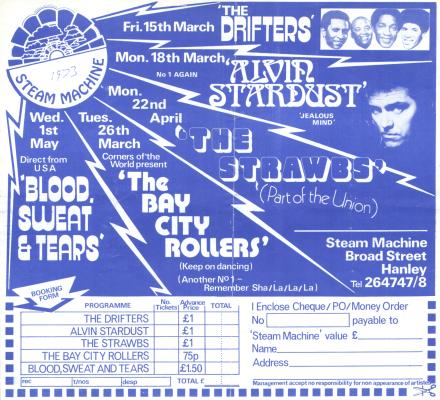 Hero And Heroine tour, Brighton, 1974
Also a relatively recent acquisition, in a violent day glo orange, which doesn't quite come through in the scan - it's actually 2 A3 sheets printed with an overlapping image then glued together. (DG)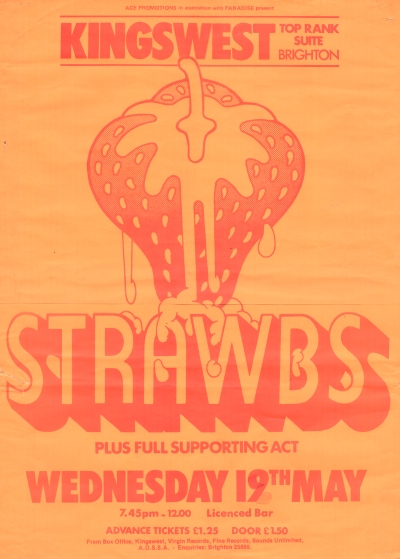 Hero And Heroine tour, signed by Strawbs, 1974
Just acquired, an original 1974 tour poster blank - designed to be overprinted with venue details and supplied to the venue by Strawbs' management. Signed by all five Strawbs from that line-up. (DG)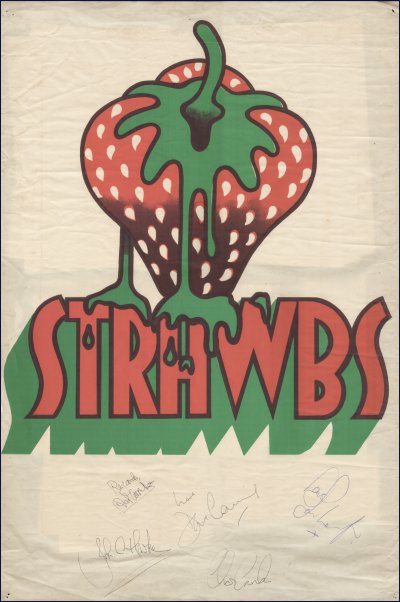 Hero And Heroine tour, Swansea, 1974
Recently acquired, an original 1974 tour poster from the Swansea gig. (DG)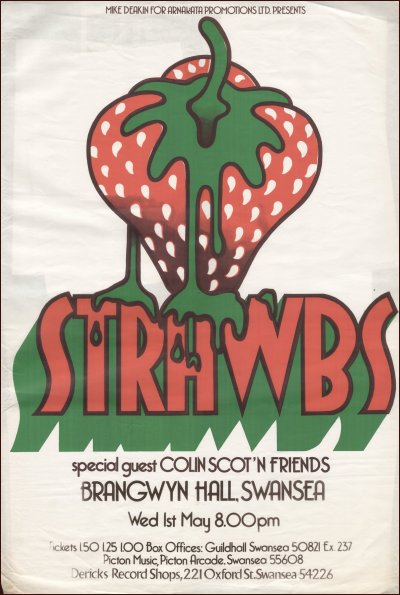 Hero And Heroine tour, Liverpool, Preston, 1974 (*)
Found online are similar examples from Liverpool and Preston. (DG)

June 1974 US gig at the Cow Palace with Ten Years After and King Crimson
Cousins was well impressed with Robert Fripp. (DG)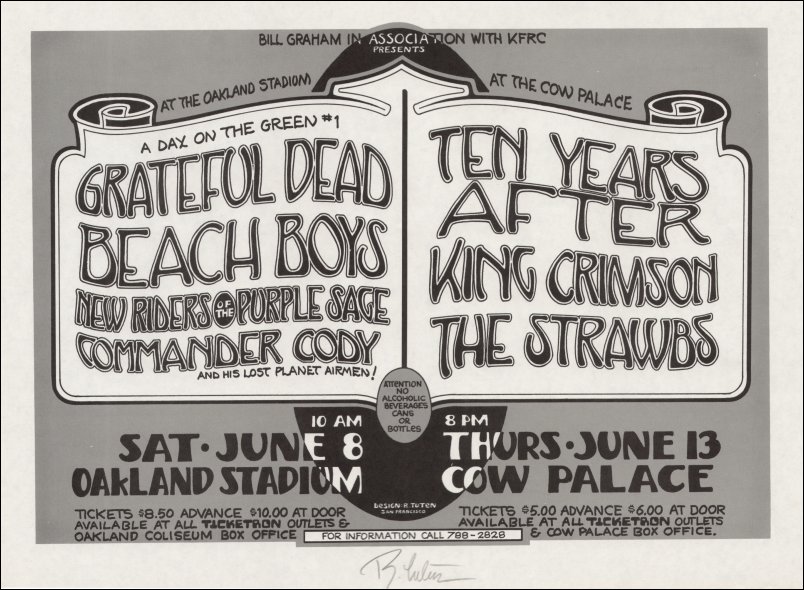 June 1974 US gig at the Selland Arena with Ten Years After and Blue Oyster Cult
Bright orangey yellow paper, odd-sized poster with dark blue printing (DG)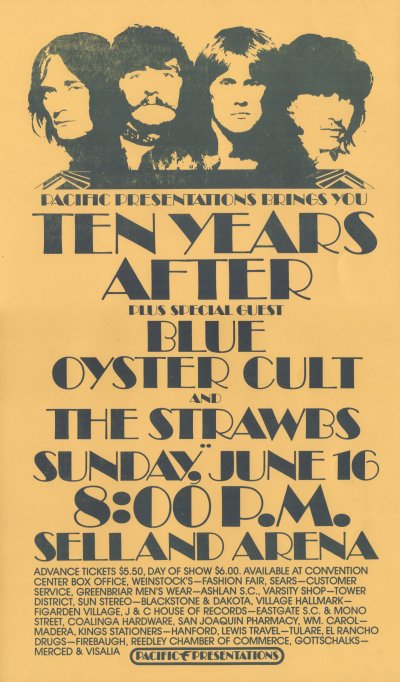 Ghosts, 1974 (51 cm x 38 cm)
I had one of these in a glass frame for a long while. The eventual Ghost front cover image, replacing an earlier design which showed the band as ghosts in a scene shot at Charterhouse School, which was vetoed by the school.

US tour poster, supporting Black Oak Arkansas, 9 May 1975 (55 cm x 41.5 cm)
Another new one. Black Oak Arkansas headline, with Montrose and Strawbs as support at the Selland Arena in Fresno CA. Other gigs around this time saw them support Blue Oyster Cult, Joe Walsh & Link Wray amongst others.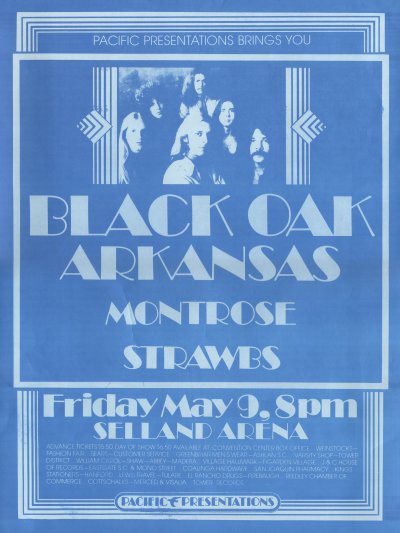 Strawbs/Gentle Giant concert poster, 1975 (66 cm x 35 cm)
Even more recently acquired. Odd size, printed onto stiff card to promote a Seattle concert with Gentle Giant as support. Uses the "By Choice" dripping strawberry pic in stylised form.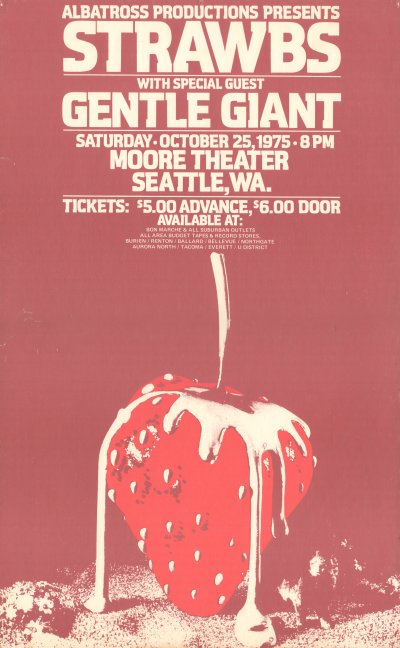 Nomadness, 1975 (51 cm x 51 cm)
Just got this. Part of the Nomadness design, this one featuring four cannily posed strawberries in front of a white attache case - were they supposed to represent the four Strawbs at the time (Cousins, Lambert, Cronk & Coombes) ? We'll never know ... There was also a sticker with the same design.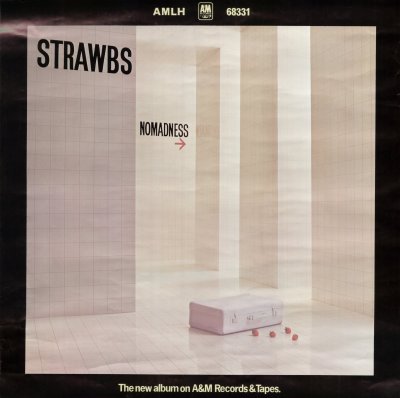 Victoria Palace gig flyer, 21 Dec 1975
Small flyer for one of only three UK Strawbs gigs in 1975.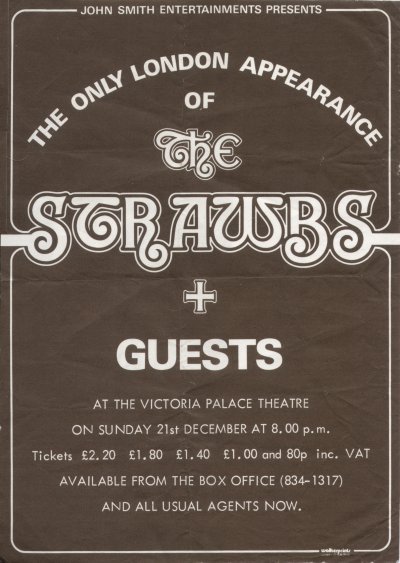 Handbill for Greyhound, Croydon gig, 16 May 1976 (*)
Dave Cousins' timeline doesn't include this, but it's marked in pencil as being from 1976 and it ties in with other band histories. So it looks as though Strawbs had a quick live workout of some of the new numbers in the middle of rehearsing and recording for Deep Cuts. (DG)

Deep Cuts poster, 1976 (76 cm wide x 38 cm high)
Using the striking image on the Deep Cuts album cover to good effect. (DG)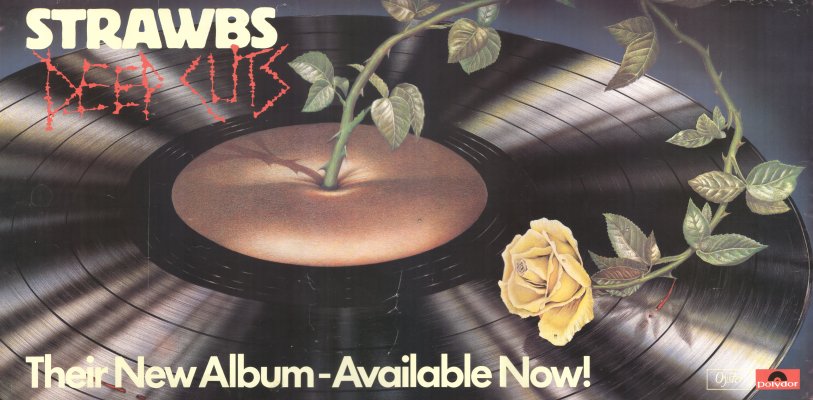 Deep Cuts poster, 1976
This very large poster was probably used for billboards and seems to have been included in some press promos (DG)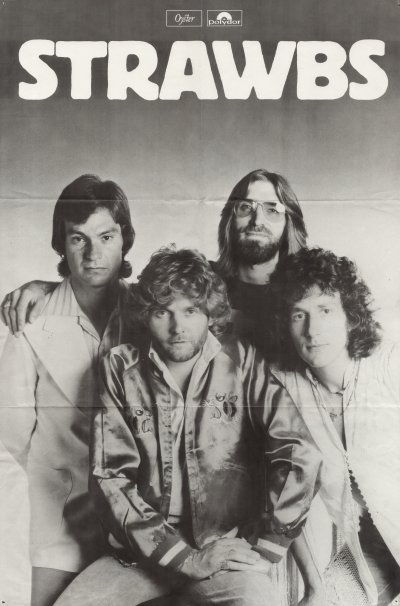 Deep Cuts tour, Newcastle, 1976
Well this one was definitely MY first Strawbs show, at the splendid City Hall in Newcastle (where I saw Lindisfarne many many times but Strawbs only once). I rember the sound being absolutely superb (not something Strawbs were always known for) and the lighting stunning. Dave was on fine form, shrieking the lyrics of some songs with such fervour it had me worrying about his peace of mind {grin}. This poster was in my old trunk so I must have had it for years, maybe even picked it up on the night, but I don't recall. (DG)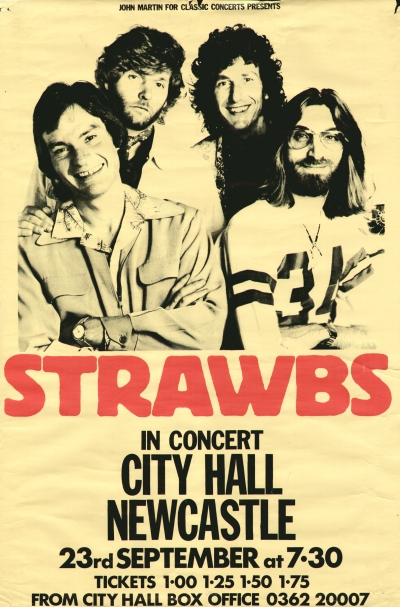 Burning For You poster, 1977
Another A2 size poster for Burning For You, featuring the fantastic Patrick Woodroffe image (DG)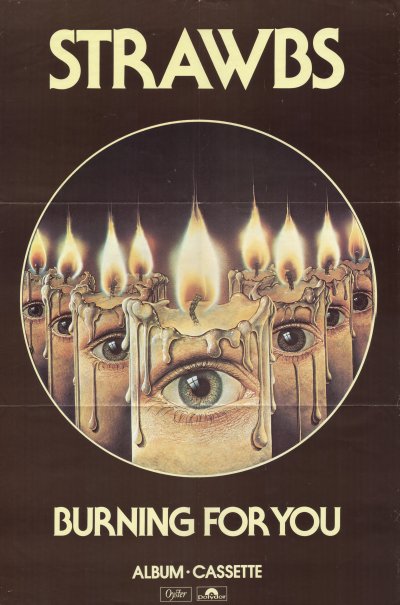 Deadlines poster, 1978
A massive A2 size poster for the release of the Deadlines album - the band picture includes Andy Richards, who did not play on the album, but was with the band when they recorded the BBC Sight And Sound show in Golders Green in late 1977 (broadcast 18 Feb 1978). (DG)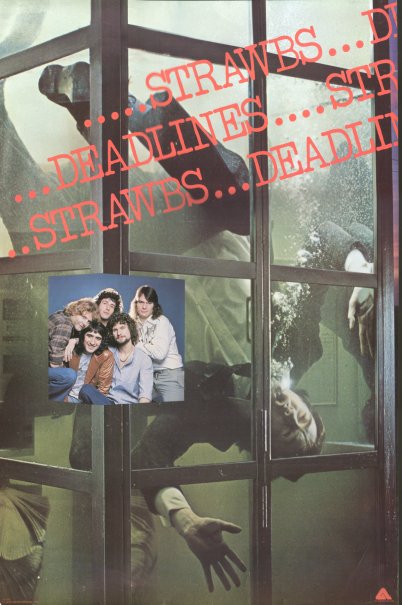 Hammersmith Odeon handbill, 1978
This handbill was loaned to me by Michael Coleman for scanning. There were certainly some decent size/quality Arista posters knocking around as well.(DG)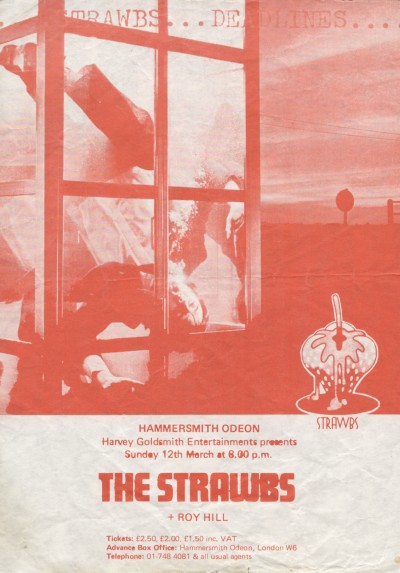 1979 Port Rush festival poster
Spotted online. Also featuring a Dave Cousins solo spot and a set from the McPeake family (of "Will Ye Go" fame). (DG)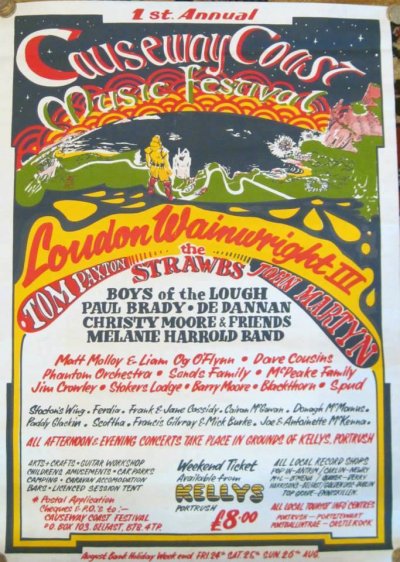 1980 tour, York poster
Using a London Underground style image, this was the poster for the 1980 tour (DG)