AMEN CORNER/FAIRWEATHER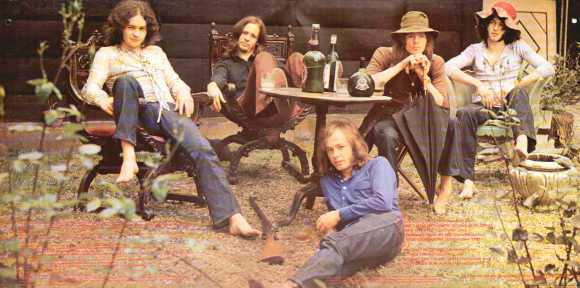 Derek "Blue" Weaver (his nickname derived from his supposed likeness to a Goons character "Bluebottle"), was fed up with not getting anywhere in local Welsh bands. So, he bought a copy of Melody Maker and left Cardiff for London to join a dud group that rehearsed for a year but never got any gigs. Scraping enough money together to live in Shepherds Bush, he lived underneath Zoot Money's flat, where he listened to jam sessions with the likes of Georgie Fame and Graham Bond, before meeting Andy Fairweather Low who asked him to join Amen Corner.
Amen Corner, a seven piece band including a small brass section, took off almost overnight with "Gin House Blues" and went on to score major hits with "Bend Me Shape Me" and "(If Paradise Was) Half As Nice". As the hits dried up, band split in two, with the brass section joining Judas Jump, and the remainder becoming Fairweather, a band far removed from the teeny-bopper hit machine that Amen Corner had become. However, the new band fairly quickly scored an unexpected Number 6 hit with "Natural Sinner".
Fairweather broke up in 1971, and Andy Fairweather-Low headed off for a solo career leaving Weaver to join the Strawbs in time for "Benedictus" and Grave New World, before going on to share in the Strawbs' chart success (his third time round - Blue must be the most successful of all the Strawbs members in chart hit terms) with "Lay Down" and "Part of the Union".
---
---
Albums
Amen Corner
Round Amen Corner (Deram DML/SML 1021, 1968)
Explosive Company (National Welsh Coast Live) (Immediate IMSP 023, 1969)
Farewell To The Real Magnificent Seven (Immediate IMSP 028, 1969)
Selected anthologies
If Paradise Was Half As Nice - The Immediate Anthology (2CD, 2000)
Fairweather
From A Beginning To An End (Neon NE1, 1971)
Full album details and more album cover pictures on Album details page.
---
Singles
Amen Corner
"Gin House Blues"/"I Know" (Deram DM 136, 1967)
"The World Of Broken Hearts"/"Nema" (Deram DM 151, 1967)
"Bend Me Shape Me"/Satisnek The Job's Worth" (Deram DM 172, 1968)
"High In The Sky"/"Run Run Run" (Deram DM 197, 1968)
"(If Paradise Is) Half As Nice"/"Hey Hey Girl" (Immediate IM 073, 1969)
"Hello Susie"/"Evil Man's Gonna Win" (Immediate IM 081, 1969)
"Get Back"/Farewell To The Magnificent Seven" (Immediate IM 084, 1969)
Fairweather
"Natural Sinner"/"Haven't I Tried" (RCA 1977, 1970)
"Road To Freedom"/"Tutti Frutti" (RCA 2040, 1970)
"Lay It On Me"/"Looking For The Red Label Pt. 2" (Neon NE 1000, 1971)

---
Weblinks
Lots of links out there on the net but not many of them relate to this band called Amen Corner; there's another band (thrash metal by the looks) with the same name, a bible-selling enterprise and information about a golf course with a corner called Amen Corner.
Blue Weaver's website has some background on all the bands and projects he's been involved in.
NB you'll need Flash to experience Blue's site to the full.
---