FIRE
---
---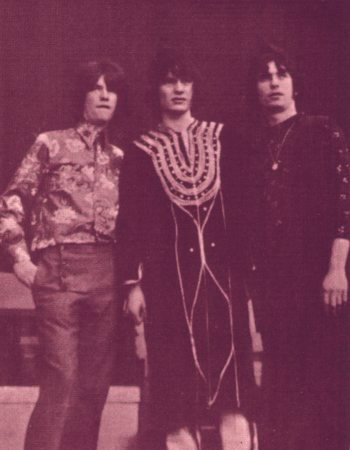 Dave Lambert formed the band as Fryday's Child with Bob Voice and Dick DuFall, their first gig at the famed White Bear in Hounslow. Demos secured an audition and subsequently a recording contract with Decca, and they spent some time in the studio with producer Tony Clarke (later prominent as the Moody Blues' producer - "the Sixth Moody Blue"). Their management also secured a deal with Apple Publishing.
Now named Fire, they produced a first single for Decca ("Father's Name Is Dad"/"Treacle Toffee World" (1968); however interest must have been waning already as it required some pressure from Apple to secure its release. The single was withdrawn and a new version cut within days of its release, on the diktat of Paul McCartney, who felt that the original version lacked punch.
Fire continued to record, but became caught up in Apple politics: Mike Berry of Apple rejected all the band's demos and suggested instead they record one of his songs "Round The Gum Tree". Lambert agreed to do the vocals on this but the band refused to play on it. All refused to have anything to do with the song intended for the B-side - "Toothie Ruthie", which was written by their managers!.
Securing their release from the contracts with Decca and Apple, the band set about in early 1969 to put together the album The Magic Shoemaker. This was a concept album, written and conceived by Lambert - a story told to a group of children on a coach journey about a magic shoemaker and a pair of magic shoes which allow the hero of the story to fly. A name check for Dave Cousins and Paul Brett for "their invaluable help in contributing to the performances on this record" - Cousins plays banjo on the final track, and Brett was brought in to contribute the lead guitar on a number of tracks, Dave being busy playing keyboards, rhythm, acoustic guitars etc. Whilst the storyteller approach jars a little nearly 30 years on, the music is good, though it suffers from inexperienced production - some of the versions on Underground And Overhead are better.
In its original version on Pye it is impossibly rare and expensive (one of the top 100 rare albums), but there are re-release copies on PLM records, and it has been re-released by See For Miles on CD - SEECD 294, on Si-Wan - SRMC 1023, and in 2002 on Sanctuary Records's "Psychedic Pstones" series - CMRCD 620 with updated sleeve notes by David Wells.
After the release of Magic Shoemaker, Lambert broke up the original Fire: Dufall and Voice went off to join Paul Brett in Paul Brett's Sage. Dennis Taylor, Pete Sulley and Graham Keedy were brought in - the new incarnation cut a few demos, but then quickly collapsed, with Dave moving on to do some studio work (he and Rick Wakeman played, along with Chas Cronk, on the soundtrack for Zee and Co., a film with Elizabeth Taylor) and then playing solo as an acoustic act, occasionally doubling up with Dave Cousins for "you play one, I play one" acoustic gigs in 1971 before going as support act on the last tour undertaken by Mungo Jerry, then joining the King Earl Boogie Band which emerged from the ashes.
In 1997, Tenth Planet Records (48 Armadale Road, Woking, Surrey), arranged with Dave Lambert to release some of the unreleased demos and recordings that Apple/Decca ignored. The gatefold album Underground and Overhead features highly informative sleeve notes by David Wells, and is well worth a listen, including better-realised versions a number of the tracks from Magic Shoemaker. Strawbs fans will find an early, acoustic version of "It's Just Love", which later appeared on Hero And Heroine. Other highlights are the single "Father's Name is Dad" which is one of my favourite psychedelic singles, up there with "Itchycoo Park".
More recently - in co-operation with Lambert - Wooden Hill (who are connected with Tenth Planet, I think) re-issued Underground and Overground on CD with a number of additional tracks. A Nomadness bootleg has also been produced which includes a number of Dave Lambert/Fire outtakes and demos. A couple of Fire alternate tracks have emerged legitimately on Dave Lambert's Work in Progress album.
In 2007 Dave decided to reform the band with its original line-up for live performances of the legendary Magic Shoemaker album. Bob Voice, who'd not played drums for 30 years and Dick Dufall on bass joined DL for two amazing nights on 30 Nov/1 Dec 2007, with former Shoemaker producer Ray Hammond providing the narration. The performances were of an extended version of Shoemaker to allow the inclusion of such psychedelic delights as "My Father's Name Is Dad" and "Treacle Toffee World" and other unreleased Fier tracks as well as "It's Just Love" which of course saw the light of day on Hero And Heroine. The concert was recorded professionally and four or five video cameras operated by various Witchwooders captured the show on video. The CD Magic Shoemaker Live was released 6 October 2008 to wide acclaim. See Reviews page. The CD is available from Angel Air Records and other major retailers.
2009 also saw the release on CD of the Paul Brett/Sage albums, and Fire played at the spectacular 40th Anniversary Strawbs weekend in September 2009.
See also Dave Lambert, King Earl Boogie Band Lambert Cronk Paul Brett/Sage Zeus
---
Albums
The Magic Shoemaker (Pye NSPL 18343, 1970)
Underground and Overhead: The Alternate Fire (vinyl limited edition of 1000 copies, Tenth Planet TP029)
Underground and Overhead: The Alternate Fire (CD, two releases)
The Magic Shoemaker Live (Angel Air SJPCD 286, 2008)
Full album details and more album cover pictures on Album details page.
---
Singles
"Father's Name Is Dad"/"Treacle Toffee World" (Decca F 12753, 1968)

"Round The Gum Tree"/"Toothie Ruthie" (Decca F 12856, 1968)
---
Weblinks
---