BAD INFLUENCE
---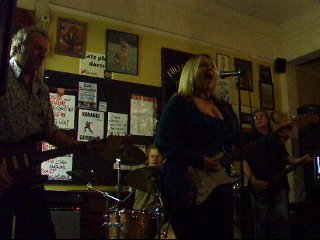 Val Cowell (lead vocals and rhythm guitar) and Richard Hayes (lead and slide guitar) formed Bad Influence in 1986. They have had several changes to their rhythm section over the years, including Malcolm Foster (Pretenders) on bass, Chris Childs (Then Jericho) on bass, Bob Skeats (Wishbone Ash) on bass and Andy Wells (Meat Loaf)on drums.
Current line up has Harry James (Thunder/ Magnum) on drums, and Pete Stroud (Peter Green's Splinter Group) on bass. Pete Stroud also plays with Buddy Whittington, and so often takes time out from the group, and Harry James still plays with Magnum, so also takes time off.
Often, when they are short of their rhythm section, Val and Richard often play as a duo, but whenever possible, they draft in other musicians. Bob Skeats from Wishbone Ash is often called upon, so much so that Bad Influence were invited to support Wishbone Ash at their annual convention in 2008. Their other regular on bass is our own Chas Cronk.
They describe their style as "Rock and Blues", with influences such as Bonnie Raitt, Stevie Nicks, Joni Mitchell, Ry Cooder, Brian May, Richie Blackmore. They play a mixture of their own material and covers from a diverse range such as Fleetwood Mac, Dixie Chicks, Tom Petty and Rory Gallagher.
Page contributed by Pete Bradley
---
Albums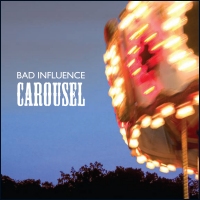 Carousel (BAD5, 2009)
Closer (STC2005-2, 2005)
Live (BAD3, 2002)
One Way Love (BAD2 2000)
Bad Influence (BAD1, 1997)
---
Weblinks
---