CRAIG & WILLOUGHBY'S ROCKIN' RHYTHM REVUE
---
---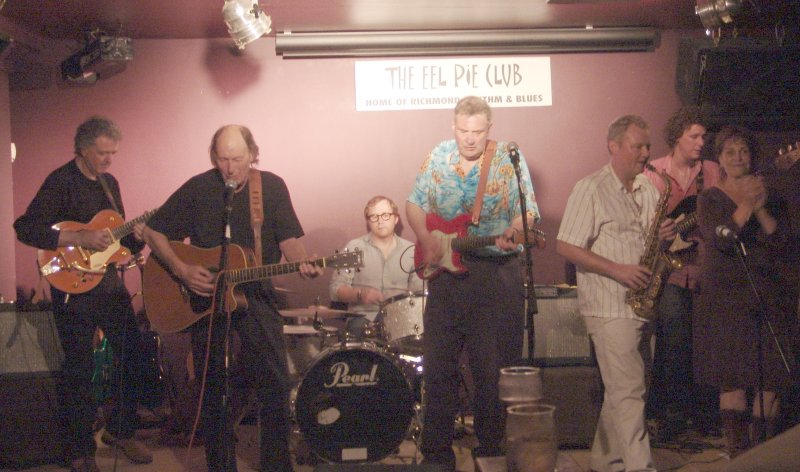 Brian and Cathryn had long thought that it would be a good idea that on special occasions they could merge their duo, Craig & Willoughby, with Brian's blues band, The Three Mustgetbeers, making Cathryn a fourth Mustgetbeer. The idea may have been spawned by the fact that both line-ups performed, albeit very different versions of Al Wilson's "The Snake", or it may have been spawned by the fact that Cathryn was keen to perform a rockier version of Tina Turner's "River Deep Mountain High" than was possible in a folk club.
Brian admitted that he missed playing in a band with drums, so they decided to put together a full rock band, so Craig and Willoughby's Rockin' Rhthym Revue was born. John Evans (from the Three Mustgetbeers), Brian and Cathryn recruited Jim Mason (bass) and Jim Kean (drums) from local band The Sheppertones and another local, Mark Pickup on saxophone, recorder and harmonica. Bob Lewis joined them as a special guest during the second set.
They made their debut on 23rd June 2010 at the Eel Pie Club in Twickenham. Like the Three Mustgetbeers, their material is largely rock, or blues classics, heavily embellished with improvisations from Brian, John and Mark. To date, their gigs have all been in the Shepperton/ Twickenham area.
Reviews and pix of the debut performance.
See also Cathryn Craig & Brian Willoughby The Three MustGetBeers