THE BEAKY BAND
---
---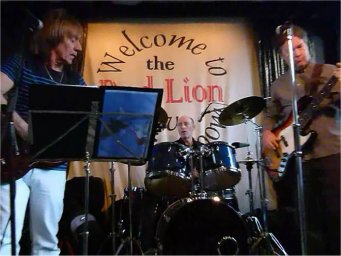 One of the numerous gigging bands that Hud sits on the drums for. - what a busy man!
Dave Dee, Dozy, Beaky, Mitch and Titch were booked to play a Christmas Season in Marbella, and liked it so much they bought a club there and resettled their families in Spain. When they finally decided to return to London, the original Beaky, John Dymond decided to stay, so he was replaced by a second "Beaky", Paul Bennett.
Paul left in the early 90's and was replaced by a third "Beaky", Tony Carpenter.
In 2009, Tony took over as lead vocals, after Dave Dee lost his battle with cancer. Tony also fronts his own three piece band, The Beaky Band, featuring Bill Phillips and Hud. Bill and Hud also play together in both The Good Old Boys and the Ali Mac Band. Bill Phillips is also a member of The Glitter Band.
Although Tony has written material in the past, he believes that there are too many musicians also writing, so he doesn't feel it is worth it. As a result, The Beaky Band play a variety of covers from the sixties to the present day, encompassing a wide range of different genres.
Contributed by Pete Bradley
---
Weblinks
---