CRY NO MORE - LIVE IN GERMANY
For large scans of the images, click on the images: you may need to use the zoom feature in your browser to see the full image.
A live show, recorded in Germany in 1990 whilst on tour with Marillion. Tour dates listed the insert inner, not known which were the source(s) for this material.

Tracks
Landslide (Hill/Cronk)
Forgotten Now (Hill/Cronk)
First Kiss (Hill/Cronk)
I Love Roxy (Hill)
I Like I Like I Like (Hill)
Nevada (Hill/Cronk)
Caveman Rock (Hill)
Oh Sharon! (Hill/Cronk)
Hit The Big Drum (Hill/Cronk)

Versions
CD
Back to Cry No More albums page
Back to Roy Hill albums page
Back to main Cry No More page

CD
CD release
CD: CNMCD06, Deepdene Records, 2010. 4pp insert.
Insert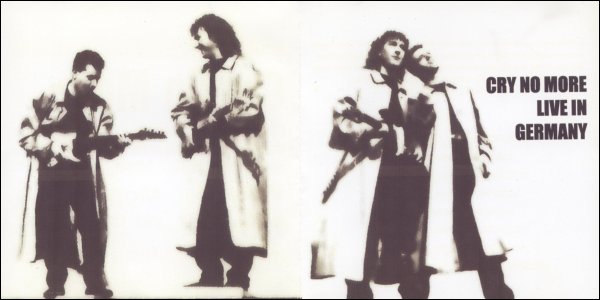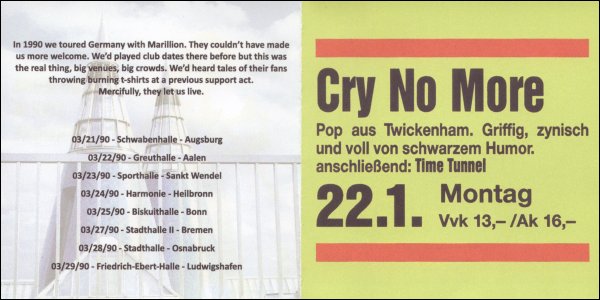 Tray back and CD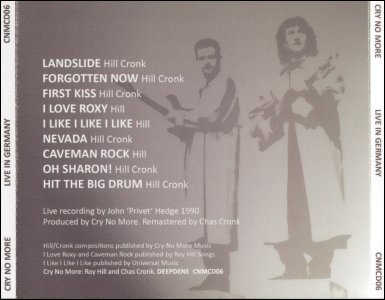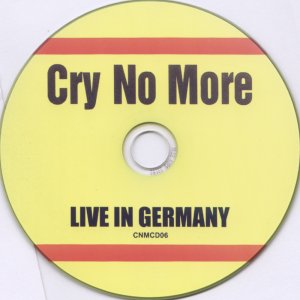 Back to Cry No More albums page
Back to Roy Hill albums page
Back to main Cry No More page
---