DAVE LAMBERT - ALBUM REVIEWS

Contents
Back to main Dave Lambert page

DAVE LAMBERT - FRAMED (Polydor US, 1978)
Review by Lindsay Sorrell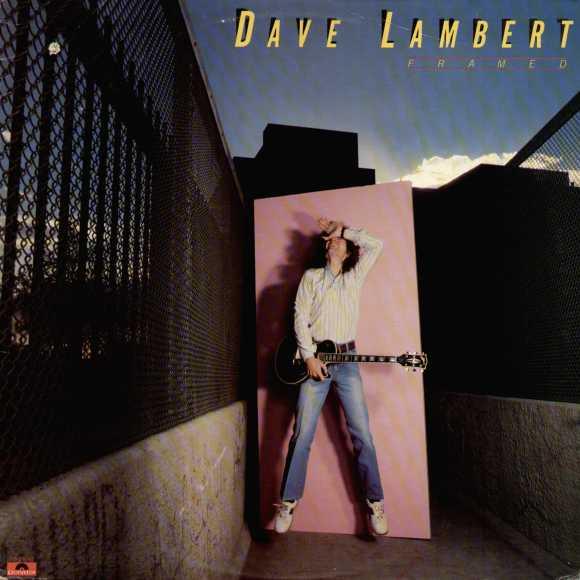 Framed is a really good album which contains several great tracks, most of which would probably fall into the "soft rock" category. My own feeling was that it was recorded and released in a very strange period in the history of music and consequenlty didn't receive anything like the amount of recognition it deserved.
A bit of background waffle - in the Spring of 1979 (the year after Framed was released) my old schoolfriend Christine and I decided to spend a few months touring the US. While in New York we stopped off at the Arnakata (Strawbs' management in the 70's) offices there. It would have been impossible not to notice the almost-life-sized thick cardboard mobile of Dave Lambert (same as the photo on the front of the album) hanging from a hook on the ceiling. (The thought of "doing an Ali" and pleading for it probably crossed my mind, but maybe common sense got the better of me. It wouldn't have been the easist thing to carry around on Greyhound buses for the next four months and would probably have needed its own ticket.) Incidentally, Dave has mentioned that the front cover photo was taken in LA on a pedestrian bridge over a freeway, and getting the shot took an entire day. Apparently there was a "dressing room" caravan, for which he was very grateful, as it was the coldest day he can ever remember experiencing in California! I can't actually remember where I first saw the album in a record rack, but think possibly it was Cleveland or somewhere like that. I remember the excitement (and strange feeling!) of spotting copies of the album filed neatly under "L" for Lambert, and definitely remember proudly putting all the copies at the front of the "L" rack in a huge Tower Records in Los Angeles.
I'm really enjoying listening to the album as I type by the way, so thanks to Steve for getting this analysis thing going and making us dust down our record collections. I will just pick out the tracks which stood out for me musically and lyrically at the time, and are still my personal highlights. "Take a Little Bit of Life" (great, punchy rock song); the title track, "Remember Me All Ways" (very soulful, possibly my favourite track on the album); "Welcome to My Dream" (a great upbeat song as the title suggests – actually this is definitely another contender for my favourite); "Lucky" (slower tempo and a nice spacey/harmonic/percussive finish) and also "Crystal Virgin", another slower-paced song with soulful vocals.
I won't dissect each track on the album musically, but as might be expected, there is an abundance of terrific guitar throughout , not to mention great bass (much of which was provided by John Entwistle. Sadly this album was the only time Dave had the opportunity to record with John, his old friend from Boys' Brigade.) The album also has some nice backing vocals and harmonies, and the drumming (Danny Seiwell of Wings) on several tracks really catches my attention. No problem with the keyboards either, some really nice spacey-stuff there too.
Going back to what I mentioned previously however about the timing of Framed's release - in the Spring of 1979 punk was ruling the waves in the UK in music, clothes and attitude. Rock bands that had been considered God-like until the recent past, and pretty much anything that wasn't punk, were being slagged off in teh media as "dinosaurs" and it seemed that every music journalist in the UK had simultaneously been brainwashed to think (or at least write) the same derogatory drivel. Naively, and probably because of having read UK music press articles about bands like The Ramones, New York Dolls, Joan Jett etc. Christine and I were expecting America to be similarly punk-oriented, or even more so. It was a real learning curve for us to find it wasn't, and in all our travels we spotted just a couple of expensive designer "punk" shops in LA and New York, nothing like the widespread punk thing we were used to in the UK.
While in LA we donned our safety-pins (metaphorically) and went and saw English punk band Penetration at the Whiskey-A-Go-Go (partly to see what it was like, having heard about Strawbs playing there). I don't know quite what we were expecting, but we chatted with Penetration (friendly Northern lads) and several oh-so-cool LA punks (including a couple of The Go-Go's before they had their fame) and were offered somewhere to stay by one who called himself Paul Problem (hmmm). We had a good time but "punk" LA-style seemed a very different phenomenon from back in the UK. I suppose it was the Hollywood connection thing but "the movies" and rubbing shoulders with film stars seemed to be major topics of conversation, as did looking for acting work in TV commercials etc. – anything to get on TV.
Anyway….here is my theory. It's mine and it belongs to me. Presumably Framed was recorded in the US because in the preceding years Strawbs had concentrated on the US market and had sold a lot of records there, and possibly it was also an attempt to try and avoid what was going on in the UK vis-ŕ-vis anything associated with the rock genre. I can only surmise that being such a strange time musically, and knowing that America has in the past followed where the UK has led, record companies/distributors/outlets everywhere must have been jittery about where music was going and what was going to sell. If my assumption is correct this would surely have impacted badly on anything untried and untested by artists who weren't established (e.g. Dave Lambert going solo). I remember Dave saying that friends of his couldn't buy the album in the UK (this was long before the internet, of course!) but had travelled to France and bought copies there. All very strange.
To sum up – in my opinion, Framed is definitely well worth a listen. It's a good rock album with some great tracks and nothing less than would be expected from the cast of top-notch musicians. I think it's a great pity it didn't get the recognition it deserved which I assume was due to the whims of the music media at the time.

DAVE LAMBERT - FRAMED (Polydor US, 1978)
Comments from Pete Madeley
This album is definitely one of those that "got away", and should never have been allowed to escape. I like pretty well all of it, and there are three outstanding tracks, including the title track. (Did Dave have a crystal ball to foresee the current issues with the extradition treaty with the US?) There are some wonderfully raunchy and characteristic Lambert riffs. Several of the tracks sound to have a Traffic sound (notably So Lucky: compare to "Hole In My Shoe") and perhaps shows Dave reverting to his Fire roots. The lyric "The very first time that I set foot on this shore, I was scared to be alone" perhaps refers to life outside Strawbs?
It all leads to the last 2 thrilling tracks, White Knight and Crystal Virgin. In his recent review of Deja Fou, Dick suggested that another DL song have an outing instead of "Cold Steel": may I respectfully suggest Crystal Virgin is the one to choose for both acoustic and electric formats (actually let's change respectfully suggest to DEMAND).
Don't be put off by it having "got away": it's well worth tracking down.

DAVE LAMBERT - WORK IN PROGRESS (Witchwood, 2004)
Review by Les Cotton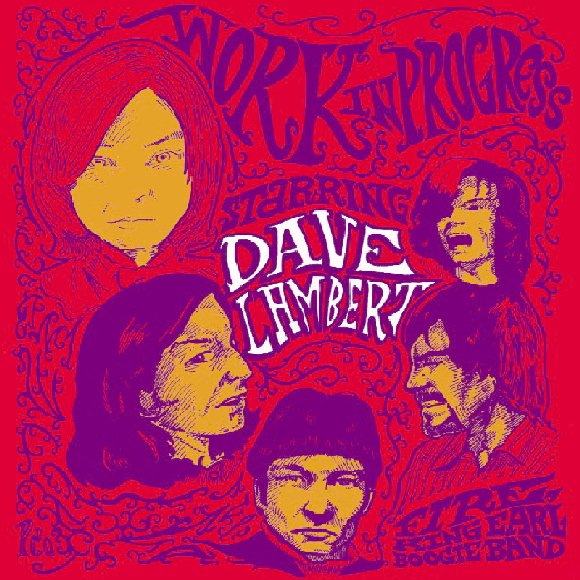 Dave Lambert has always been a guitar hero of mine. I love his rockers like "Just Love", "Little Sleepy", "Framed" etc. I think they provide a great diversion to regular Strawbs album tracks.....yet his contribution to the Acoustic Strawbs is both immense and sensitive (he also has a large say in the electric to acoustic re-arrangements I'm told). So I was delighted when I heard of his new solo album, Work In Progress, and thanks to some very kind contacts, have got my (signed) copy today. Here's my thoughts track by track -
1 - "The Man I Saw Last Night"
A poignant tribute of sorts to Peter Green, gentle acoustic guitars, with Lambert vocal and harmony, also a quieter but distinctive Dave Cousins backing vocal. A good choice for Acoustic Strawbs treatment.
2 - "Starlight"
Back to the Fire days, a sort of 12-bar Indian blues! Evidence of maybe a sitar (!) in there, backwards guitar tapes and flanged vocals, its all in here. Good boogie.
3 - "The Winter And The Summer"
Dave's most beautiful song, I think; this live version from the Chiswick House '98 reunion.
4 - "Live to Love"
From the King Earl Boogie-days, real power-trio electric, kind of Dave Edmunds meets Joe Walsh and the James Gang...straight ahead electric rock.
5 - "The Visit"
My fav new track, home recorded by Dave in his studio, has a recurring sort of "Duelling Banjos" type riff, but is a great kind of Anglo-Irish Folky arrangement, with an incredibly catchy singalong chorus. Nicely acoustic for two thirds, then a rather sudden electrification towards the end.....another that would work well with the acoustic band. Folk rock for the new millenium!
6 - "Remember Me Always"
Star studded (Denny Sewell/John Entwhistle/Lee Sklar...) remix of the track from the LA Framed sessions. Always liked this one, real expensive-sounding Bass-laden laid back US mix here.
7 - "Framed"
Just Dave and a guitar, a stripped to the bone acoustic version from Chiswick '98, great song.
8 - "Back There Again"
From the Fire era again, hugely James Gang-sounding rocker (love to hear them cover FUNK #49 !!), brilliant drumming, and some very nice acoustic playing under the electric mix.
9 - "Shadowland"
Possibly my least-favourite of the new stuff, very heavy on the reverb and very drum-machine sounding percussion, but nice "Benedictus"-type keyboards, and as always, great DL electric lead playing.
10 - "Live Inside Your Hell Tonight"
The gorgeous Robert Kirby arranged mix with full strings, from Baroque & Roll. A beautiful DL song, on a par with "The Winter And The Summer". Subtle DC backing vocals are evident too.
11 - "Bovver Blues"
I think this vocal taught Blur all they know! Parklife indeed.....Dave as mega-cockney, lightweight and tongue in cheek.

DAVE LAMBERT - WORK IN PROGRESS (Witchwood, 2004)
Preview by Dick Greener
I'm looking forward to hearing this and reviewing it in more detail, but for now a preview of what's on offer from this long-awaited solo album from Dave Lambert. Click on either of the cover pics, designed by big fan Steve Krakow from Chicago, to see a full size version.
It's intended to cover his recording history with various bands and his solo career - to the extent legally possible as the tracks released on his previous 1978 solo LP Framed are locked up in publishing/management/licensing shackles which seem unlikely to be unlocked in the near future - however, an alternate mix of one such track is included here - "Remember Me Always", with Dave's old mate, the late, great John Entwhistle on bass.
The album opens up with a new Lambert-written track "The Man I Saw Last Night", one of three wholly new compositions, the others being "The Visit" and "Shadowland". (I think at least one of these was featured at Dave's whistle-stop solo gig back in July 2003; rumour has it that at least one will also feature at the Teddington gig on 14 Jan.[DG: he played The Man ..." and very powerfu it was too!!]) Apart from "The Man ...", which features Dave Cousins on backing vocals, all these tracks have been recorded at Lambert's own "Minster-on-Sea Studios", with Lambert playing all instruments.
The three songs which formed Dave's solo set at the Chiswick House Strawbs 30th anniversary celebrations are also include - "Framed" (which Dave used to feature in solo spots on the electric tours), "The Winter And The Summer" and his novelty "skinhead" number "Bovver Blues", which was originally recorded on the King-Earl album.
From the King-Earl period, a single "Starlight" which was recorded at the same time as the album (Trouble At T'Mill, 1972) but not included on the album - an excellent single, but it was released literally just as Dave jumped ship and joined the Strawbs.
Delving back earlier, a couple of unreleased Fire numbers "Live To Love" and "Back There Again" from sessions in 1970 recorded by the late period line-up Graham Keedy (piano), Pete Sully (bass) and Dennis Taylor (drums).
The whole thing rounded off by the excellent "Live Inside Your Hell Tonight", which many who've heard it performed on tour, or heard it on Baroque & Roll have suggested is one of Dave's finest songs; it certainly has stimulated plenty of discussion on Witchwood on the lyrics. It's the Baroque & Roll version here, with Robert Kirby's excellent string quartet arrangement.

Back to main Dave Lambert page
---