IAN CUTLER/ BULLY WEE BAND/ HOT RATS/ FEAST OF FIDDLES
---
---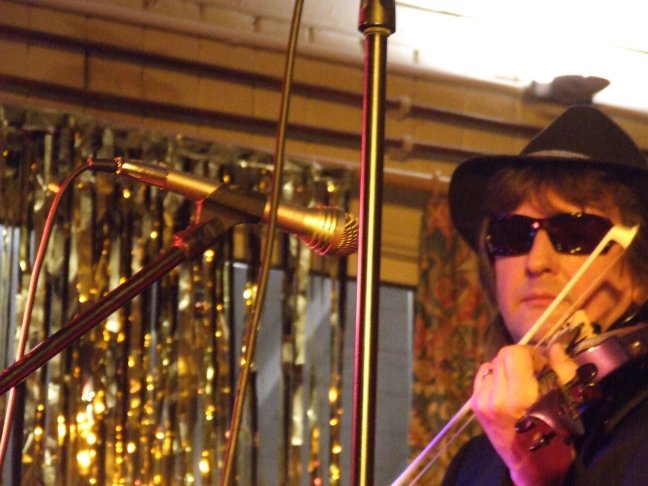 There comes a point in many of our lives when we reach a cross-roads, and are faced with a career choice: "Do I become a stockbroker, or do I play my violin whilst a naked Britt Ekland writhes around the room?" Imagine how hard it must have been when the young Ian Cutler met this dichotomy. At the age of 19, he was all set for a career trading in commodities when the keyboard player, Gary Carpenter, from Ian's band, "Hockett" was invited to be musical director for the film, "Wickerman". Gary accepted and invited all of the band members (including Ian) to join him on the set. Ian got to act, and play his violin in the film, but sadly, he wasn't on set at the time that Britt was unclothed.
In 1975, Ian joined "Bully Wee". Their first two albums were released under the name Bully Wee, but by the third they had become, "The Bully Wee Band". The band went through a few different line-ups before finally calling it a day in 1983. Fairport's Maart Allcock was also a member. After touring with Colin Reece, (ex Bully Wee), for a while Ian gave up music to raise a family.
His next major musical venture, a few years later, was a band called Hot Rats. The band was formed in 1992 to perform a one off concert at the Brook in Chatham called "Doug's Comedy Show". They were so well received, they have been playing ever since, and have toured all round the world including Japan, France, Holland and Australia.
Ian is a member of the hugely popular, "Feast of Fiddles". This is the brainchild of Hugh Crabtree, singer and Melodeon player. The band comprises seven violinists with a backing rock band. Amongst Ian's fellow band members are Phil Beer, from Show of Hands, Peter Knight from Steeleye Span, Tom Leary, (now working with Dave Lambert in their new project, Zeus) and Chris Leslie and Dave Mattacks (obviously not on fiddle!), from Fairport Convention.
In 2003, twenty years after the breakup of The Bully Wee Band, Colin Reece, Fergus Feely and Ian Cutler met at a jam session in Faversham Folk Club in Kent. They had so much fan that they decided to tour in 2004 as a three piece Bully Wee Band. The following year, they were joined by Bully Wee founder member Jim Yardley, and have toured as a reformed Bully Wee Band every January since, joined now and then by Maart.
When Dave Cousins was ready to go in to the studio to record his second solo album, "The Boy In The Sailor Suit", he put together a group of musicians, and needed a violinist. Ian Cutler was recommended and so joined Dave in the studio. The band have played several one off performances, under the name, "The Blue Angel Orchestra", latterly playing tracks from "The Boy In The Sailor Suit" along with Ian's signature track, "The Orange Blossom Special". The Blue Angel Orchestra, with Melvin Duffy standing in for Miller Anderson, performed a set at the Strawbs 40th celebration in Twickenham.
Dave Cousins and Ian Cutler have performed several concerts as a duo, billed as "Cousins and Cutler", and have been joined by Chas Cronk for a few concerts, billed as "Cousins, Cutler and Cronk." Perhaps the most notable performance was at the Strawbs' 2008 Christmas party, when Dave was disguised as Ray Charles!
Ian was a guest player on 2009's electric album, "The Broken Hearted Bride". When Dave planned a US solo tour, he invited Ian to join him, sadly only for the first half of the tour owing to other commitments. Live recordings from that tour were used for the album "Duochrome"; five of which featured Ian. As a duo, Dave and Ian opened the Strawbs 40th celebration with the first set, and continue to play occasional folk club gigs from time to time, including the recent Dave Cousins book launch in Deal.
Contributed by Pete Bradley
---
Albums
Bully Wee, Bully Wee (Folksound FS102, 1975)
Enchanted Lady, Bully Wee (Red Rag RRR007, 1976)
Silvermines, The Bully Wee Band (Red Rag RRR017, 1978)
The Madmen of Gotham, The Bully Wee Band (Jigsaw SAW1, 1980)
Face to Face, Colin Reece and Ian Cutler (CRC103, 1983))
Hot Rats Live
Happy Now? Doug Hudson
Like Flies. Hot Rats
Hot Rats Three, Hot Rats
Tour de France, Hot Rats
Slaughterhouse, Ian Cutler (SLP001 CD)
The Live Concert, Ian Cutler's Slaughterhouse (SLP002 CD)
50 Channels Live, The Bully Wee Band
Still Live, Feast Of Fiddles
The Boy In The Sailor Suit, Dave Cousins (Witchwood Media WRCD 2040, 2007)
Duochrome, Dave Cousins (Witchwood Media WRCD 2043, 2008)
---
Weblinks
---