THE GOOD OLD BOYS
---
---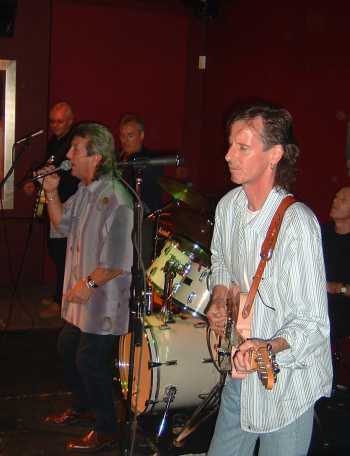 The Good Old Boys were originally formed as a vehicle to play live Rock 'n' Roll whenever the members were free from touring with their own bands. The astounding response they received has led them to become a successful band in their own right and as a result the combined talents of Alan Barratt, Nick Simper, Peter Parks, Simon Bishop and Richard Hudson provide a perfect blend for the 50s 60s Rock 'n' Roll / R&B enthusiast.
Alan Barratt (lead singer) started his professional career singing with Jo-Jo Gun. He has worked alongside the likes of Chip Hawkes (Tremelos), Cliff Bennett and the Rebel Rousers and The Carlo Little Band (Stones). His unique, understated, relaxed vocal style has led to his continued success and popularity, making him one of the most sought after names in Rock 'n' Roll today.
Nick Simper (bass and vocals) needs no introduction. His name is synonymous with one of the greatest rock bands ever, Deep Purple, of which he was a founder member. He first played professionally with Johnny Kidd and The Pirates and his vintage bass playing is the bedrock for The Good Old Boys.
Peter Parks (guitar and vocals) played alongside Nick Simper in the Deep Purple offshoot band, Warhorse. He subsequently went on to record albums with the much-acclaimed Fandango and has performed with B.B.King, Paul McCartney and Simple Minds. His fine rock and blues guitar playing is a huge asset to the band.
Simon Bishop (guitar and vocals) was originally a session guitarist for the BBC. He has toured with Renaissance, High Society, and The Monks and has recently returned from session work in Nashville where his unique country rock guitar style places him in great demand. The unusual combination of the two contrasting guitarists adds significantly to the brilliance of the band.
Richard Hudson (drums and vocals) needs no introduction to Strawbs fans. Hud is never happier than when playing, and he keeps his hand in by playing with a range of bands, when not busy with his current project High Society.
An evening with the Good Old Boys is an exhilarating experience and one not to be missed. The coming together of five great musicians on one stage cannot fail to excite, and excitement, after all, is what Rock 'n' Roll is about.
Contact: Richard Hudson or Terence Cooke @ Cybagent Tel or Fax: 020 8445 9072 email:teecee.cyberdisk@btinternet.com.
Their 2009 live album was recorded at an all day Deep Purple convention on 3 May 2008 to mark the 40th anniversary of the first Deep Purple performance in Denmark in April 1968. Line-up as above. The highly informative booklet lists some previous incarnations, with members including Chris Hunt (Blue Angel Orchestra/The Bruvvers/Lonnie Donegan and many many more bands throughout a long career) and even Rick Wakeman.
See also Hudson Ford, The Monks, Hud - The Actor, High Society, Velvet Opera, Hud's First Band!, The GBs,

---
Albums
The Good Old Boys - Live At The Deep Purple Convention (Wymer Records, TSA 1001, 2009)
Full album details on Album details page.
---
Weblinks
---