[ELMER GANTRY's] VELVET OPERA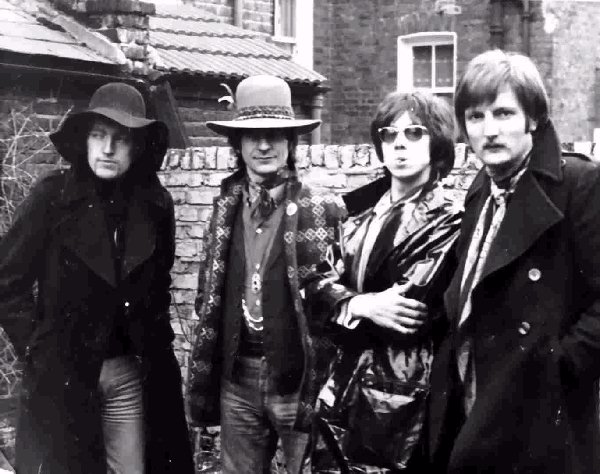 Ford and Hudson were both members of the Velvet Opera, which made two albums, one under the influence of Elmer Gantry, and the second after his departure. The first was released on CBS' Direction label, and has also been re-released as a poor quality reissue.
The second, on the CBS label, without Gantry or Colin Forster, sees guitarists Paul Brett and Johnny Joyce join Hudson and Ford to produce a more approachable album (the sleeve notes say Elmer left them over "a disagreement on musical policy"). The photo above features that line-up.
The first album was re-released on CD with additional tracks (mainly singles) from the period. There is also a Best of Collection released by See For Miles, which includes a number of tracks, including at least two from the period after Hudson and Ford (and I think Brett and Joyce as well) had all left.
And finally, EGVO have been bootlegged - a Radio 1 Saturday Club show from 27 Jan 1968, a session which predated the first album by 6 months. Line-up was David Terry (aka Elmer Gantry), Colin Forster, Hud and John (whereas the photo which adorns it is actually of Hud, John, Johnny Joyce and Paul Brett, the line up which did Ride (the photo also appeared in a "pop" annual, which is probably where the bootleggers got it). The album is rounded out by the acetate version of Flames.
See also Hudson Ford, John Ford; The Monks, Jaymes Fenda and the Vulcanes, Hud - The Actor, High Society, Hud's First Band!, The GBs, The Good Old Boys
---
---
Albums
Elmer Gantry's Velvet Opera (Direction, 8-63300, 1968)
Ride A Hustler's Dream (CBS 63692,1969)
/>
Elmer Gantry's Velvet Opera (Repertoire REP 4495-WP, 1994)
Ride A Hustler's Dream (Repertoire REP 4531-WP, 1995)
The Very Best of (See For Miles, 1996, SEECD 417)
Elmer Gantry's Velvet Opera (bootleg) (Apothecary Records, no date, Sorcery 001)
---
Singles
Singles were issued as follows:

"Flames"/"Salisbury Plain" (Direction 58-3083, 1967)

"Mary Jane"/"Dreamy" (Direction 58-3481, 1968)

"Volcano"/"A Quick B" (Direction 58-3924, 1969)
"Anna Dance Square"/"Don't You Realise" (CBS 4189, 1969)

"Black Jack Davy"/"Statesboro Blues" (CBS 4802, 1970)
"She Keeps Giving Me These Feeling"/"There's A Hole In My Pocket" (Spark SRL 1045, 1970)
The last of these was recorded after Hud and John joined the Strawbs.
---