RENAISSANCE/ILLUSION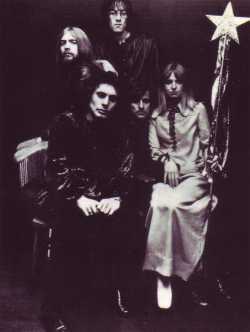 Ex-Yardbirds Keith Relf (gtr, vocals, harmonica) and Jim McCarty (drums) had become less than enamoured with the Yardbirds R&B sound, and wanted to explore gentler music. After two singles as Together the pair recruited vocalist Jane Relf (Keith's sister) and bass player Louis Cennamo and finally, after playing with him at sessions designed to form a country rock band (!), John Hawken (ex-Nashville Teens). Hawken's classical influences (not apparent necessarily from his musical pedigree to date) were allowed to emerge and this cemented the union. The band, now called Renaissance, played their first gig in May 1969, developing a live show which eventually went down onto record as their first, self-titled studio album, produced by Paul Samwell-Smith. There were only five lengthy tracks, one of which "Island" was edited down for single release, backed by a non-album track from the sessions.
Now it gets confusing. This line up of the band started sessions for another album entitled Illusion, but the sessions were interrupted first by European tour obligations,then the illness of Jim McCarty, followed by his unexpected departure from the band, which triggered a general falling out. A different keyboardist was drafted in for "Past Orbits Of Dust", but in the end Hawken was the last man left standing in Renaissance, and he brought in various former contacts to resurrect the band before leaving it himself.
The Illusion album was released in Germany at the time, though not in the UK at first. It emerged in 1971 on Island's Help budget label but was quickly withdrawn; it finally had a full scale vinyl release in 1977. It is now available on CD in various guises.
After Hawken's departure, the name carried on with a line-up which involved none of the founding members, achieving some commercial and critical success, with the talented Annie Haslam taking the lead vocal role. Hawken moved on to play in various other bands including Spooky Tooth, Juicy Lucy, Third World War and Vinegar Joe, before taking up keyboard chores in the Hero And Heroi/albtrack/ghosts version of the Strawbs in 1973.
On leaving Strawbs in 1975, Hawken rejoined members of the original Renaissance - as the Renaissance name was in play with the other line-up, they renamed themselves as Illusion and began to record. Tragically, in 1976, Keith Relf died, electrocuted whilst practising guitar at home. The remaining members carried on and produced a new studio album in 1977 "Out of the Mist", which had some chart impact in the US. Island helpfully released the lost Renaissance album Illusion in February 1977 to add to the confusion. A further album by Illusion, titled Illlusion followed in 1978.
The Enchanted Caress CD is of interest to Strawbs fans too: the sleeve notes tell us "These 1979 unreleased demo recordings intended for a planned third album are their (McCarty, Jane Relf, Hawken et al.) legacy...financed, produced, written and co-sung by Jim McCarty, England's musical answer to Brian Wilson...Included as a bonus is the guitar masterpiece "Slaughter on 10th Avenue" produced and arranged by Jim McCarty featuring John Knightsbridge's superlative guitar with Strawbs members Tony Fernandez on drums and Chas Cronk on bass. An additional highlight is the inclusion of Keith Relf's last unreleased recording. "All the Falling Angels" features Keith on lead vocal and Louis Cennamo on bass...".
In 2001 the old team (minus Keith Relf) regrouped to record another album "Into The Fire", this time labelled as Renaissance Illlusion. The album showcases entirely McCarty compositions.
Offshoots is a bootleg featuring live recordings of the original Renaissance and other rarities by the original band members.
For a more detailed history of the band see David Wells' comprehensive sleeve notes in the impressively packaged Innocents & Illusions 2CD set.
See also Third World War, Nashville Teens
---
---
Albums
Renaissance
Renaissance: Renaissance (Island ILPS 9114, 1969)
Renaissance: Illusion (Island Help 27, 1971, withdrawn)
Renaissance: Illusion (Island ILPS 9519, 1977)
Renaissance: Illusion (Repertoire REP 4513 WY, CD, 1995)
Renaissance: Innocents & Illusions (Castle CMEDD 874, 2CD, 2004) (slip-cased re-issue of Renaissance and Illusion above, with bonus tracks and comprehensive sleeve notes by David Wells)
Offshoots (unauthorised, 1992) (rarities and live recordings)
Illusion
Illusion: Out Of The Mist (Island ILPS 9489,1977)
Illusion: Illusion (Island ILPS 9519, 1978
Illusion: Enchanted Caress (Renaissance Records, 1996 - 1979 unreleased recordings)
Renaissance/Illusion
Renaissance/Illusion: Through The Fire (Spiral SCD 923, 2001)
Full album details and more album cover pictures on Album details page.
---
Singles featuring Hawken
Islands (edit)/The Sea (Island WIP 6079, 1970) (B-side is a non-album track)
---
Weblinks
See the excellent Website Northern Lights for further information. Some of the above images were taken from the previous Northern Lights site, with Joe Lynn's kind permission. Thanks Joe!
John Hawken's website - www.johnhawken.com
---