THIRD WORLD WAR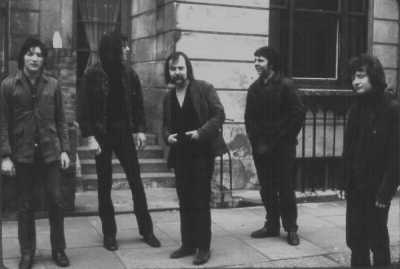 An unusual outfit, a mixture of raw political punk, well ahead of its time, and what Tapestry of Delights describes as "80s Psychobilly rock". Not quite what you'd expect the classically tinged Hawken to be involved in, but then as now he's a man of many parts, as happy to be playing in a bluesy rock or jazz band as he is in gothic prog.
Terry Stamp, still active in music, was the front man and lead vocalist. The band played at the Oz Trial benefit gig alongside the likes of Arthur Brown, Roy Harper and Gnidrolog. John Hawken joined the band for the second album, alongside John Knightsbridge on guitar (another Strawb to be, albeit briefly). The album sleeve notes include a credit for arrangements by Jim Avery and John. A long way from Strawbs .....
John commented:
That was a manic scene. It did produce an interesting album. The main songwriter was a guy called Terry Stamp who was an ex-truck driver - 20 stone of anger. He wrote some beautiful stuff, in fact he's one of the most natural songwriters I've ever met: you could point to an object in the room and say write a song about that Terry, leave him for fifteen minutes with a piece of paper and a pencil, come back and he'd have a song put together. He wrote incredible stuff. Third World War was very loud and very punkish, definitely anti-establishment. We used to play this weird White Panthers concert, or Black Panthers concert, weirdos from wherever it was, never any mainstream gigs. Very loud, very untogether.

But there were sparks of magic in the music, especially on the album. That lasted I guess about a year and then it fragmented. Money was short, as it always is, we did one tour of Finland. It was a bizarre period it really was. The band just dissolved, everybody left as nothing was going on. It was Party Central - the manager had a lovely apartment near to Harrods, and sat there playing Monopoly all day long, for cash, and drinking endless cups of tea, and getting rather high as I recall. Occasionally a rehearsal, but it was just a weird strange period which produced an interesting album, an interesting single, and for that I think it was worth doing, a worthwhile project.
Terry Stamp released a 1975 album Fat Sticks (AMLH 63329). Sicle then he has recorded for his own GSL label an astonishing 30 or more records between 1978's Blue Redondo (GSL GSLMCD001) and 2005's Seven Angels Dusted (GSL GSLMCD031). He recently sent me a copy of Third World War: The Chicago Demos of Terry Stamp and Jim Avery, recorded in 2000 by Steve Albini. 2003's Gods Of The West (Vol 1) (GSL GSLMCD027) also involved John Hawken.
---
See also Renaissance, Nashville Teens
---
Albums
Third World War (Fly HIFLY 4, 1971)
Third World War II (Track 2406 108, 1972)
Third World War (CD, Repertoire 4560 WP, 1995)
Third World War II (CD, Repertoire 4566 WP, 1995)
Terry Stamp: Fat Sticks (A&M AMLH 63329, 1975)
Third World War: The Chicago Demos of Terry Stamp and Jim Avery (2000)
Terry Stamp/Jim Avery: Gods Of The West (Vol 1) (GSL GSLMCD027, 2003)
For album details and more album cover pictures see Album details page.
---
Singles
"Ascension Day"/"Teddy Teeth Goes Sailing" (Fly BUG 7, 1971)
"A Little Bit Of Urban Rock"/"Working Class Man" (Fly BUG 11, 1971)
---
Weblinks
Terry Stamp's Stardom Road site at http://www.stardomroad.com/third_world_war.html
Terry Stamp's GSL site at www.gslmusic.com.
John Hawken's site at www.johnhawken.com
---